The July Hamptons Lane theme is "Gatsby Cocktail Party!." Hamptons Lane is a fantastic foodie/gourmet subscription box perfect for everyone who loves to eat well and likes to have a hand in preparing their food. It doesn't just deliver a few tasty morsels — Hamptons Lane curated boxes are great because they usually have some cool kitchen gadgets that enable you to recreate the deliciousness again and again.  You get the equipment, the guidance, and some tasty gourmet accompaniments too!
The information booklet has a new updated look and we love the booklet form – it's sturdier and has extra lifestyle info in it! The spoiler had said "20 Page Gatsby Party Planning Guide from Hamptons Lane & Adam Aleksander Presents" and that apparently includes the cover pages , recipes, and item info.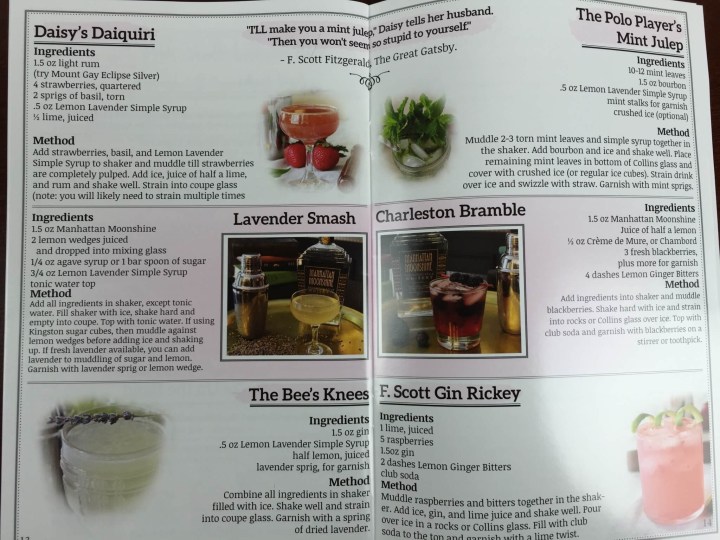 The booklet gives all the details on each item and where it was produced along with recipes using the items in the box!  This month has tons of Gatsby-era cocktails and updates on those classics.
The booklet also contains party planning advice.  Some is of general application (like the proper guest-to-chair ratio), and some is more Gatsby-specific (like the link to the champagne fountain building tutorial).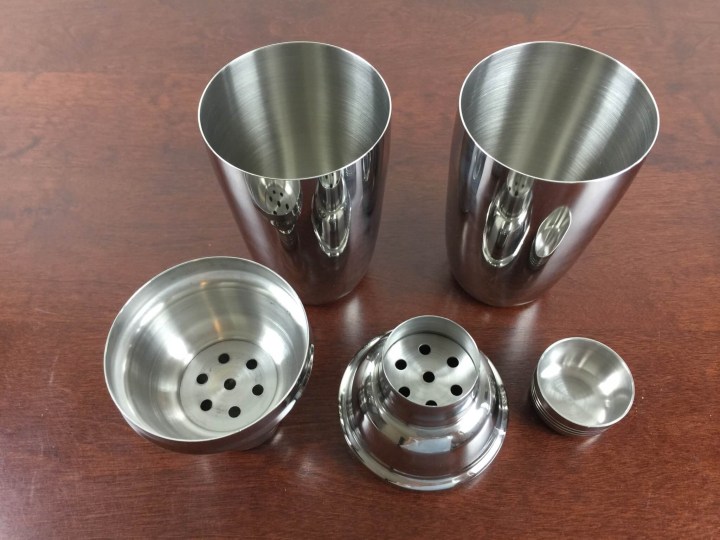 Duo of Mini Cocktail Shakers from Hamptons Lane ($30):  I was initially wary of how light and thin these are, but they are sturdy enough for single drinks, and the light weight is a blessing if you are staring at a long night of mixing cocktails.  I love the size — mixing cocktails is fun, but it is always a production and seems indulgent (if not un-healthy) to be doing by yourself.  These minis are right-sized for daily cocktail hour.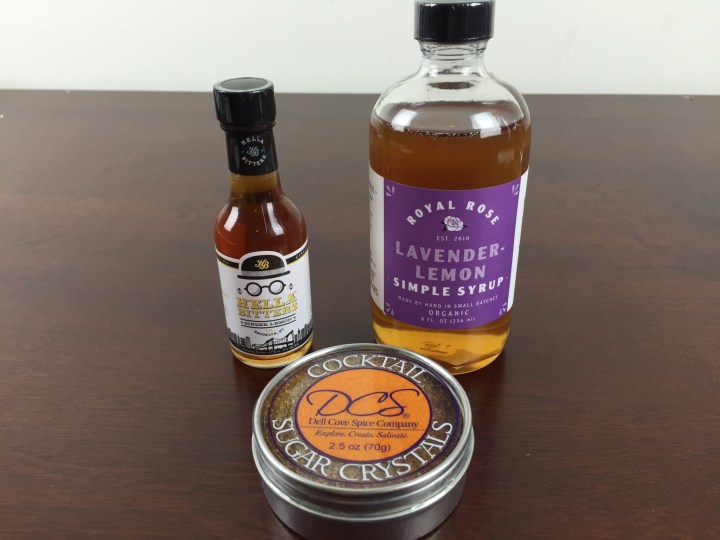 Lavender-Lemon Simple Syrup from Royal Rose Syrups ($12):  This bright and floral simple syrup can substitute for the plain syrup in any cocktail.  The booklet contains five drink recipes using it, and it even has lavender "cakelette" recipe for the adventurous baker.
Ginger Lemon Bitters from Hella Bitters ($10):  Featured in two drink recipes in the booklet, this is a fiery spin on the classic cocktail staple.
Gold Cocktail Rimming Sugar from Dell Cove Spice Co. ($5):  Sugaring the rim is a classy touch and really makes a cocktail stand out from the crowd.  The sparkling gold sugar adds an over-the-top flair to your drinks.
Wooden Cocktail Muddler from Hamptons Lane ($10):  The simple muddler is an essential tool that is often overlooked.  Mint loves to muddle, and your mojitos and juleps will thank you for adding this sturdy number to your collection.
Citrus Twist Peeler from Hamptons Lane ($5):  This is a handy alternative to breaking out the potato peeler, and it is designed to give you a nice helix for prettying up your drinks.
This is a very cool box to have on hand.  It is probably not an everyday use item (I envy your life if this is an everyday item for you), but this definitely makes you the king of the party when its time to break it out.  This is the Hamptons Lane sweet spot:  items that are not so commonplace that you already have them, yet are useful and cool enough that they will definitely get used.
Stay tuned for our fabulous add-on:  The Champagne Sabre!!!
Visit Hamptons Lane to subscribe and save $10 on this box with code Mommysplurge10! You can also check out all our Hamptons Lane reviews or more food and cooking subscriptions in the directory.
The Subscription
:
Hamptons Lane
The Description
: Each month, Hamptons Lane curates an amazing box of artisan foods, kitchen tools, and serveware for the food lover. Each month is different – spotlighting a different region, food, ingredient, skill, or activity – and you can always skip if you don't want that month's box, free of charge.
The Price
: $47 per month
The Coupon
: Get $10 off your first box! Just use coupon code 
Mommysplurge10