Having been really impressed with my first box from Angels' Cup, I couldn't wait to see what was in my next shipment.   Angels' Cup is a subscription coffee sampler.  For eight bucks, you get four coffee selections in the Cupping Flight.  I find that each 1 oz package in the regular sampler is just right for making a batch in my French press (which is 2 giant mugs or 4 conventional servings).  The Black Box that arrived was quite mysterious, and the beans included went further than my first trial — I was able to get a few French Presses out of each 2.5 oz bag.   This box contains all the same coffees as the the Cupping Flight, but with 175% more coffee.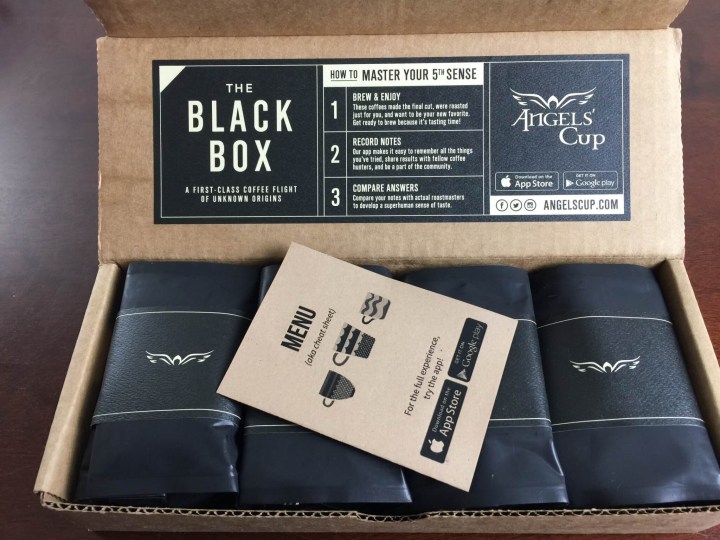 The Box comes with four handsomely packaged coffee selections. Each pack is stamped with a numeric identifier and the roast date but is otherwise unidentifiable.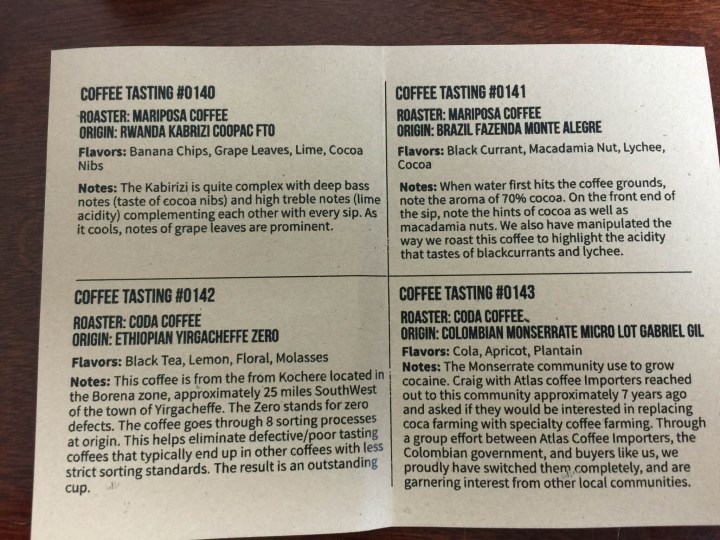 The "cheat sheet" describes the numbered brews in greater detail.  The selections tracked the tasting notes very well.  The acidity and cocoa in the Rwandan were quite nicely balanced.  This and the Brazilian selection were my favorites — both come from Mariposa Coffee.  The Brazilian had a great non-sweet butteriness to it (tasting notes cite "macadamia nut") and dark sweet currant flavors.  The Ethiopian was bright and wonderful, with flowery notes throughout.  The Colombian didn't pack the rich punch I anticipated, but the cola flavor was a unique flavor element to taste.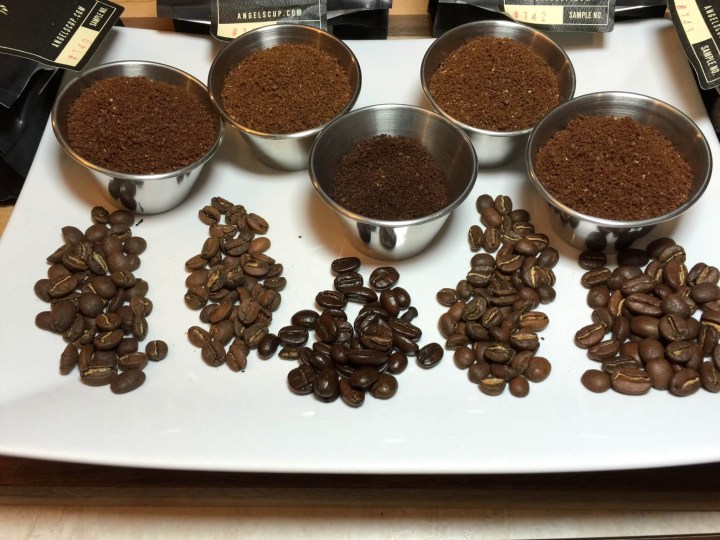 I like the roasting preference of Angels' Cup — it is dark enough to develop the flavor of the beans, but they stop well short of allowing the roast to overwhelm the beans, so the subtle notes aren't cooked out or charred over.  The above photo shows the four beans from the Black Box sampler in both bean and ground form.  In the center is some well-known Seattle coffee (one of their lighter offerings) for comparison.
This is a great subscription for coffee lovers.  Their selections are high-quality and well-prepared, plus I'll get about 12 big brews out of the Black Box.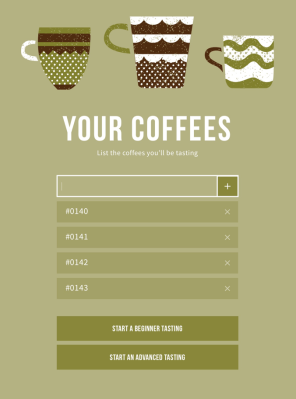 Angel's Cup also has a coffee tasting web app.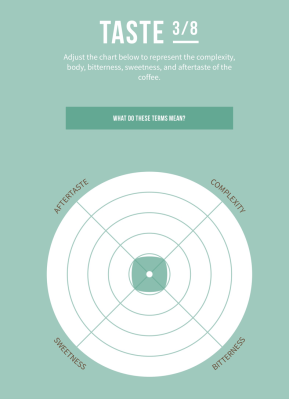 You can record and track 8 different properties of your coffees and compare them. This is really neat and I'm going to try using it the next time I do a review. I hope they make it available on the App store for my phone.
Visit Angels' Cup to subscribe or find out more, or check out all our Angels' Cup Reviews. Find more coffee subscriptions in the directory.
The Subscription
:
Angels' Cup
The Description
: Coffee tasting experience. Every tasting flight features different roasters and different origins, making every cup special! Flights include four 1oz samples of coffee, or 2.5 oz for the Black Box. You can order just one or subscribe.
The Price
: $8.99 per delivery (weekly, bi-weekly, or monthly) for the Cupping Flight, 19.99 for the Black Box