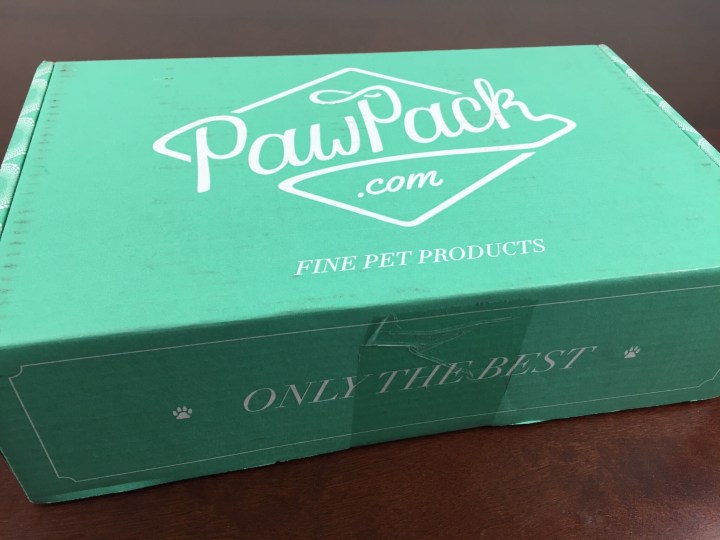 PawPack is a subscription box for dogs or cats.  Every month you'll get 5 or more items that are perfect for your furbabies!  10% of proceeds go directly to supporting rescue causes.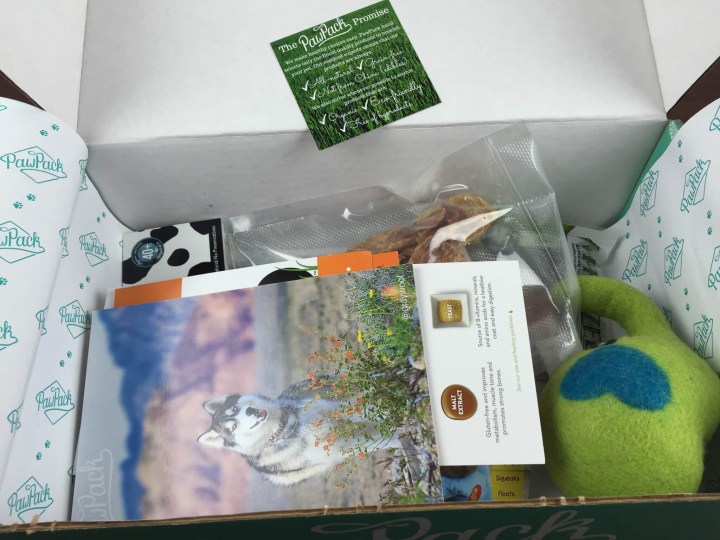 There's no information on the card, just a note on the back – this month was about summer pet safety.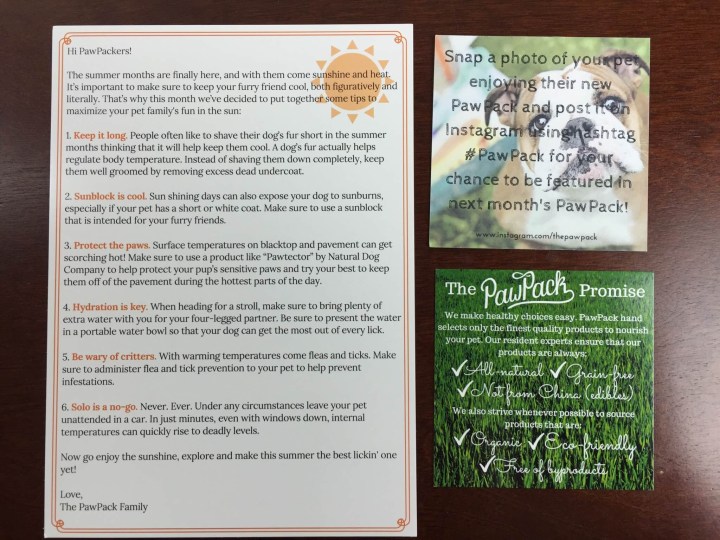 A PawPack box  for dogs or cats includes 6-7 full sized surprise items each month along with various samples and other goodies. Everything will always be either Eco-Friendly, Organic, or All-Natural. There are 3 sizes for dogs – 0-20 lbs, 25-40, and 50+. Boxes are $35 per month (down to $25 per month on an annual plan) and you can save 10% on a subscription with the coupon.
Everything in the June 2015 box!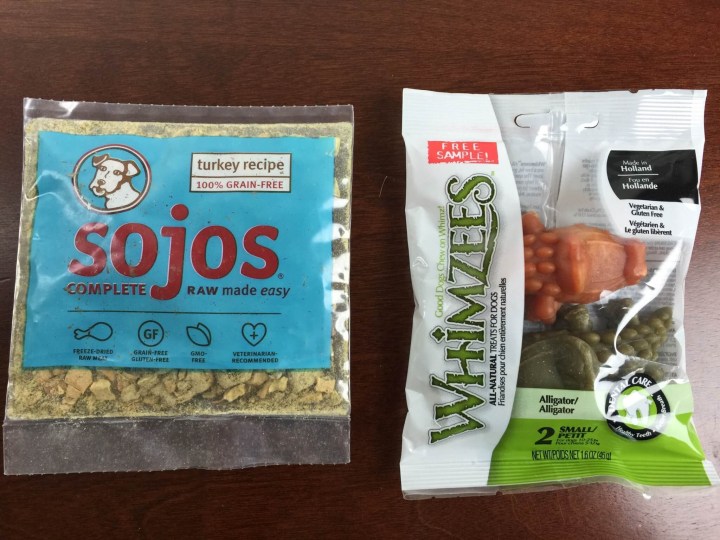 Sojos Complete – Turkey Recipe:  made of freeze-dried raw meat and healthy veggie bits, Sojos is gourmet canned food without the can.  These seem like a no-brainer for hiking or other travel where hauling prepared pet food is an issue.
Whimzees ($1.50):  These chews are very dense and look a bit like they are made out of recycled milk jugs.  They are, however, all-natural, and my dog absolutely loves them.  This box came with cute alligator-shaped Whimzees.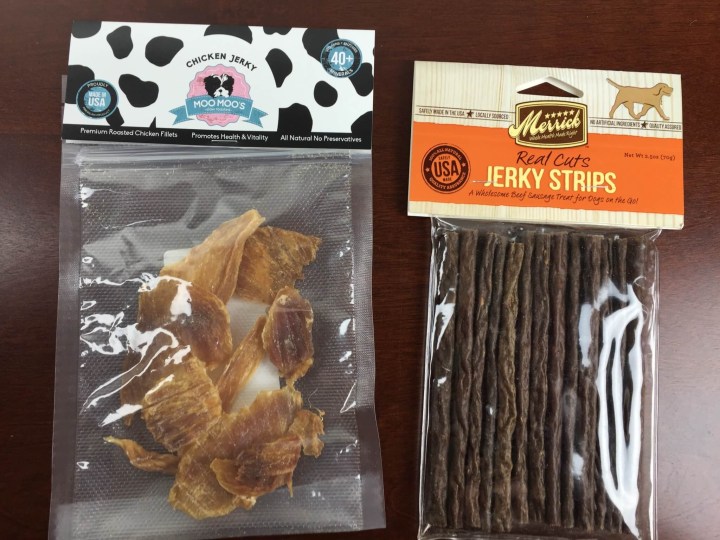 Moo Moos Chicken Jerky ($5):  The brand name is a little misleading, as this jerky is made from all-natural dried chicken.  I like that it is made in the USA, so no funny stuff put in.
Merrick Real Cuts Jerky Strips ($5):  SlimJim-style beef sticks.  Made in the USA, you get quite a few sticks in the pack.

Lollycadoodle Toy ($11.95):  It's a bit unusual to see a felted wool dog toy.  This cute elephant reminds me of a tennis ball (apart from the similarity in color), making me muse whether tennis balls were once constructed of similar material.
Pride Bites Ice Cream Toy ($9.99):  This little number won an award for best dog toy, and you can see why based on the workmanship.  It doesn't do anything bizarre — it has a rather tame squeaker inside and is filled with firm foam — but it is well constructed.  The plush cover is pretty tough, but the stitching is very impressive.  The seams are well-constructed, but the design details are also tightly stitched in to serve as reinforcing elements. Floats too!
We always find that the value of this box tends to be right at the box cost, which means that you get much better bang for your buck when you sign up for a 6 or 12 month plan. Excellent treats this month, and two great for summer toys.
Visit PawPack to subscribe or find out more, or check out all our PawPack Reviews. Save 10% on all plans with coupon code mommysplurge – awesome deal on 1 year subscriptions! Find more subscription boxes for dogs in the pet subscription box directory.
The Subscription
:
PawPack
The Description
: This subscription box for dogs or cats will bring 5 or more carefully selected presents to your door every month! Everything will always be either Eco-Friendly, Organic, or All-Natural. PawPack features hypoallergenic products that are all natural and always GRAIN FREE!
The Price
: $35 per month ($25 per month on an annual plan)
The Coupon
: Save 10% on all subscriptions with coupon code
mommysplurge
!