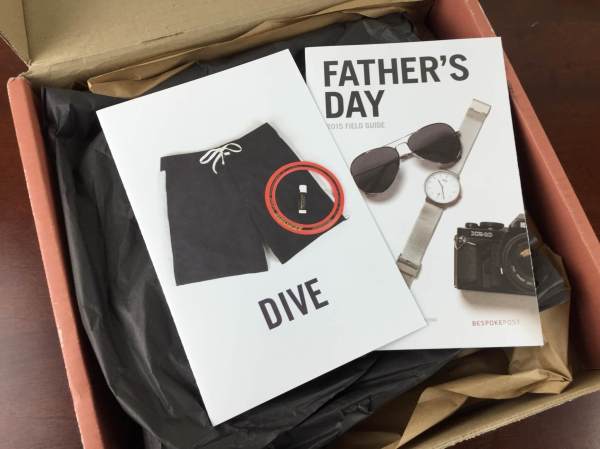 Whether hitting the beach or playing in the sprinkler, you can't do Summer without a bathing suit — luckily, the centerpiece of Bespoke Post's Dive is a sleek pair of boardshorts.  Bespoke Post is a men's lifestyle subscription box. Each month, you'll get to choose from one of the limited-edition boxes filled with an array of products built around a central, unique theme. There are usually two or three new boxes to choose from every month in addition to a selection of past boxes. One of the great things about this subscription is that you can skip the month if you're not interested in it. You can save 30% on your first Bespoke Post box with coupon code RESCUE.
Bespoke Post always includes a booklet describing the care that went into producing your new treasures.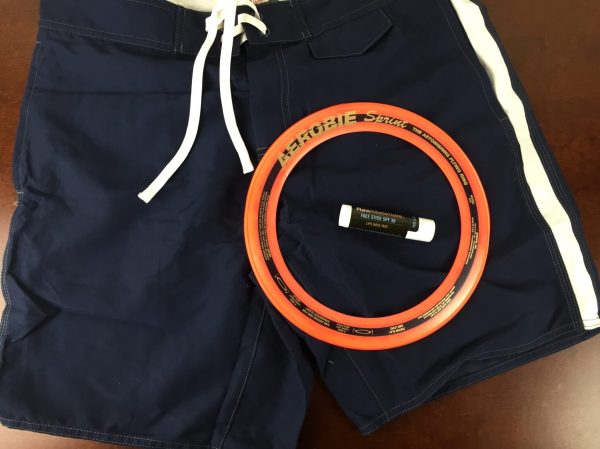 The DIVE box debuted in May 2015 but may still be available – subscribers always have a choice of previous collections.
The box included an Aerobie Sprint Ring ($8) and a Raw Materials SPF 30 Sunscreen Stick ($9).  Anyone who has tossed the disk knows that it is far superior to its solid-centered cousin both in range and accuracy (as well as ease of reception), falling short only in the "emergency dishwater" category.  If you are heading out for a day in the sun, you want to lather on the sunscreen, but the Raw Materials stick will do the trick to guard against more casual exposure.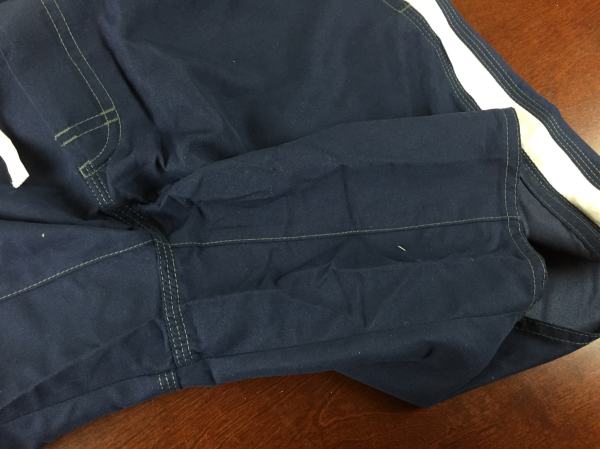 Swim trunks, Gilded Age ($50?) I'm not sure these are as much swim trunks as they are board shorts.  If you don't mind the drawstring, they would substitute well for khaki shorts and complement a polo nicely.  Gilded Age's thing is the use of vintage manufacturing equipment and techniques.  How often have you heard the lament, "They just don't make it like they used to?"  Well, this is how they used to make it.
The details are clean and classic.  The single back pocket displays the only labelling.  My selection was a nice deep navy (also available in a vibrant red or brilliant white) set off with a crisp white stripe down each side.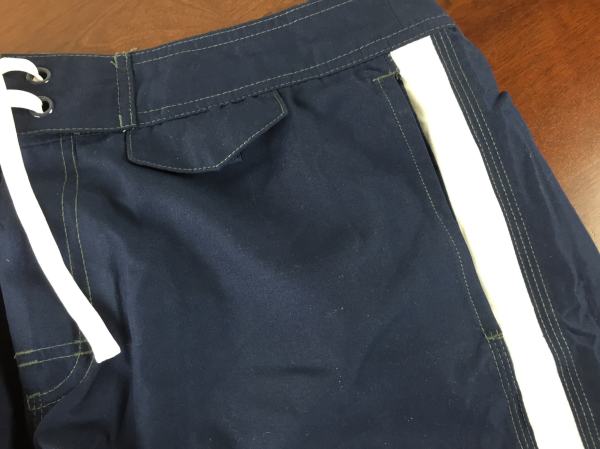 The front features a small "key pocket" to stash your waterproof essentials.
No mesh here.  Instead of the annoying lining, you get reinforced seams and a less bulky suit.
Bespoke Post has also updated its shop in advance of the main event, along with a Father's Day Gift Guide, which opens today. (FYI if there's only 12 products it's still in preview mode!).
Visit Bespoke Post to sign up or to find out more about this subscription box. Save 30% on your first box with coupon code RESCUE. You can also read all our Bespoke Post Reviews.
The Subscription
: 
Bespoke Post
The Description
: Curated theme box for men. Each luxury box delivers items centering around one central theme. Past boxes have included complete shoe care for professional men, unique accessories, bar mixology, tequila tasting, charcuterie entertaining, and more.
The Price
: $45 per month