This month I have not just April, but an entire 3 months of Kidstir to review for you. While we have the best of intentions of making something from every box with review-worthy photos, sometimes it doesn't happen! Kidstir is a super cute kids monthly cooking subscription box! You'll get a fun themed cooking kit sent to your door every month. Every box includes 3 recipes and accessories for each – 2 kid-sized tools and a specialty ingredient. On an annual plan, your first box comes with a great recipe binder to store all the recipes in so you can revisit your favorites (see it in this post). You also get 3 educational foodie pages, 3 fun games and activities, and more (like digital recipes, downloadables, and videos!).
Use code BESTMOM for $5 off the first kit of your subscription or the single Good Morning kit. Offer expires 4/30/15.
Below are the February, March, and April reviews, along with some shots of what we made! The nice photos anyways!
February Kidstir: We ♥ Dinner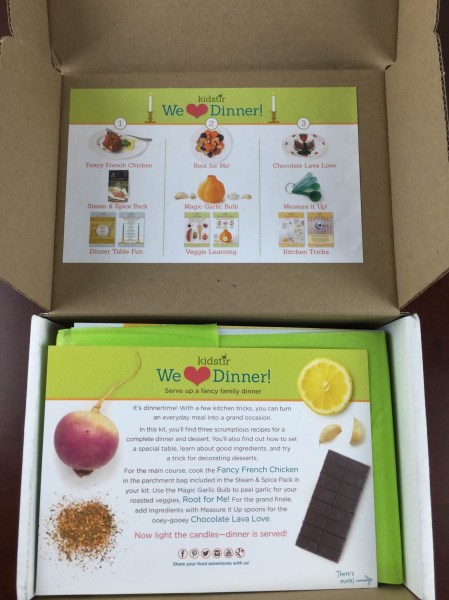 This box was all about creating a fancy family dinner.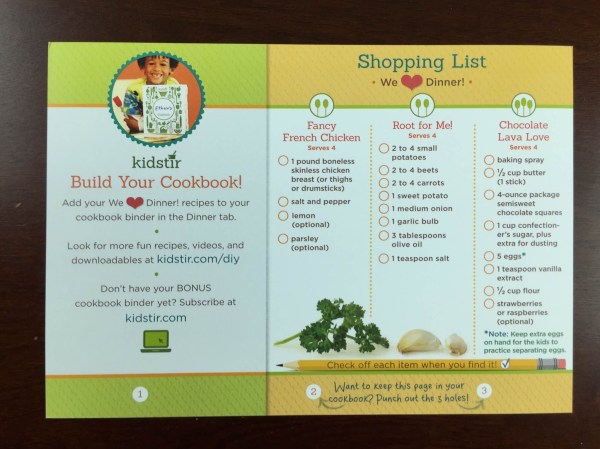 Every box has a shopping list (I often get asked by my daughter if we have all sorts of ingredients, and it turns out she's making her grocery list).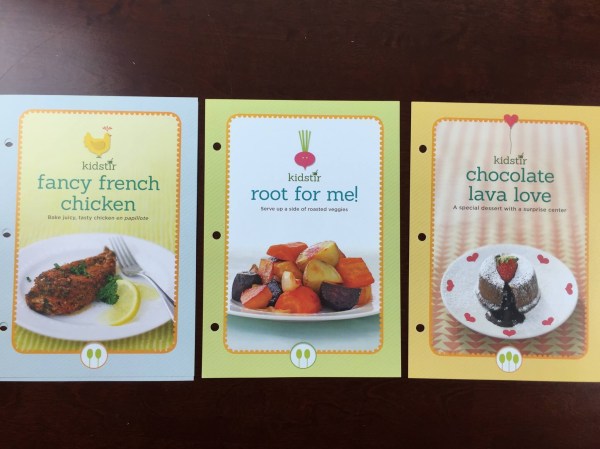 This month's recipes: Fancy French Chicken, Root for Me, and Chocolate Lava Love
Every recipe comes with a matching activity, information, or facts sheet.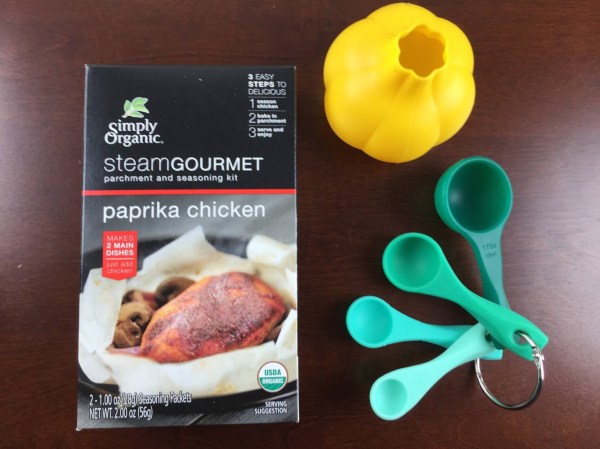 This was a great selection of items! We were able to make TWO dishes of paprika chicken, plus I never have to peel garlic again. I also cannot get enough of those ombre measuring spoons. This was super kid friendly!
March Kidstir: Sunny Salads
I didn't recall tissue paper before, I think this is new!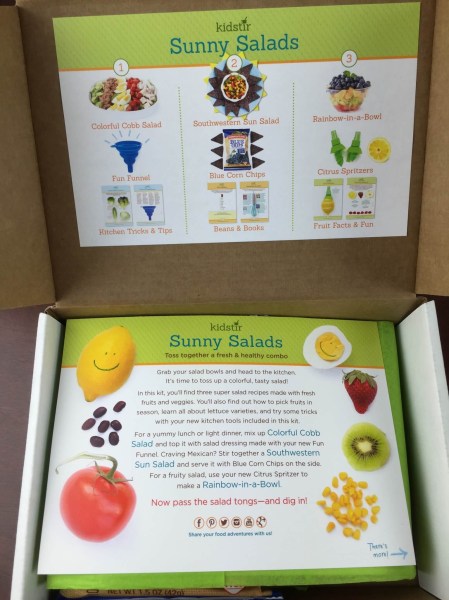 Kids learned how to pick fruits in season, all about lettuce varieties, and trying new things!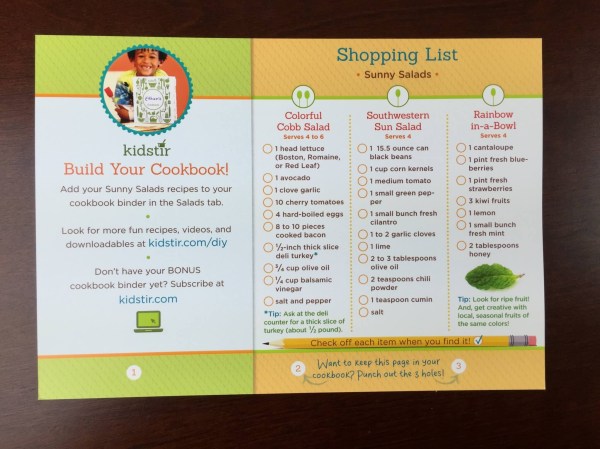 The shopping list.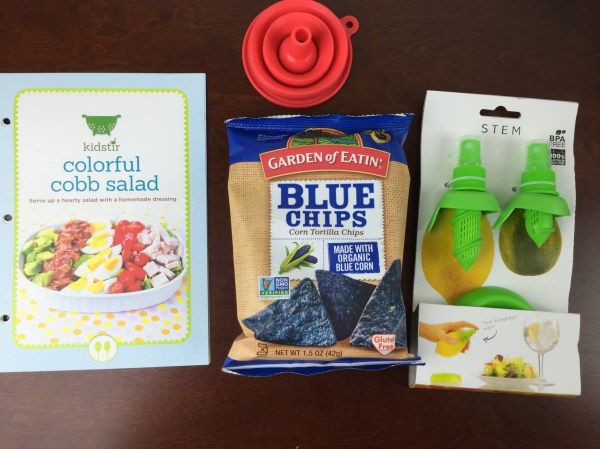 Everything that came in the box.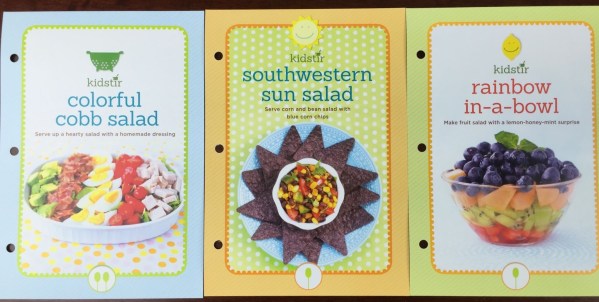 March Recipes: Colorful Cobb Salad, Southwestern Sun Salad, and Rainbow in-a-bowl. These recipes were much less accessible to my kids. I think they could get into bacon, turkey, and egg served in a lettuce cup, but they're not salad eaters!
Every recipe has the steps with a photo, although they aren't completely step by step like Plated is or anything.
My kids love getting this box and putting the recipes in their binder. Each one has the complete ingredients for future reference.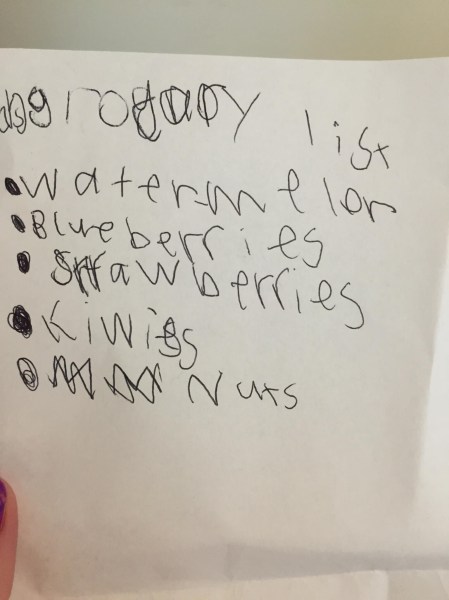 So cute.
The activity cards for the March box.
I was pretty excited personally about these items, plus they are fun and kid friendly. Even if your child eventually doesn't eat the food, helping to prepare it counts in terms of what they'll eat in the future.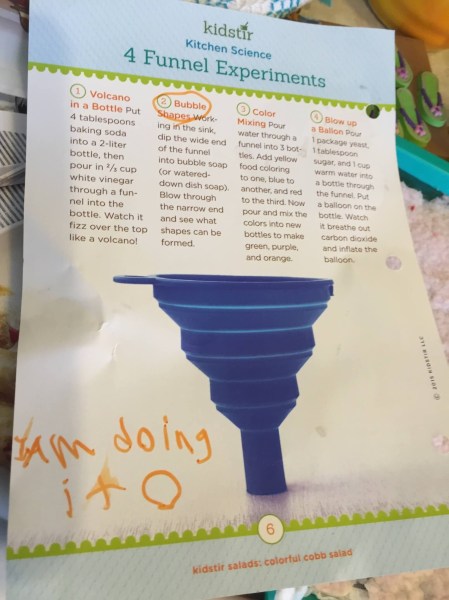 She wrote "I am doing it" (the circle indicates you should refer back to the item she has circled).
April Kidstir: Finger Food Fun
The April theme was Finger Food Fun! This box encouraged kids to serve up tasty appetizers to family and friends.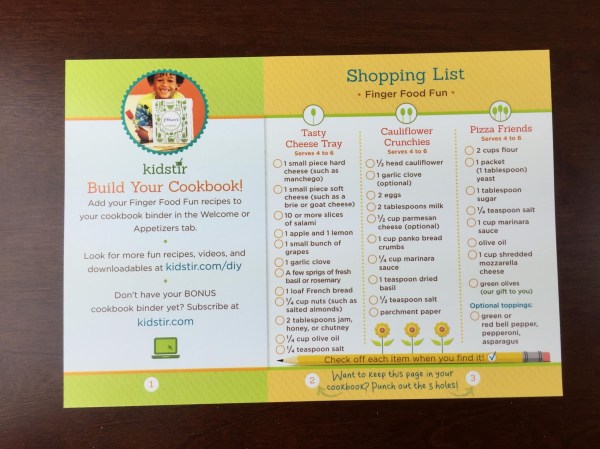 My kids were super excited about this month!
The April Recipes: Tasty Cheese Tray, Cauliflower Crunchies, and Pizza Friends.
I like how the recipes have grown up notes, it's easy to see where our assistance is required.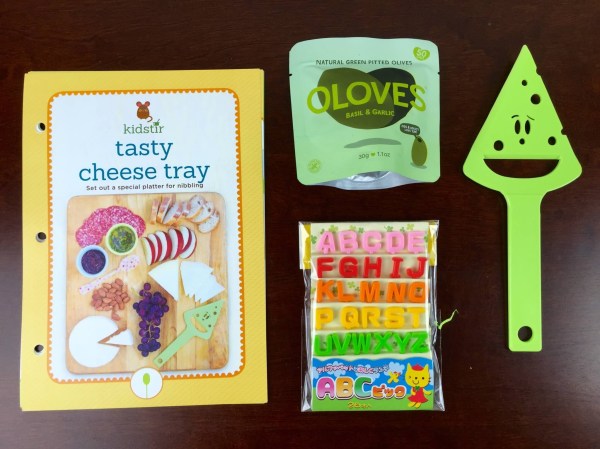 The items this month were super inviting for kids!
So cute! My kids are in love with these!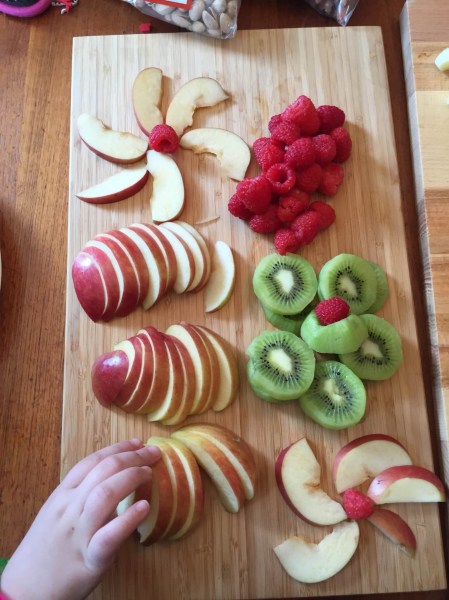 A couple weeks ago my kids & I headed to Trader Joe's to stock up on items for their Appetizers!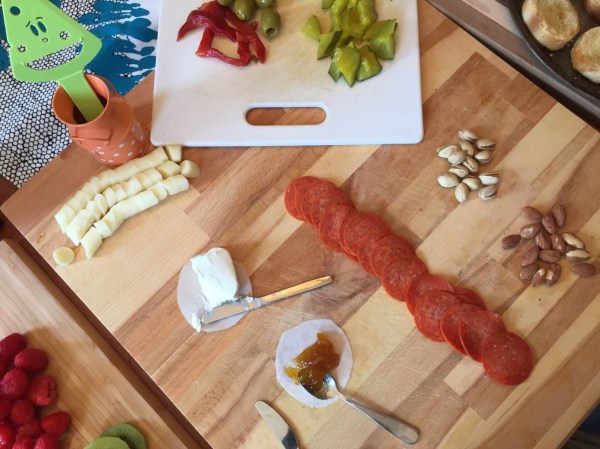 Eeek, I forgot blocks of cheese! We used cheese sticks!
My husband made toasts for the kids. I don't even remember buying bread. 

The kids were absolutely delighted with this truly fun weekend meal. We do normally eat together but it's hard to keep those buns in the chairs. However, for this one, they stayed snacking and talking with us. I loved it!
Visit Kidstir to subscribe or find out more. 
DEAL: Save 20% off on the first month of your subscription! Just use this link and coupon code AFHELLO20!
Plus, when you subscribe to an annual subscription you'll also get a FREE cookbook binder! Plus all subscriptions get a bonus 2 years to select print magazines! Check out more food & cooking subscription boxes or kids subscription boxes in the directory.
The Subscription
:
Kidstir
The Description
: Get a kit of delicious recipes, kid-size tools, fun food games, & a premium ingredient! Explore, cook and learn all about good food — and have fun with your family. Each monthly kit is a new cookbook chapter!
The Price
: $19.95