Blue Bottle Coffee is a coffee subscription with multiple options to suit your coffee needs. Generally you'll get 12 oz of beans every other week for $17, or double your bag for an extra $11. They also offer half bag and triple bag subscriptions. The prices vary by a buck or so on your coffee selections. When you join Blue Bottle Coffee you'll get $5 credit to spend on your first subscription.
Blue Bottle has just announced they have acquired Perfect Coffee, a coffee subscription that has apparently stopped time and has developed a magic method of grinding beans that never get old.
We'll definitely be checking that out, but on to these beans.
 This month I received Ethiopia Guji Select. I have the Origins subscription, but it's easy to switch between the 3 types (Origins, Blend, Espresso) or one of the 8 specialty subscriptions available, as well as change the frequency and amount of coffee you receive in each shipment.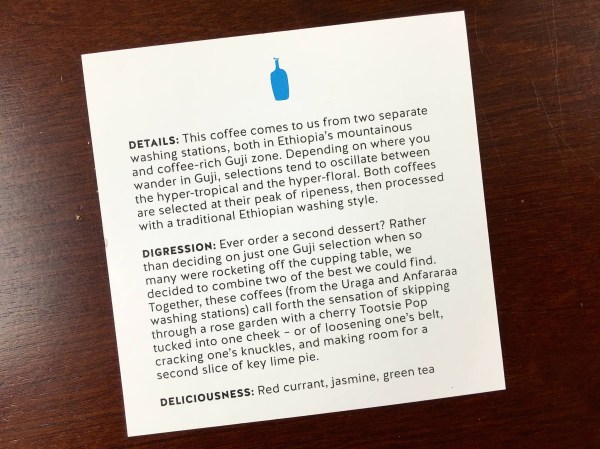 Blue Bottle Coffee's Description:
This coffee comes to us from two separate washing stations, both in Ethiopia's mountainous and coffee-rich Guji zone. Depending on where you wander in Guji, selections tend to oscillate between the hyper-tropical and the hyper-floral. Both coffees are selected at their peak of ripeness, then processed with a traditional Ethiopian washing style. Ever order a second dessert? Rather than deciding on just one Guji selection when so many were rocketing off the cupping table, we decided to combine two of the best we could find. Together, these coffees (from the Uraga and Anfararaa washing stations) call forth the sensation of skipping through a rose garden with a cherry Tootsie Pop tucked into one cheek – or of loosening one's belt, cracking one's knuckles, and making room for a second slice of key lime pie.
Blue Bottle Coffee's notes: Red currant, jasmine, green tea
My Notes:  The general profile is certainly Ethiopian, with floral and fruit notes leading a very top-heavy brew.  The dark berry and jasmine quickly give way to a surprising acidic playfulness, and the distinct, lightly tannic green-tea finish is unexpected and quite unique.  The acidity and resulting "juiciness" prove that the oldest coffee-growing region in the world can still surprise.
Visit Blue Bottle Coffee to find out more or to subscribe. See all our Blue Bottle Coffee Reviews. You can also see all the coffee subscriptions in the subscription box directory.
The Subscription
:
Blue Bottle Coffee
The Description
: Get 6-36 oz of coffee, single origin, blend, or espresso, delivered on the frequency of your choice
The Price
: $20 per delivery every other week.
The Coupon
: Get $5 credit
when you join Blue Bottle Coffee