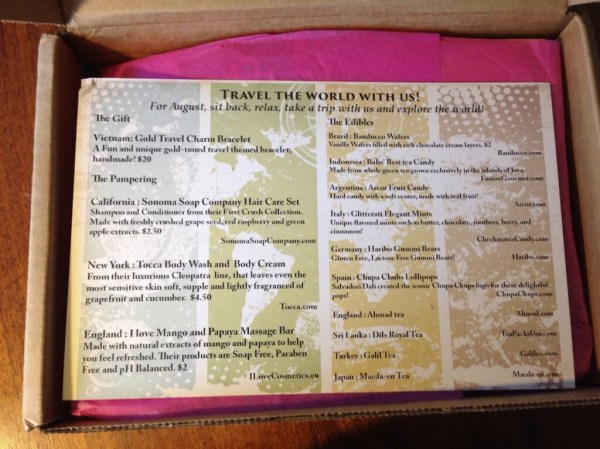 Bonjour Jolie is a time of the month and more box. And there's a lot more to this box than your period supplies! It was perhaps the most pleasantly surprising box I've ever opened! I totally enjoyed it and thought it was maybe the most rocking period/time of the month box ever. Bonjour Jolie is only $16 per month plus shipping.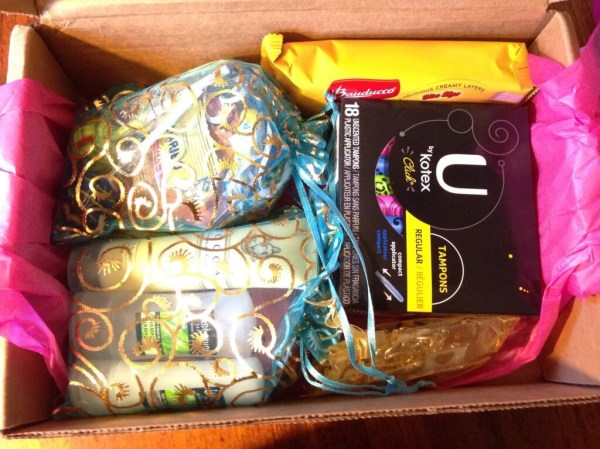 Bonjour Jolie boxes include up to 25 pads, tampons, or a combo.  If you want, request wipes & Advil (yes please!). I got a box of U by Kotex Tampons, which was fabulous, because they are a favorite.
August's theme was "Travel the World With Us!" and included products from around the world!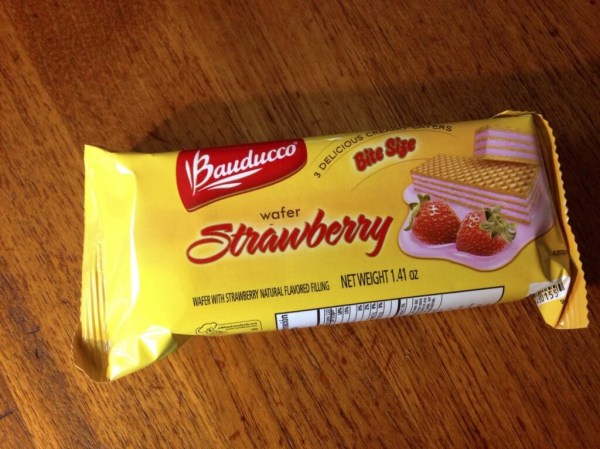 Bauducco Strawberry Wafer Cookies – From Braziiiiiil! They're delicious and light and fun.
Gold Travel Charm Bracelet (Vietnam) – I thought this was ridiculously cute. I'm wearing it tomorrow, it's just so much fun!
The previously mentioned wipes & Advil, plus…
Sonoma Soap Company First Crush Shampoo & Conditioner Hair Care Set – With grape seed, red raspberry, and green apple extracts, totally refreshing shower for that TOM! California!
Tocca Body Wash & Body Cream – Tocca! Seriously! I love this scent, it's basically a combo of my two favorite types of smells – Grapefruit and Cucumber (which is in my "herbaceous/green" category.
I Love Mango & Papaya Exfoliating Massage Bar – This has nubbles to make it a massage bar and it's pretty much perfect.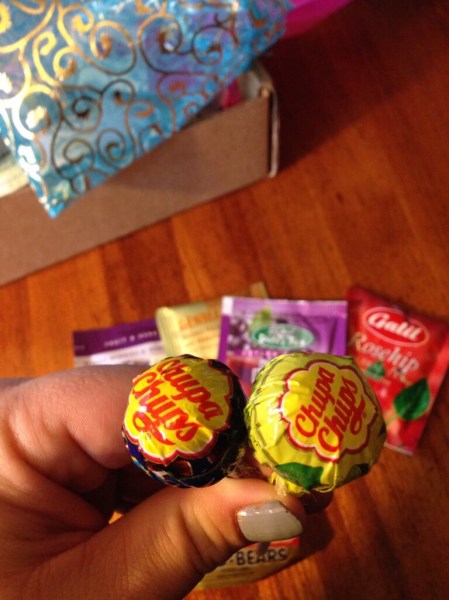 Chupa Chups – From Spain. Not just candy. Chupa Chups.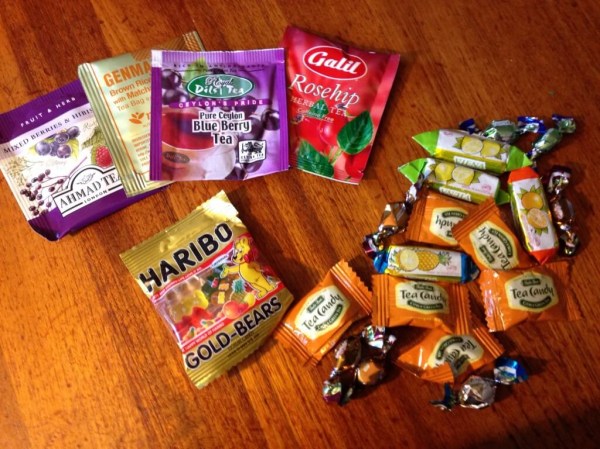 4 international teas: Ahmad Tea Mixed berries & Hibiscus (England), Genmai-Cha Maeda-en brown rice green tea with matcha (Japan),  Royal Dil's Tea pure ceylong Blue Berry tea (Sri Lanka), and Galil Rosehip herbal tea (Turkey).
Haribo Gummi Bears – Germany, and I approve.
International candies! Arcor Fruit Candy (Argentina),Balis' Best Tea Candy (Indonesia), and Glitterati Elegant Mints (Italy). I love fruit hard candy and mints. The tea candy is a little lost on me but I appreciate the period friendly candy.
My August Bonjour Jolie was a fantastic box full of amazing variety and I totally felt pampered just looking at the thing. There was also enough in there to actually get me through the super munchy/in need of pampering part of my period instead of just the first day. Loved it!
The Subscription
:
Bonjour Jolie
The Description
: Bonjour Jolie is a period pampering box available for women and teens. Boxes are themed and are curated with bath and body items, teas, and of course, chocolate!
The Price
: $16 per month plus shipping ($5 US)