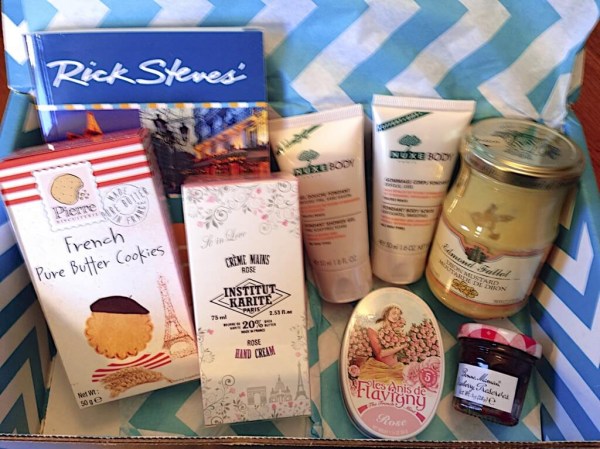 You guys, August Escape Monthly came with a travel guide that I actually approve of. Usually it's these weird black & white travel guides that I'm not totally keen on (I personally feel that the box would be super fantastic with destination inspired literature instead of a travel guide, but that's just my opinion). But this one was fantastic!
Rick Steves Pocket Paris Travel Guide ($12.99) If I don't get to go sometime soon, I'll gift this to MIL (my sister in law lives in London so obviously they have been going to Paris… I should too!)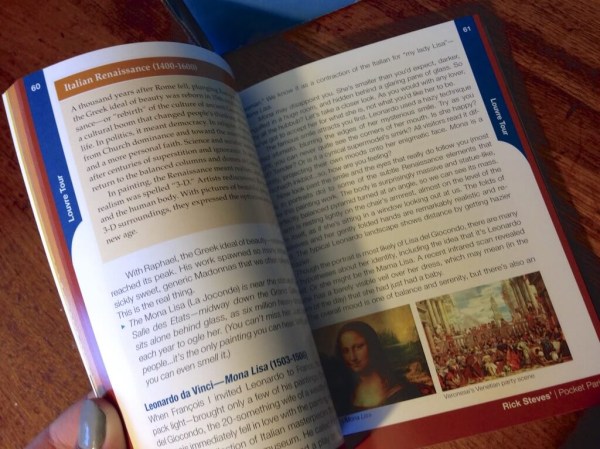 This was full color and a true travel guide in my opinion. I was excited to see it.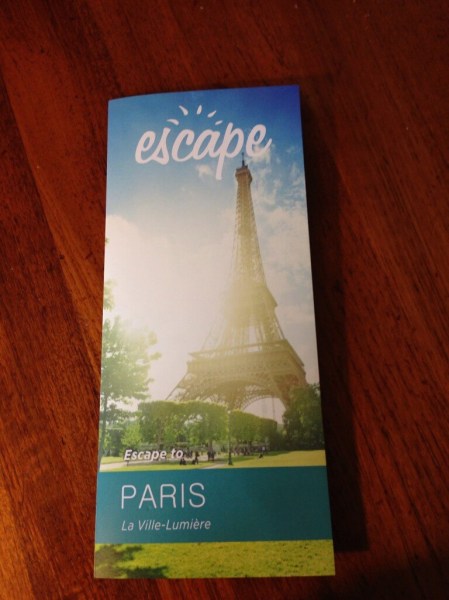 It's the 125th anniversary of the Eiffel Tower. I have this totally awesome necklace made out of Eiffel.

Food! Too bad they can't just box some baguettes and send them to me!
Pierre Biscuiterie French Butter Cookies ($4.25) How can you not like something from a biscuiterie?
Bonne Maman Strawberry Preserves ($3) They sell this everywhere but it's yummy.
Edmond Fallot Mustard ($6.25) We are huge mustard fans. Alas, I have instituted a "no open" condiments rule (to prevent fridge overloading) until I get a second fridge. But this is award winning and I know we'll like it!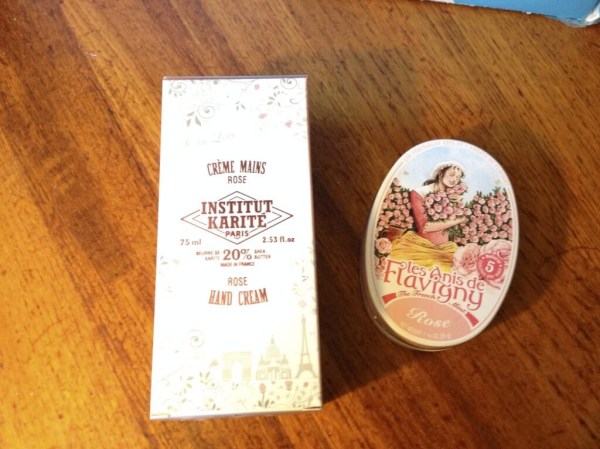 Things that are made out of rose and will be sent to an old lady relative (my mother in law). I really am not a rose fan, MIL isn't really an old lady.
Institut Karite Paris Shea Butter Hand Cream ($26) Some subscribers did not get the rose version. They are lucky.
L'Abbaye de Flavigny Rose Drops ($4.95) These rose candies were soft & light. I did try them but I'm still giving the rest to MIL.
Nuxe Body Scrub & Shower Gel ($16) I really love Nuxe products so I was happy to get these, especially as they smell so delicious.
This box was rose-heavy for me, but was a super pleasant surprise with the full color travel guide and other products that were totally awesome. I wish I'd received the regular hand cream but it's nice to have something to give MIL that's just for her.
Oh right, next month is the fabulous Puerto Rico!
Visit Escape Monthly to find out more or subscribe! Check out all my Escape Monthly Reviews! Don't forget to take a look at other Lifestyle & Combo Subscription Boxes.
The Subscription
: 
Escape Monthly
The Description
: Escape with destination-inspired themes. Pamper & indulge with full-size luxury products from bath, spa & beauty to gourmet snacks & gift certificates plus travel guides & entertainment. One subscriber wins the escape vacation.
The Price
: $50 per month, $24.95 per month for the mini
The Coupon
: Get 20% off for life! Use code
MYESCAPE