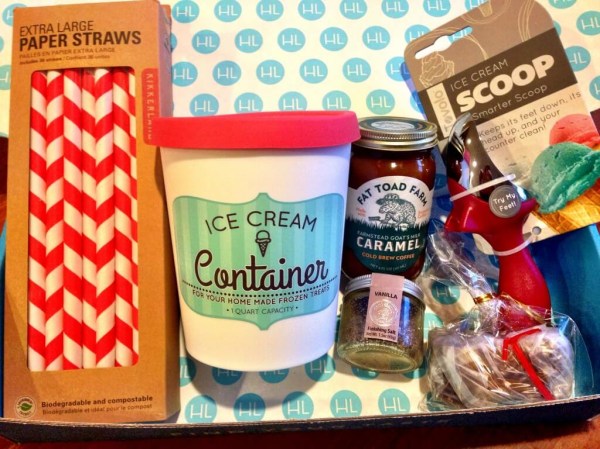 Hamptons Lane is a fantastic new gourmet/foodie subscription box. August's theme is Ice Cream Sundae Barand you can still pick up this box through the end of August. As soon as I saw this box, well, we had to have an actual ice cream sundae bar! This box actually came (again) in a large outer box, because the ice cream container didn't fit!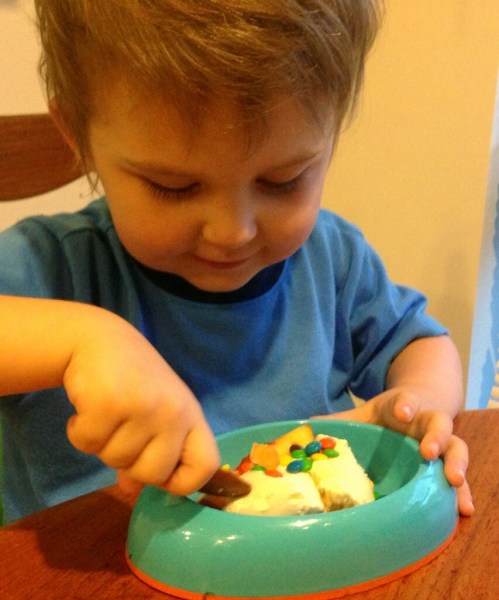 We received the fabulous Hampton's Lane booklet describing each and every item – with recipes on the back – plus:
Sweet Treats Ice Cream Tub by Tovolo ($10), which will be perfect for our ice cream creations (the maker is currently packed or I would have done something entirely ridiculous, FYI, I recommend the technique pioneered by Jeni's) or to take to the local creamery!
And also the Red & White Extra Wide Paper Straws by Kikkerland ($9) which are super sturdy and will hold up for 3 hours. I'm thinking root beer float personally but who knows!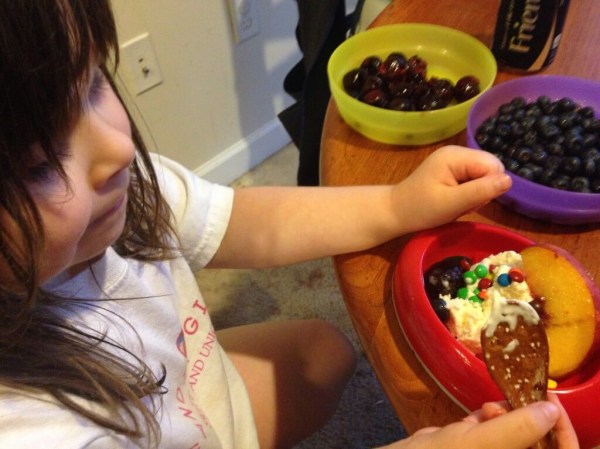 Edible Pretzel Spoons by Foodiespoon ($13) These are so cool – and not normally available at retail. I think three were broken and these survived. I think they sent extra knowing that some wouldn't make it. Everyone loved them. I was the stupid one who kept eating my spoon.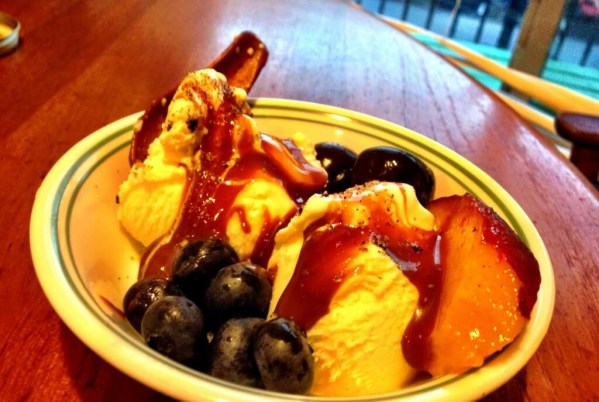 Stumptown Cold Brew Coffee Caramel from Fat Toad Farm ($14) Featured in my husband's sundae, this is a goat's milk caramel made in Vermont (just like him!) with cold brewed coffee.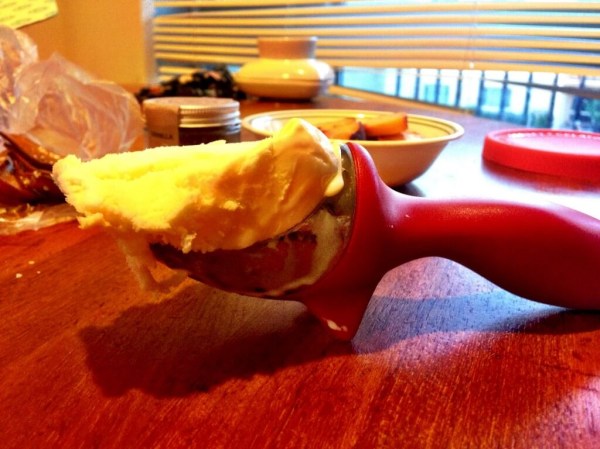 Tovolo Tilt Up Ice-Cream Scoop ($10.60) THIS IS A SERIOUSLY AWESOME ICE CREAM SCOOP! I even scooped ice cream straight out of the bucket straight from the back of the freezer, and my hand is all carpal-tunneled right now. It totally lived up to all its promises.
Vanilla Finishing Salt by Didi David Food ($8) Featured in my salt-fiend Vanilla Pretzeled Salty Peach Sundae! Delicious, a MUST try, the salt is perfect for fruit. What, you never heard of that? It's a thing, I promise.
You can still get the August Ice Cream Sundae Bar box! Just visit Hamptons Lane to pick this up – a totally great value. I cannot wait until next month – this is now officially my entire family's favorite subscription box!
FYI – How this box works.You still get the savings from the subscription box model (it's $45 per month including shipping) but you can skip the month if you already have the items or aren't interested in the theme – you'll know what's in the box ahead of time! Just go ahead and register for a new account and you should get monthly emails letting you know what's in the box until you are ready to pick up a box!
The Subscription
:
Hamptons Lane
The Description
: Each month, Hamptons Lane curates an amazing box of artisan foods, kitchen tools, and serveware for the food lover. Each month is different – spotlighting a different region, food, ingredient, skill, or activity – and you can always skip if you don't want that month's box, free of charge.
The Price
: $45 per month
The Coupon
: Get $10 off your first box! Just use 
this link to save
! FYI because you aren't charged immediately, this will show up on billing day, but it will be there when you are charged.