Nicely Noted is a monthly greeting card subscription. With every mailing – blissfully free of the normal "box" detritus – you'll receive three curated handmade letterpress cards plus the stamps to send them. This is art to give away, not to keep! This subscription is absolutely perfect for anyone who wants to start (or continue) sending letters in the mail to family and friends.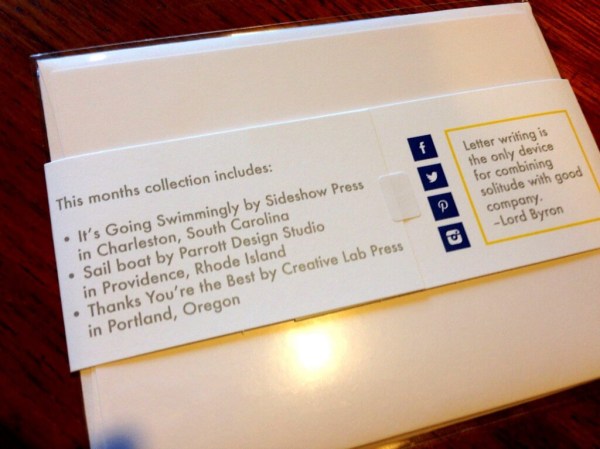 I received three cards, contained by a band with a quotation and the information on the names of the cards and their artisans.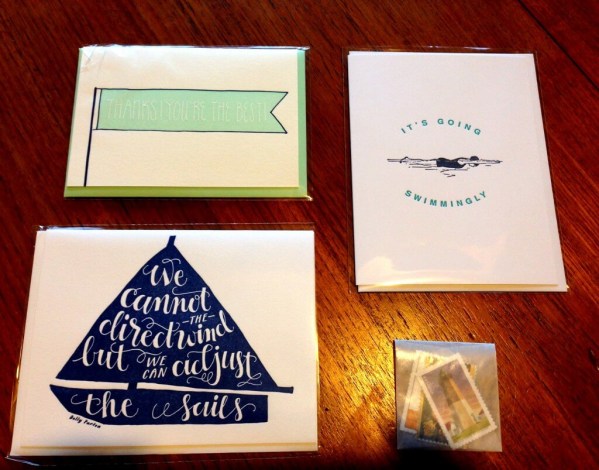 Each card was seasonal, super high quality, and absolutely perfect. I love running my fingers over the letter press. This photo is bad (new house we're getting lights, I promise!) and the top card reads "Thanks you're the best!" I also received 3 stamps to mix and match for the perfect overall look. I loved this. I did tuck everything away in my greeting card organizer which I paid entirely too much for at the Container Store, but I intend to send these as personal notes as soon as we're all settled. I need to pay more attention to my personal connections with family & friends that I'm not necessarily connected to online.
Visit Nicely Noted to subscribe or find out more. You can see more paper and stationery subscriptions in my directory!
The Subscription
:
Nicely Noted
The Description
: Every month you will receive three letterpress note cards as well as stamps to make it easy to send handwritten notes and to stay in touch with family and friends.
The Price
: $20 per month