I picked up two
Birchboxes
 for August, which was pretty lucky, because there was a choice to customize or select the Everygirl box. Surprisingly my first box came super early and I just got this "everyone got the same thing" box. Weird! I didn't do a cost breakdown for my regular
August Birchbox review
, but it was relatively high value! This box was not at all. I was surprised.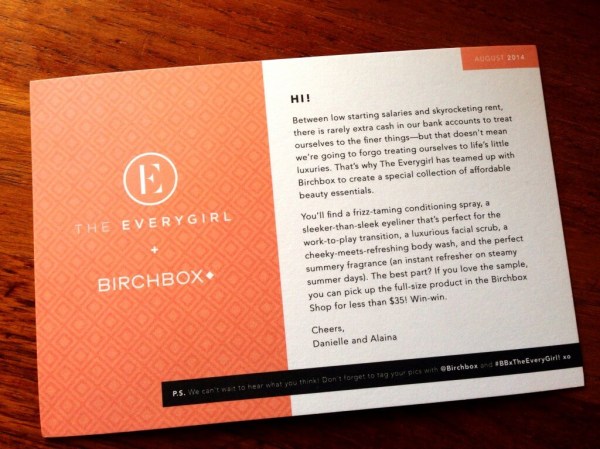 I'm down with affordable luxuries but they could have pumped up the value a little more!
I felt the tee-hee pouch was out of place and confusing unless you are crazy like me and have 2 subscriptions. Then the box is just laughing at you for no reason. Haha you paid $10 for this box Brandy!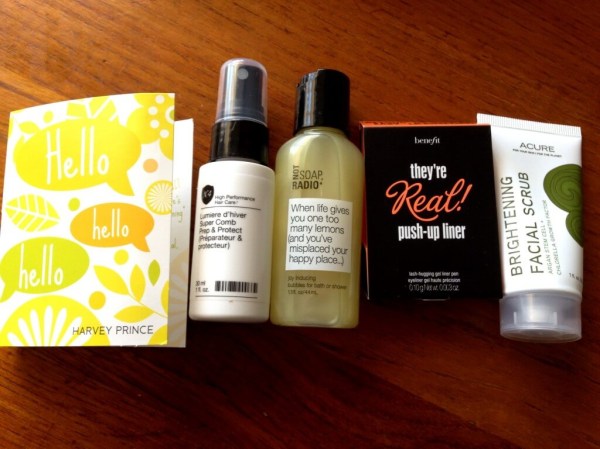 Benefit They're Real Push-Up Liner ($1.80) I selected this box because I really needed to try this eyeliner. I played with it at Sephora but this is an applicator specific product.
No. 4 Super Comb Prep & Protect ($4.80)
Acure Brightening Facial Scrub ($3.75)
Harvey Prince Hello Perfume  (~$1) I already know I like this, but I liked the Harvey Prince perfume sample in my regular August box better!
Not Soap, Radio Happiness Inducing Body Wash ($1.75) Honestly, this is getting used as bubble bath for the kids. I forgot to leave some out and they were sad.
The value of this box was SLIGHTLY over a paltry $13. Of course I'll get $5 in points back (I was about to say only $4 – when the boxes went up on the website the Acure wasn't listed!). Obviously this is a situation where *I* picked this box, but I don't think I quite realized that the eyeliner was a ONE USE SAMPLE! Sort of lame! I expect my samples to go a little farther than that, and I'm sure you do too. At least the scrub & the Number Four (which I love) will last a while!
The Subscription
:
Birchbox
The Description
: Birchbox is a discovery box that will send you 5 samples or full-size products. Earn rewards points by subscribing and reviewing your products that you can spend on full-size items on their site.
The Price
: $10/month