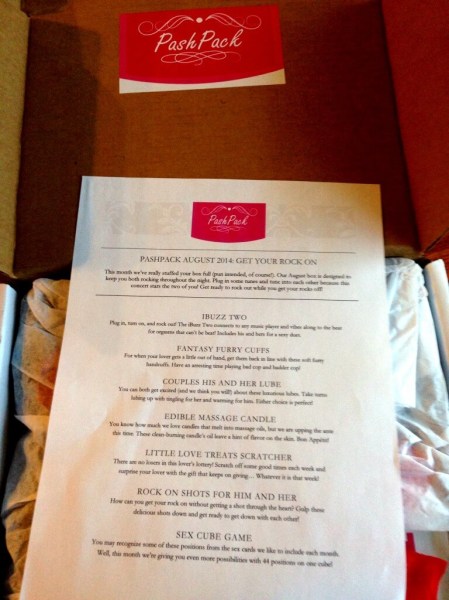 I received my first PashPack, an adult subscription box (yes it's sexy time and if you don't want to read it, skip this one!) the other day, and I could NOT tell what was in the box! It was a plain white box with "shipping department" as the return sender. 100% discreet – if I can't tell what's in the box, nobody can!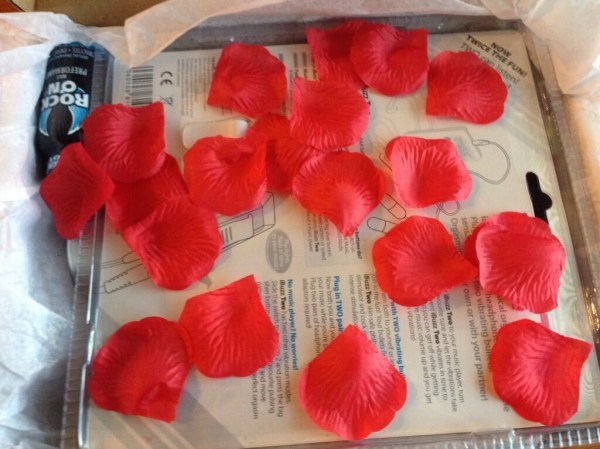 PashPack is a monthly delivery of sexy surprises that keep you wanting more and this box was PACKED FULL of stuff. I was really surprised. It was packaged very nicely with a sprinkling of faux rose petals, which you can totally reuse for your bed!
My first thought, after unpacking and arranging everything, was that was the largest thing of lube I'd ever seen in my life. I was pleased how optimistic PashPack was for my love life!
Sex Cube Game ($9) This will keep you from doing the same boring thing every time! It unfolds and there are 44 positions!
Furry Cuffs ($9) If you want to act out your own Shades of Gray fantasy or whatever else strikes your fancy, these are nice and non-intimidating!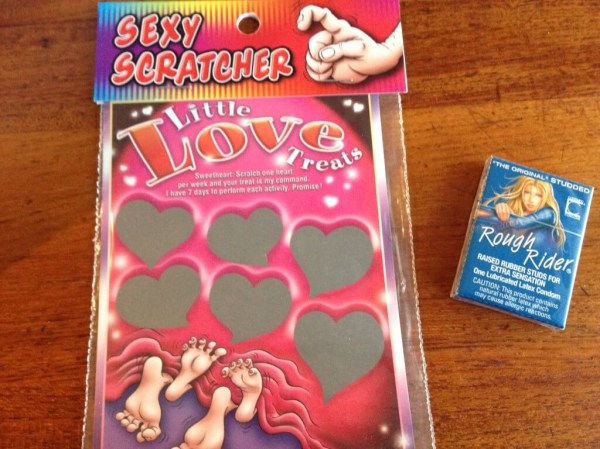 Sexy Scratcher Little Love Treats ($5) You've hit the lotto! This keeps thing fresh and because the card says you have to, you have to! A lot of people are intimidated by taking that last little step, this takes the pressure off.
Rough Rider ($0.75)  Turns you into a stud! These have REALLY great reviews!
Edible Massage Candle ($15) This smells like grape candy and I LOVE IT. It's vegan and uses Hemp Seed, Vitamin E, Jojoba, Avocado, & Apricot Oil.
Rock On Him & Her Shots ($12) This is a "sexy elixer" (that's how they spell it) with electrolytes, energy boost, and vitamins. Now that I'm old, I probably need this.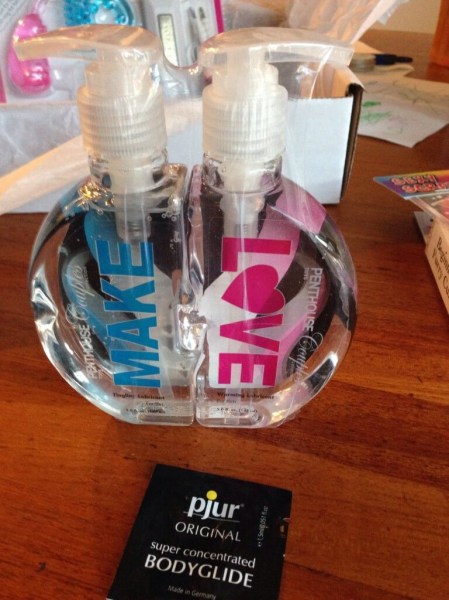 Ahhhh the largest bottle of lube in the world! The Penthouse Couples Make Love Lube ($14) is a 2-in-1. One side is tingling (cool) and the other is warming. Like the KY kind except a LOT MORE OF IT. Seriously. Go for broke! I guess PashPack wants to remind you exactly what you should be doing with the contents of this box.
Plus a Pjur bodyglide sample!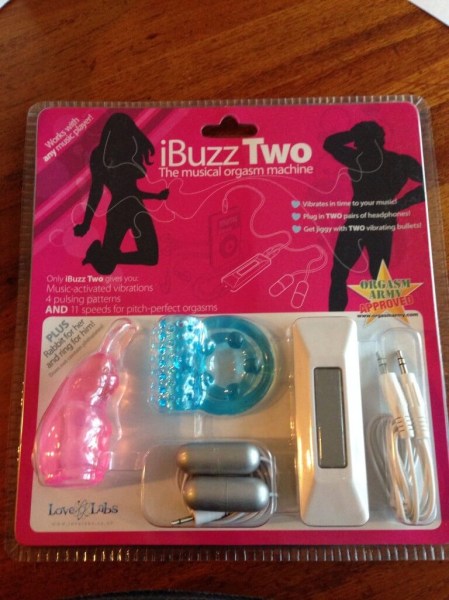 iBuzz Two ($30) is an adult sex toy that you can plug two pairs of headphones in and two bullets and stick them in male/female rubber ring/rabbit sleeves. Now I'm going to blow your mind. Don't use headphones, use your Native Union Monocle speaker. You're welcome.
The August PashPack was a fun box with tons of interesting toys to help spice up the sack! Plus the retail value was around $95! Adult items are expensive!!
Visit Pash Pack to subscribe or find out more about this box.  See all our Pash Pack Reviews or check out all the subscription boxes in the adult subscription box list! You can also check out all the subscription boxes in the adult subscription box list!
The Subscription
:
PashPack
The Description
: A carefully curated assortment of products and delivered discreetly to your door every month. Receive an assortment of potions, lotions, oils, condoms, accessories, toys, and novelties to help you spice up your sex life. Also available for same sex couples.
The Price
: $47 per month
The Coupon
: $5 off your first box offer available on the home page.