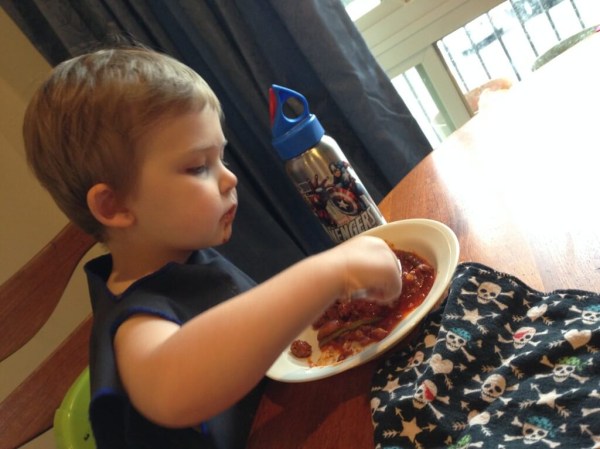 Yes, we all love Hello Fresh! I ordered a box for this past week specifically because the menus were so ridiculously child friendly I knew that my children would eat everything, and they totally did. My son actually asked for this specific meal again this evening. This box was such a hit and totally made my week that much easier. I'm totally busy with non blog stuff so I was able to cook dinner without worrying how I was going to do it. I am not sure anyone noticed but I pretty much ate Hello Fresh exclusively during my first trimester, because I just couldn't get my stuff together! also I'm sure you're all thrilled about my $4.99 IKEA find – my new food plate that is the perfect size and orientation for taking pictures of dinner.
The Subscription
: 
Hello Fresh
The Description
: Each week Hello Fresh delivers beautifully photographed step-by-step recipe cards, with the exact fresh ingredients needed to create a selection of new recipes.
The Price
: $69/week (59 vegetarian)
The Coupon
: Save $25 on your first order. Use code 
SUMMER25 
 . Expires July 13, 2014.
Hello Fresh Classic Box Review
I didn't take outside photos of my box or anything, you can read my past reviews for that. It comes in an insulated box with two ice packs. Each meal has 1+ labeled bags of ingredients plus a recipe card.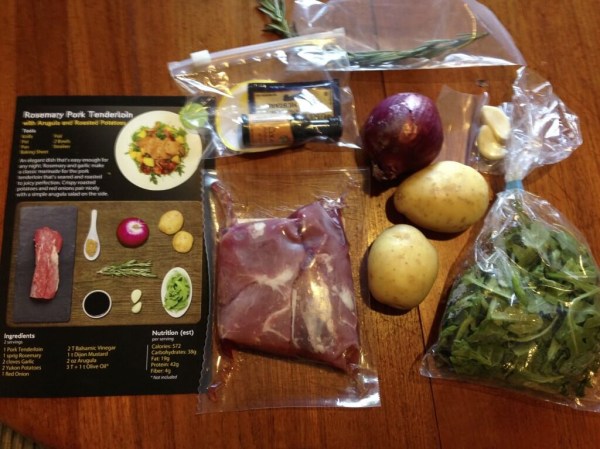 Rosemary Pork Tenderloin with Arugula and Roasted Potatoes – This was probably my favorite from the whole box. The pork tenderloin was briefly marinated in garlic and rosemary, seared, and roasted alone with onions and potatoes and served on a bed of dijon/balsmic dressed arugula. To die for. 
My baby boy LOVES to help in the kitchen. He made the dressing!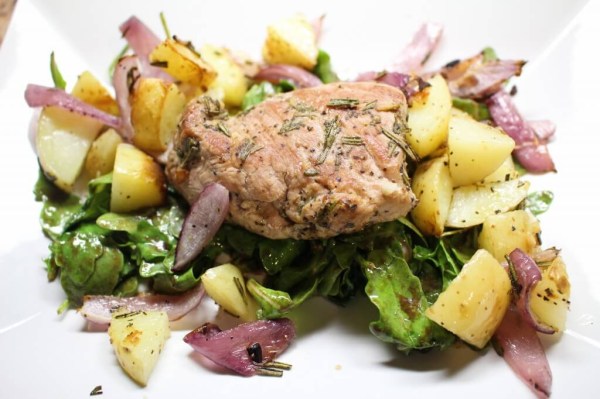 This was so good. Every bite. SO GOOD. The kids ate their "dead pig" (what they call tenderloin) with mashed potatoes from a bag, because that's what they enjoy and I cooked a few peas to go with. Easy peasy kid friendly meal.
Garlic Skillet Meatballs with Baby New Potatoes – Look, half my meat balls sort of fell apart, because I cooked them in the wrong pan. So it was meatball in a delicious ragu and it was so good.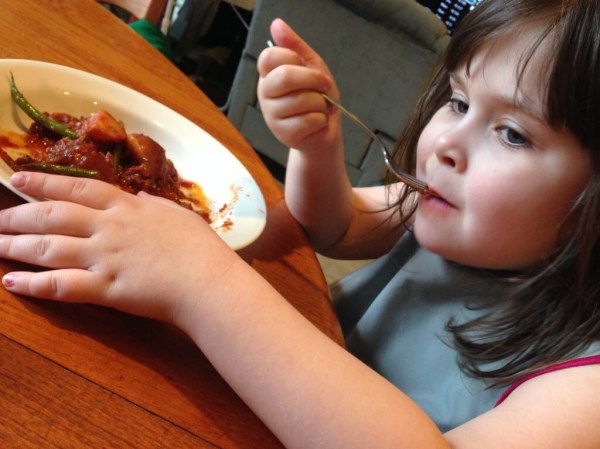 No seriously, again, SO GOOD.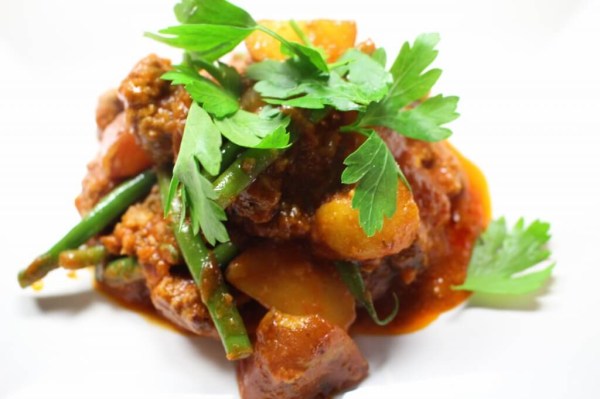 Mine was so much prettier 🙂 I loved the idea of putting the red sauce on potatoes, and it had the added bonus of being blood sugar friendly for me. Mine is cool, except when I eat a lot of processed food, then it gets mad. This also included my favorite vegetable (green beans). What's not to love?
Apricot Glazed Chicken with Couscous & Lemony Green Beans – Look, I barely got to eat mine because the kids stole most of it. I left out the pepper, I can use it for something else or cut it in rings & freeze it.
I ummmm thought they forgot the apricot preserves (I used some open from the fridge) but they didn't forget, I just didn't see it in my fridge.
This was delicious – the green beans (again, fave veggie) had lemon and walnuts and they were SO FANTASTIC I ate all of them.
Whenever I cook Hello Fresh everything just turns out so well, and I'm not 100% sure why! Is it the ingredients, the fact that I'm following an unfamiliar recipe, the fact that it's a lot more "chefy" than normal stuff? I don't know! But it's dang good and dang easy.
Menu selection for Hello Fresh is available for the week of 6/22 (ends midnight Weds). Choices: Indian Spiced Chicken, Chiles Rellenos, Shrimp Lo Mein, Penne with Pancetta, Peas, and Mint, and Sweet Potato and Black Bean Tacos. I wasn't planning on getting a box but when I logged in and saw the rellenos, I knew I HAD to get it next week. I'm getting those, the Indian chicken, and the Penne. I did not get any of these because I thought they would be child friendly, but I'm betting they eat the chicken and the penne. I'm not worried about the rellenos, I'm eating all of those! #PregnantLadyPrerogative
Visit Hello Fresh to select your box for next week! Don't forget the coupon – SUMMER25. Check out all my Hello Fresh Reviews and don't forget to take a look at other Fresh Food Subscription Boxes.