Wow, I don't even have this one in the subscription box directory! Rainbow Honey is an indie nail polish company that makes the best glitters! AMIRITE?! YES I AM!  Their polishes are free of Formaldehyde, Toluene, and Dibutyl Phthalate (the "big 3"), 100% vegan and cruelty free. Their Mystery Bag is free with purchases of $65+ (that's a metric buttload of polish), available for $10+ shipping, or you can get free shipping when you subscribe.  You can also get the mystery bag in full size for $25. I prefer the smaller sizes. I have a lot of polish and I like to mix it up. You can get 25% if you order a 1 time bag (but not on a subscription) with the coupon IPSY25. You can also use the code on anything else! I purchased this one time bag and a full-size polish (which had been in a previous mystery bag) with the code, and subscribed to the bag. I thought it would be fun to give a couple months a shot, and you can pause/cancel easily from your account (always a plus for me).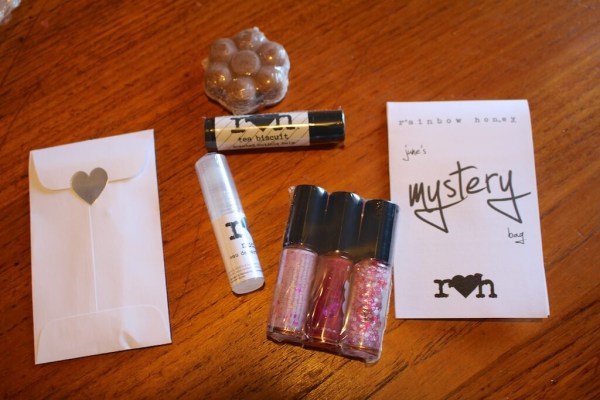 This was everything I got in the mystery bag! I thought it was a fantastic value.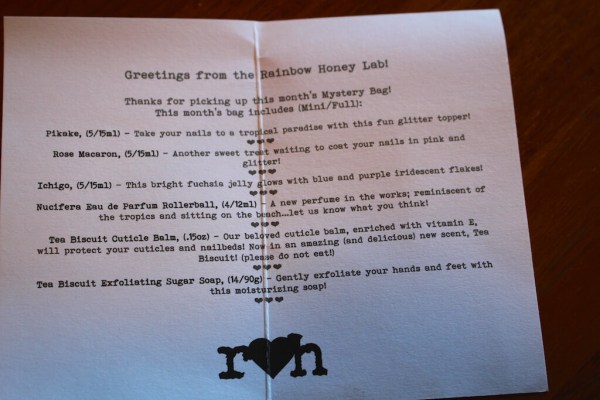 A nice information card comes with everything.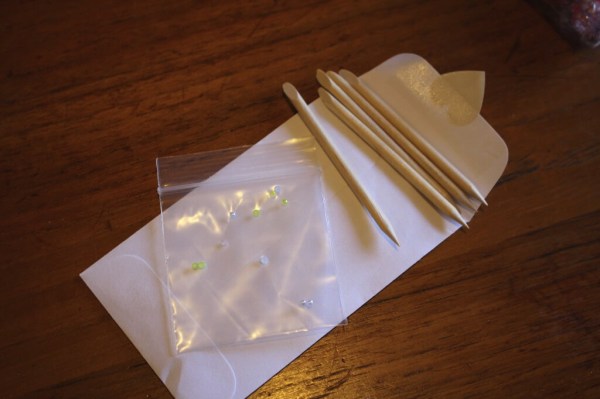 I got some orange sticks and little nail accents.
Tea Biscuit Exfoliating Sugar Soap – "Gently exfoliate your hands and feet with this moisturizing soap!"
Tea Biscuit Cuticle Balm – "Please Do Not Eat!"
Nucifera – "A new perfume in the works; reminiscent of the tropics and sitting on the beach…let us know what you think!" I think it smells like cough syrup.
I was not a fan of these scents. The Tea Biscuit makes me want to hurl. I have it sealed up on the top of my fridge and I am hoping for my husband's opinion. I should probably note that I'm pregnant, but whatever is in here makes me queasy. I have a stomach of steel and don't get nauseated. The perfume smelled like cough syrup. I hear it has a pleasant dry down, but I'm not in the mood to apply it to myself. These items were a total disappointment.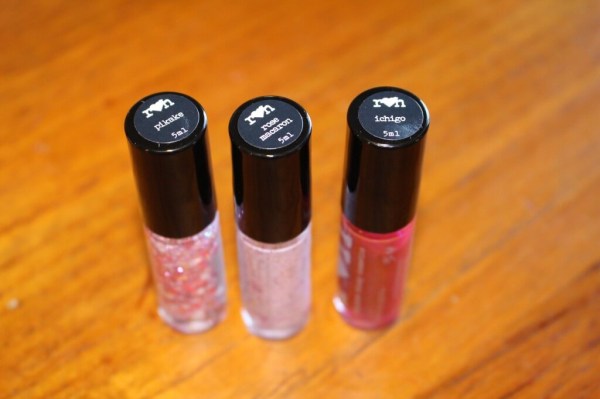 At least there's polish, and I probably would've paid $10 for polish anyways.
Pikake – "Take your nails to a tropical paradise with this fun glitter topper!"
Rose Macaron – "Another sweet treat waiting to coat your nails in pink and glitter!"
Ichigo – "This bright fuchsia jelly glows with blue and purple iridescent flakes!"
The Pikake glitter topper is my fave. LOVE IT. The Rose Macron is beautiful on, it has microglitter and confetti glitter and is a great by itself polish. I really actually disliked the Ichigo. Jelly isn't my fave and those flakes just made it look chunky and not well manicured. Thankfully it provides the perfect base for Pikake.
I did a jelly sandwich on my thumb and I thought that turned out nice, but again, I don't like the texture with the flakes in it. My friend Jennifer @MomsgotMail says that the mystery polishes often end up as the limited edition polishes later, so I'm going to keep this sub because ZOMG THIS IS THE COOLEST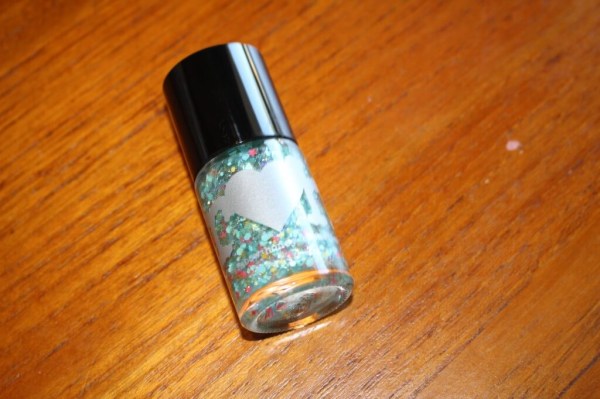 It's Sea Star limited edition and I absolutely had to have it. Also I need to split my polish collection in two drawers now. Le sigh.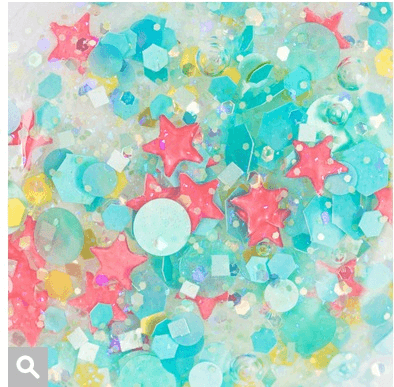 You can visit Rainbow Honey to subscribe or check out the rest of the boxes in the nail polish subscription box list!
Rainbow Honey Sea Star Swatch