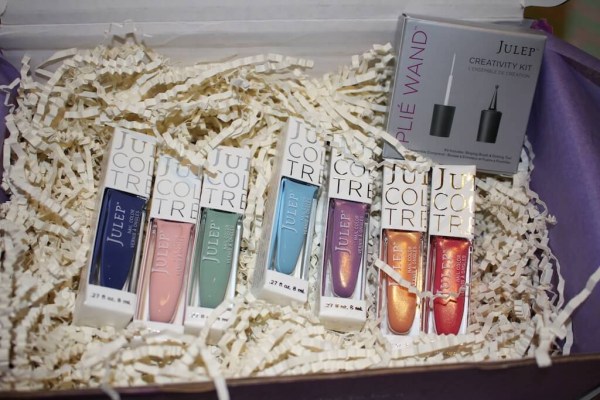 May's Julep Maven box was weird! They sent me part of my box, the upgrades separately (hello, it took DAYS longer than supposed to!), and my first box was missing a bunch of stuff. My missing items have been shipped, but most of all I wanted to show you the rest of the collection, plus update my  Plie wand review! You can see my first May Julep Maven review here!
First, all the super pretty May Maven colors. Man I didn't realize how beautiful some of these were – it's like a pile of French macarons. I think Fresh Twist is the least accurate title for this collection I can think of. I can't say I like the in-account swatches. I preferred them all on one page like they used to do. I didn't have a true sense of the colors. From left to right we have Iona, Jules, Kam, Jeanne, Paulette, Saaya, and Laree. Paulette looks nothing like the online swatches to me, and is a Golden lilac tulle shimmer. It appears pink in Julep's photos. I'll choose it next and probably post it in one of my daily posts, or the next Plie Wand update! 
If you aren't a member yet, you can use code FREEBOX to go ahead and grab your free starter box! It's $2.99 for shipping. Plus you get free shipping at Julep! 
Updated June 1: New Mavens can customize their box as much (or as little) as they like. Sign up for 1 month and pay $24.99/month ($4.99 shipping for your welcome box), or sign up for 3 months and pay only $19.99/month (FREE shipping on your welcome box!!)! Take the Style Quiz  and enter FREEBOX at checkout to get your first box free. I totally recommend picking up the 3 month customizable subscription! I am loving being to pick out exactly what I want!
And ladies (and the 2 dudes who read my blog, I wish there were more of you, alas), customization is here!!! You can get a fully customized box for $24.99 per month, or save $5 a month by prepaying 3 months in advance, and get your Julep boxes at the original price! I'm personally super pumped to have the ability to set & forget, or just grab the customized box whenever I want. I have no idea how to start it, I'll really have to put together a big post about it!
The Subscription
: 
Julep Maven
The Description
: Nail polish box and a beauty box. Get either 3 polishes, 2 polishes and a beauty product, or 2 beauty products per month.
The Price
: $19.95 per month
The Coupon
: Use code
FREEBOX
to get your intro starter box free! (Pay $2.99 shipping)
Julep Maven May 2014 – Part Deux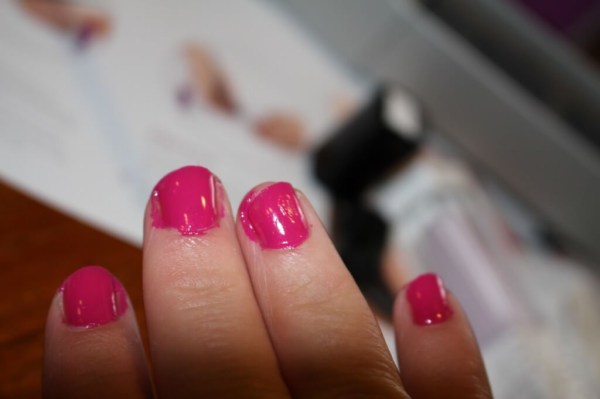 The Plie wand sort of sucked on my first attempt.  OH BOY DID IT EVER. That was a hot mess, right?
I chose Laree, a Golden pink taffeta shimmer, for the second shot. Barely a flaw!  I still get a little messy when painting with my left (non-dominant) hand  but this manicure is absolutely an improvement over my normal painting skills!  In retrospect, I should have chosen not-pink, just to be different from the first. You can see the color difference though!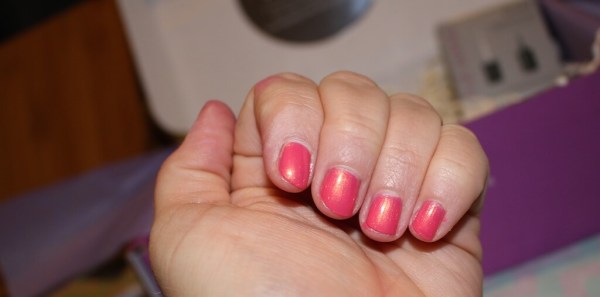 Painting with my dominant right hand, the Plie wand  provided almost perfect results.  Thank you to reader Angel who provided some general polishing tips which I think really helped improve my game. I need some cuticle work but I think there may be an actual polish gap, aren't you proud of me?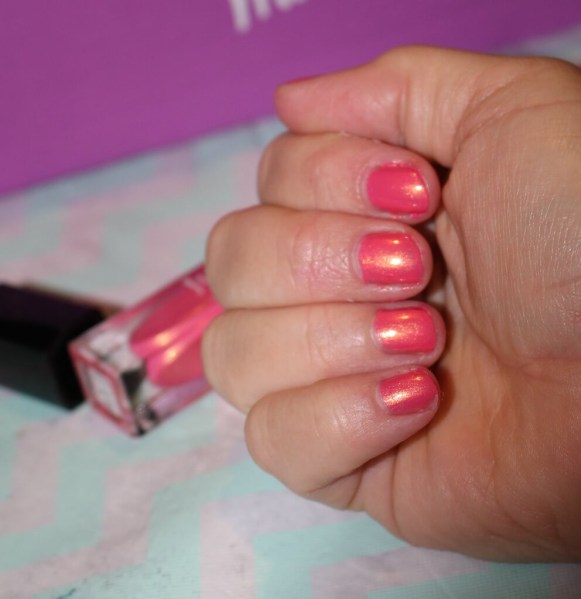 Painting with my left hand the Plie wand provided dramatically improved results from my normal manicure. I am really happy with this! This is a thin polish and I'd typically do one more coat, but I'm done for the night 🙂
I haven't tried the creativity kit yet – I'm leaving well enough alone for the night, but I have two children that have fingernails/canvases for me to practice teeny weeny things on! Between the awesome polish shades and the new Plie wand, Julep Maven is now one of my May faves!
Don't forget Julep Mavens can get 30% off with coupon PERK30 in the store.  You can check out the rest of my Julep Reviews or sign up to get your free intro box – just use code FREEBOX to give it a try! (Pay $2.99 shipping)