It's Friday! What do I have for you today, hmmm, that HauteLook lip bag is up today at 11 eastern!
And we're bringing back hits & misses (halfway) with a Friday Faves with Jennifer at Mom's Got Mail! It's actually something that some of you have requested a lot and I'm happy to bring it back, I think it's a good thing! Obviously nearly all my fave stuff is from boxes, because that's how we roll.
Fave Makeup – Butter London Eyeliner! From my Sample Society box! Seriously, the wear on this puppy was amazing, especially given the crayon formula. Definitely a keeper! So glad I didn't end up with pink (sorry Jennifer!).
Fave Costco Find – Biscoff Cookie Butter! Seriously, it's everything right (except that it's a flipping cookie blended up to make a spread, that's inherently wrong). Delicious! I served it for the kids thinly spread on apple slices. While I was writing this post I ate a spoonful dotted with ghirardelli semisweet chips. Afterwards I ate an apple cut in 4 with cookie butter plopped in where the seeds were. YUMMY.
Fave Home Item – My Cuyana Towel from my Popsugar Must Have Resort Box. It's so soft and soooo surprisingly absorbent. I'm going to have to test it a while (to make sure it stays absorbent?) but I suspect that I will be replacing my towels. I really prefer the thin/absorbent towel to the thick towels that are such a pain to manage. I also like thin kitchen towels, this isn't surprising!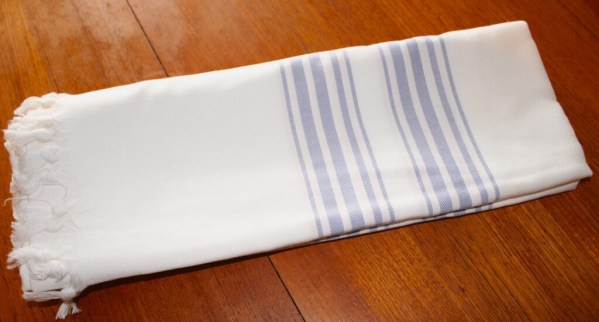 Favorite Cleaning Item – Mrs. Meyer's Dish Soap! I developed an intense hatred of Honest dish soap for failure to properly clean grease off Tupperware sheer midgets (seriously, I know this is bizarre). I got some from ePantry, from which I really only ordered dish soap & fabric softener but I am definitely being convinced to try more things from there. It's super easy. Anyways, Mrs. Meyer's has an amazing smell plus it cleans things which is GREAT. Also when did I become the type of person who had a favorite cleaning item of the week?
Fave Show – Everything is good now that Game of Thrones is back!  I don't read the book – the actual writing wasn't my style – so I have no idea what's going to happen, and I love it. Danerys' dragons are growing up and getting snappy and Arya is totally transforming and maybe Sansa will, oh, well, poor Sansa. Hope things look up for you soon!
Friday Fails (just for fun)
– Fedex misdelivered my son's replacement Cloud B octo night light. They haven't been able to find it, although they insist they know where they delivered it to.  As it showed up in my delivery manager, I suspect that it was addressed properly. So total fail on FedEx's part!
This was super fun! What a GREAT Idea! This linkup is also a Friday Fave!