My POPSUGAR Resort box arrived today! Do I need to tell you this box is sold out? Long ago? It is. Hopefully sometime in the future this review will help you decide whether you want to get a POPSUGAR special edition box. For me the answer is usually yes! 🙂 Love the colors in this box!  And yes, I know people are still waiting on theirs. All I can figure is that PSMH had a supplier issue and they are graciously not naming names.

Everything in the special edition boxes comes individually wrapped. Love everything about it but the black tissue is really dark. I know it keeps it all a surprise, but I'd like to see something a little more peppy. Loved the blue outer tissue.
The Subscription
: 
POPSUGAR Must Have Box
The Description
: Seasonally themed must-haves selected by the POPSUGAR editors. Beauty, Home, Treats, Accessories, Jewelry, and Personal Care. Occasional luxury boxes for women, men, and home.
The Price
: $39.95 per month, less than $36 per box on a 1 year subscription.
The Coupon
: Save $10 on your first box! Use code 
APRIL10
. Expires 4/25 (while supplies last)
POPSUGAR Resort Box Review


Limitless information cards, just like your eyeliner.
Worth $100? Yep. Let's talk real talk. None of us that are buying these boxes are rarely going to ever purchase these things at full retail, save but for a few really coveted things (Goldfaden Scrub in the Fall Style box? Yes. I loooove it!). But do I think the sort of luxury items in the boxes are worth $15-20 each? Yep!
Clark's Botanicals Cellular Lifting Moisture Mist ($28) Oooh another product using those swiss apple stem cells! This is only I think the second or third time I've seen one! I don't know if I'd use this plumping, softening, soothing mister on the go, I think I'm more likely to use it at home when I don't have my face done (depends on what I'm wearing).  I'm a huge fan of face misters!
Salty Road Salt Water Taffy  – Salty Caramel Apple ($6.50) This was fun! It wasn't super appley or salty or caramely. You can see the vanilla bean but I didn't really experience any sea salt crunch! It was, however, super soft. I've crammed three pieces in my face today so it must have been pretty good.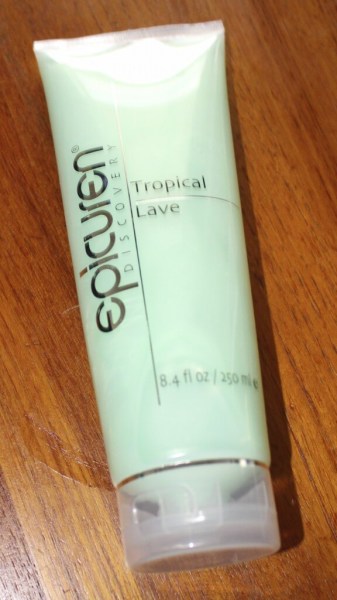 Epicuren Discovery Tropical Lave ($25) Lave means wash, but that's sort of silly since the rest of it is in English. However, it's totally delicious smelling and coconutty and something that someone would apply on my body in a spa if I had a zillion dollars.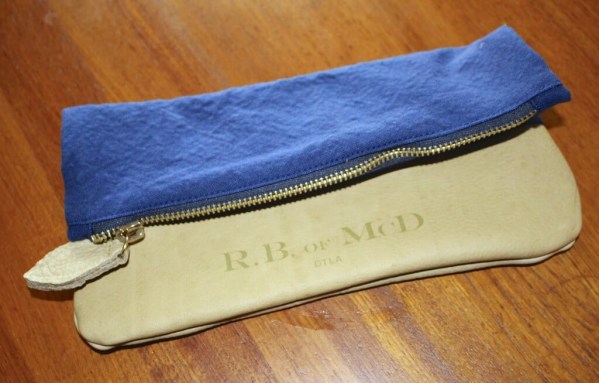 R.B. of McD #2 Clutch ($75? 100?) Who knows what price to pin on this – it was made just for Popsugar, which means they probably used remnants from their UBER SOFT LEATHER THAT'S LIKE BUTTER! Seriously it's the kind of leather that will make me swoon. Am I the sort of lady going to a resort anytime soon? No. But I sure can collect bandaids inside of it and stick it in my purse and stroke the leather part of the clutch when I need soothing.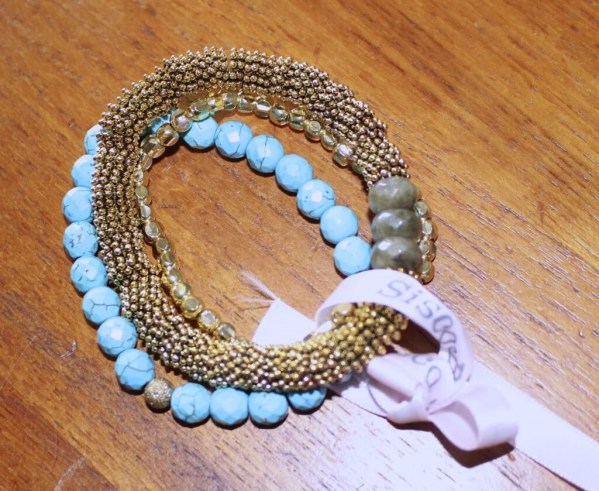 Sisco Berluti Bracelet Stack ($176) A  Popsugar exclusive, this is so pretty, but alas, the thick gold one seems to make my wrist look fat. I don't know how that is. I'm hoping my best friend can help me figure this one out. It's not like I have anything close to large wrists.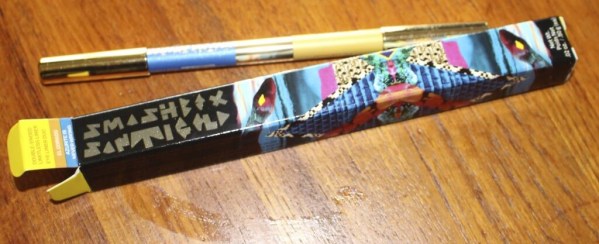 Smashbox Cosmetics The Santigolden Age: Double-Ended Limitless Eye Liner ($24) The color is Azurite Is Never Wrong/ El Dorado – bright blue/ soft gold.  I'm on the fence about this one. I could probably pull these off as shadows (and you can use this pencil as a shadow), but I am not an actual peacock. This is a tough one. It's ok to have a meh item.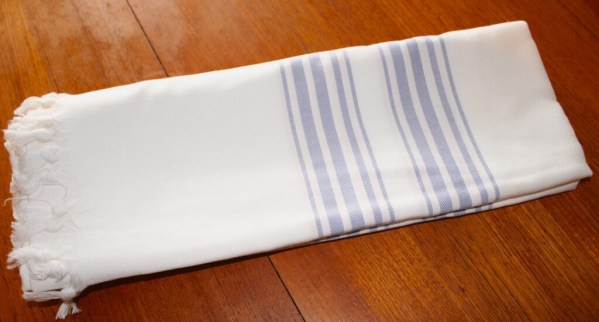 Cuyana Turkish Towel ($55) It's beautifully soft and delicious. I want more of them. Lots more. I want stacks of these towels and to get rid of all the terry towels. I'll be testing this one out to see how it performs for me! This is one of those things that if Costco brought in a pallet of Turkish Towels I'd buy 20 of them! I can just imagine laying this one out on my deck chair! This really makes the box for me. Now someone take me to a tropical destination with my stuff and hire a babysitter!
This was a fun box, yes? The retail value was somewhere around $400, and paying 25% of the list price for luxe products is something I'm happy to do once in a while. Did you get this box? I definitely was excited about it, and I'm about as equally as excited for the April POPSUGAR Must Have Box. I guess it doesn't take much to make me happy!
If you're interested in the regular monthly box, visit POPSUGAR Must Have Box to subscribe or find out more! You can save $10 on your first box with coupon APRIL10. Check out all my POPSUGAR Must Have Box Reviews! Don't forget to take a look at other Lifestyle & Combo Subscription Boxes.