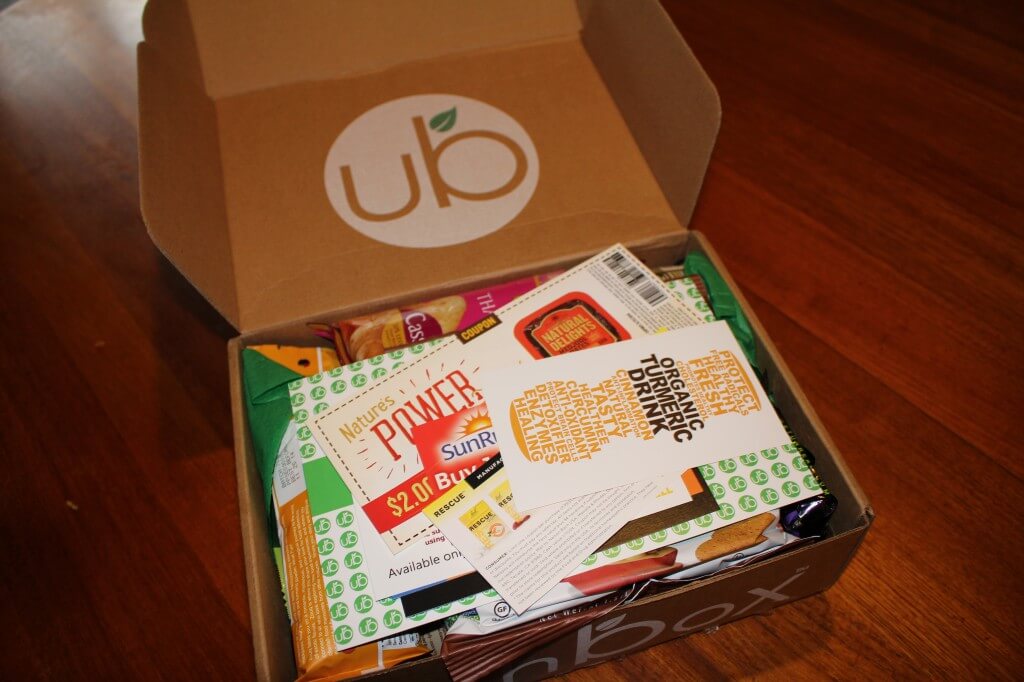 UrthBox is a new food subscription box focused on delivering healthy snacks every month. I had a request for a review of the Diet Box (I've been getting the classic box – there's also gluten-free and vegan) and I asked UrthBox to send one my way, which they did! Love how they completely pack those boxes full!
FYI – This box does contain some bonus items that I don't think they want you to get the idea they're in every box – and I'll note them in my review (there are stickers on the actual items!).  Even without those items included this is one of the best value boxes I've seen. Definitely go for the longer subscription on this one! They have changed the sizes of the boxes, and I'm pretty sure this is a Medium sized Diet box. It would cost $39 per month or $29 per month on a longer subscription.  You can get $10 off your first box with coupon code  CRUNCHWEEK.
The Subscription
:
UrthBox
The Description
: Every month get 12-15 fantastic full size products that must pass strict ingredient, sourcing, calorie, nutrition and manufacturing standards. Select from Classic, Gluten-Free, Vegan, or Diet Box Options.
The Price
: $25 per month down to $19 per month on a 6 month plan
April Diet Urthbox Review
There were some nice coupons in my UrthBox. I just set them aside!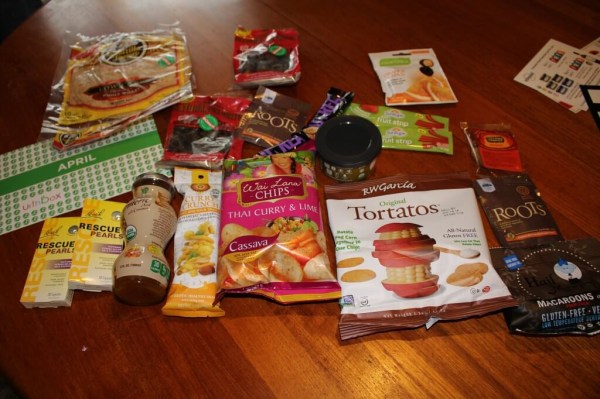 Look at all the foooood!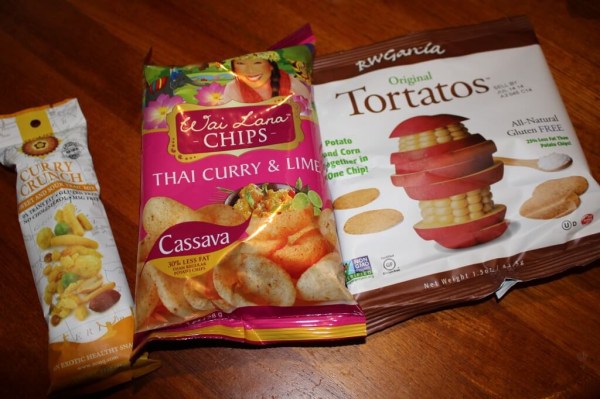 Zouq Curry Crunch Sweet & Sour Mix Looks awesome!
Wai Lana Thai Curry & Lime Chips I don't like these but my husband does!
RW Garcia Tortatos I think I'm going to eat these frankenstein chips (calm down they're non-GMO, but they are potato AND corn!) with spinach dip!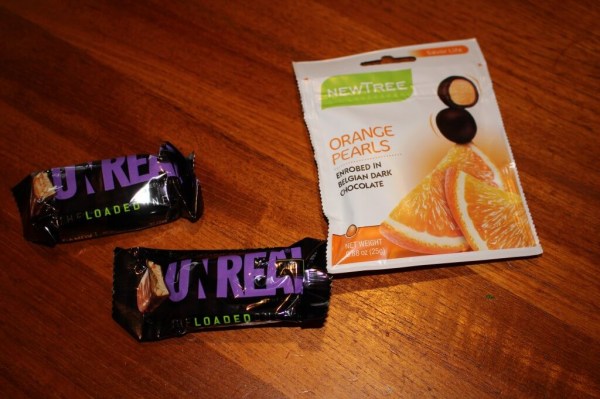 Unreal Candy Love these, and they aren't the weird kind without nuts!
New Tree Orange Pearls I have had these before and they are addictive. You're supposed to control yourself with them. I'll try.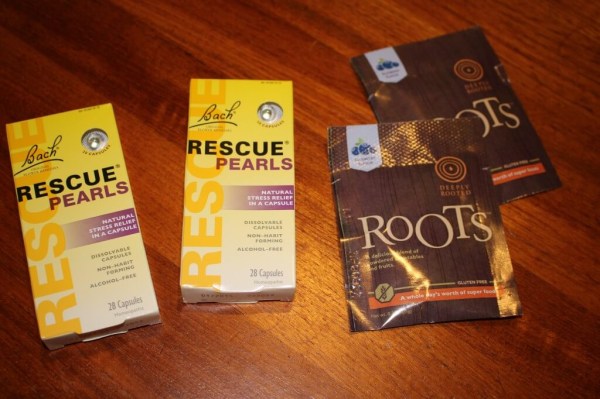 Rescue Pearls Natural Stress Relief Alcohol free version of rescue remedy!  These will be interesting to try, I've only ever used it on my dog!
Roots Blueberry Flavor Powder A whole day of antioxidants! Great to hide in Oatmeal!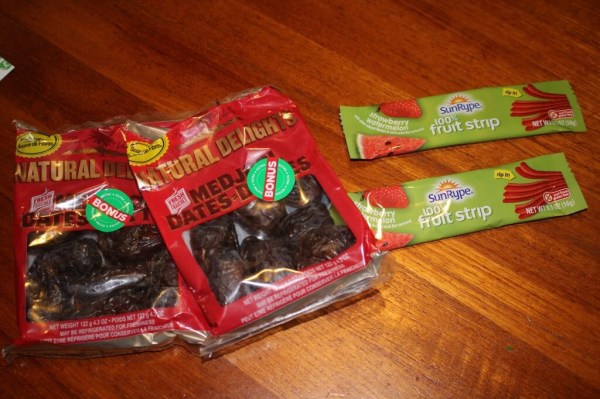 TWO packs of Natural Delights Medjool Dates! These are Bonus items and going to my bestie, who is visiting for lunch this week and a complete date freak!
SunRype Fruit Strips I tucked these in my stroller bag. They sound so good and are 100% fruit.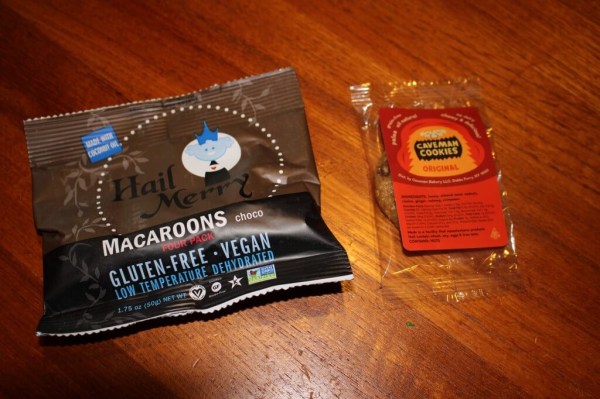 Hail Merry Macaroons Choco flavor, I love anything Hail Merry
Caveman Cookies I think I've had it before! Fun to try!
La Tortilla Factory Whole Wheat Tortillas I'm making faux-potle this week (DIY Chipotle) and this will be great for the kids to make their own little rollups. They are good and not weird tasting like most low carb tortillas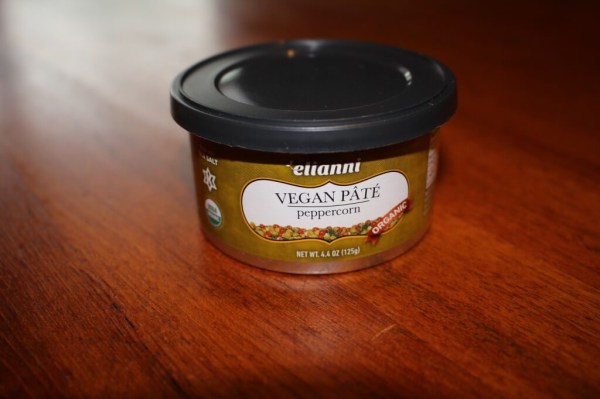 Elianni Vegan Peppercon Pâté I mostly find this terrifying but I will pop it open and try it on a cracker! I bet it's a great spread!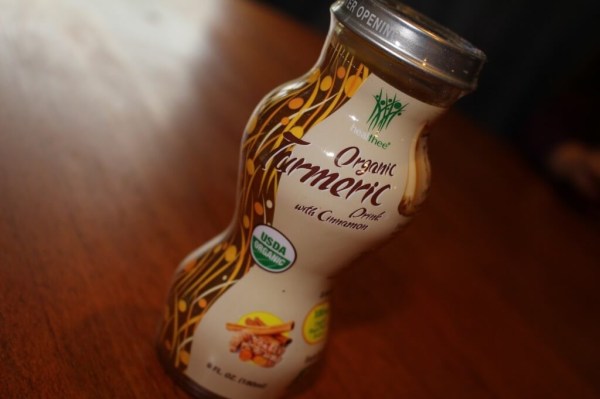 healthee Organic Turmeric Drink with Cinnamon So unique, mine is in the fridge getting cold. It's supposed to be a liver purifier and protect your brain cells!
I think Urthbox is a great value box, and I'm definitely looking forward to receiving my classic box in the next day or so! Remember that you can get $10 off your first box with coupon code  CRUNCHWEEK if you'd like to check them out for yourself.  I'm excited to try everything in this box and I honestly don't even know where I'm going to put all of it!
You can visit Urthbox to subscribe or find out more! Check out all my Urthbox reviews!