April's Tyler Florence Fancy box came on Saturday, but I'm a wee bit behind! This box was super surprisingly heavy and came with really a ton of items. I was also surprised to see a brand new information card! I'm wondering if it will show up in other Fancy boxes soon? They seem to do different things for all the boxes sometimes!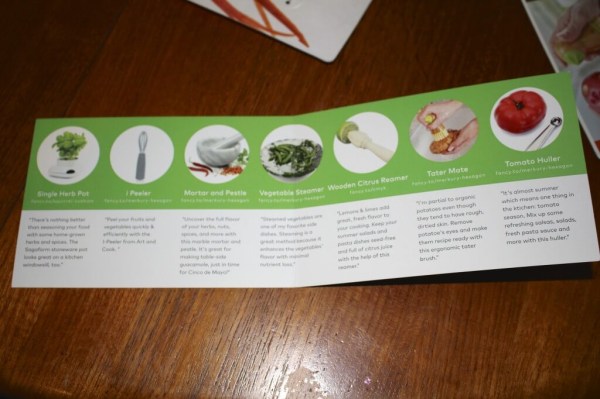 The Subscription
:
Fancy Box – Tyler Florence
The Description
: The Tyler Florence Fancy Box is a collection off the best home goods hand-picked by this celebrity chef! Packed with gadgets and kitchen accessories.
The Price
: $39 + $7.95 shipping
The Coupon
: Save 10% off! Use code
FOLLOWUP10
.
April 2014 Tyler Florence Fancy Box Review
SEVEN Items in my Fancy box! SEVEN! How is this?!
Sagaform Single Herb Pot ($24) Looooving it! I looked for cilantro at safeway today, but no dice. This is perfect for our windowsill. It turns out our balcony gets so much crazy insane sun it kills all the plants (we can't get enough water out there to keep them alive). I am deploying this as soon as I find cilantro!
Tomato Huller ($5) Can I use this on strawberries too? My husband will be in love with this, he's the big raw tomato fan!
Wooden Citrus Reamer ($7) I have a super unreasonable hatred of wooden kitchen tools (even ones that will be used pretty much on acidic germ killing fruits) so I would pass this on, but it arrived like so.  Whatever. Someone will use it.
Norpro Mortar and Pestle ($20) My husband will love this. men love smashing anything to bits in the kitchen.
Art + Cook iPeeler ($9) This is a super fancy swirly peeler. I have to be honest, I have multiple peelers, all of which I love and use. I traded this for some Demeter perfume. THANKS FANCY!
Full Circle Tater Mate ($9) They market it for organic potatoes for some reason. Um, it will work just fine on those pesky conventional taters too! Love that it has a built in eye remover.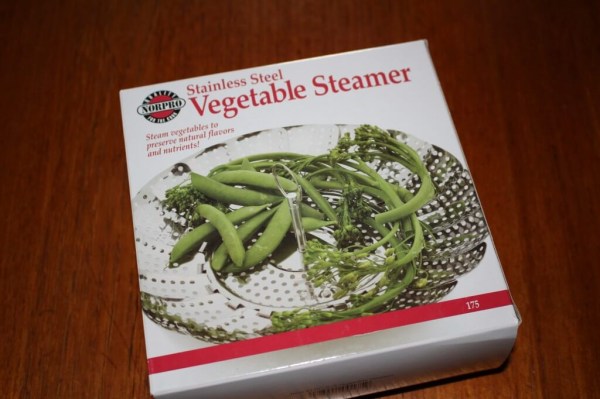 Norpro Vegetable Steamer ($8) My inlaws have this but theirs is old and nasty. This one is norpro stainless steel so this will last forever. I think this is a really nice summer addition to the kitchen. It folds up and it makes it super easy to steam just in a regular pot.
This was actually a really great summer bounty theme – but a lot of the items were duplicative for me. Then again, I'm kind of a kitchen queen, so that's expected. The total value of the April Tyler Florence Fancy Box was $82 (a dollar more than last month). If you want to get Tyler Florence Fancy Box you can visit Fancy and subscribe for next month. Use code FOLLOWUP10 to get 10% off.
Check out all my Fancy Box Reviews! Don't forget to take a look at other Food & Cooking Subscription Boxes & Lifestyle & Combo Subscription Boxes.