Taste Trunk is a fun food box that lets you choose healthy, sweet, bbq, or gourmet! I always pick gourmet but I'm thinking about switching it up a little! Not sure yet. Looooved last month's box, I'm totally obsessed with those crackers! This month was mostly sauces and although I typically try to taste a few things, I didn't this month. It all looks great and I think I need to pick up some chicken at Costco to get cooking! I love just getting some meat and veggies and using a sauce because I'm so out of juice with my cooking with my husband away. I love that everything in this subscription box is all natural and I don't have to worry about label reading!

The Subscription
:
Taste Trunk
The Description
: Taste Trunk offers 4 different monthly trunks: Gourmet, Sweet, Health, and BBQ. Each trunk has 5-10 products.
The Price
: $29 per month + $5.99 shipping
The Coupon
: Put my name in the "special instructions" box at checkout (Brandy O'Grady) and use coupon code
Splurge25
for 25% off!
April 2014 Taste Trunk Gourmet Box Review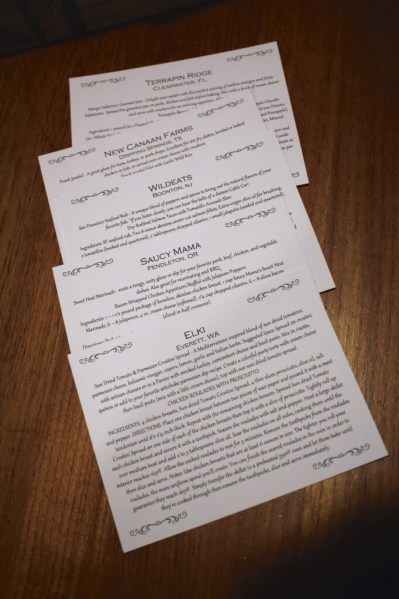 I still love the separate cards. A bit of a different look for April!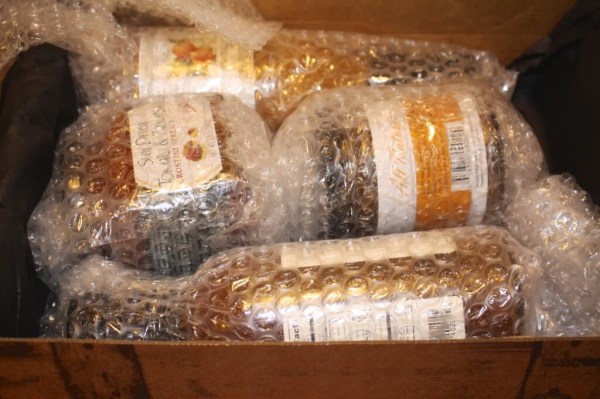 Everything was packed up super neatly and securely.
This month was mostly sauces/spreads and I would have preferred a bit more variety. Maybe one sweet item! But everything looks super interesting and I'm excited to try them.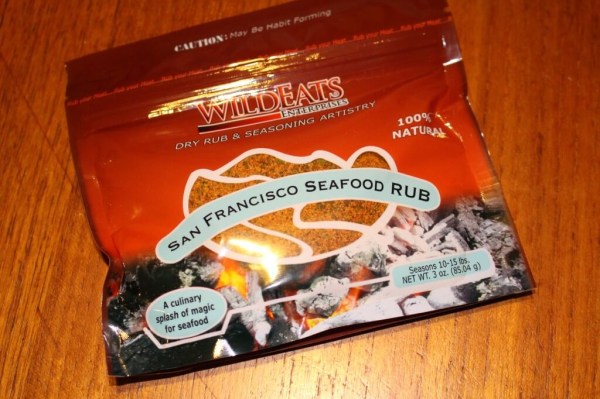 WildEats San Francisco Seafood Rub ($4.50) this one is going home with my husband because I don't do seafood really. It says it seasons 10-15 lbs which is pretty substantial. He can eat all the fish he wants when he is away!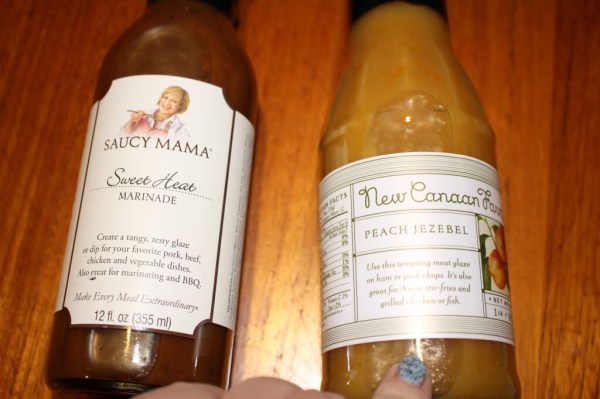 Saucy Mama Sweet Heat Marinade ($6  maybe wholesale price) I kind of feel like this creamy black pepper and sweet-hot chili sauce would be my pick at one of those mongolian bbq joints. I'm thinking flank steak & peppers and onions would be great!
New Canaan Farms Peach Jezebel ($12) HOW CAN YOU NOT LOVE THIS? I LOVE IT. It says use as a glaze on ham or chops or for Asian stir fries, grilled chicken or fish, serve on cream cheese with crackers (the way I prefer it), etc. I love that there's been something a little southern in my Taste Trunk boxes (the white BBQ sauce from Alabama was to die for).
Terrapin Ridge Farms Mango Habanero Jam ($8) Yes, also for cream cheese/crackers. You can use it as a glaze too, but honestly, I'm all about the cream cheese. I have 2 bricks of cream cheese in my fridge. That is all.
Elki Sun Dried Tomato & Parmesan Crostini Spread ($8.50) I don't need to eat this to tell you it's great. I think I'm going to eat it with turkey & fresh mozzarella and skip the bread. Or just eat it on more cream cheese.
I'm sorry I'm pregnant, but I'm basically going to eat all the things with all the cream cheese and it will be delicious. I guess it's the late spring entertaining box for me. It will entertain me for sure! Fun box and maybe I'll get more creative than just cheese & crackers, but I doubt it!
Visit Taste Trunk to find out more and if you would like to subscribe, you can save 25 percent off your first Taste Trunk by using code and putting my name (Brandy O'Grady) into the special instructions box!