Oh boo hoo, I think the April box is my big girl's last Citrus Lane box. Although she's 5 and a half now she still loves getting it, but I think it's time to shove her along to something else. I might be convinced to add a few more months with Citrus Lane's semi-annual sale, happening now until April 22. You can also get your first box for $9 with code MOMSPLRG20. Obviously this code doesn't work on longer subscriptions on sale!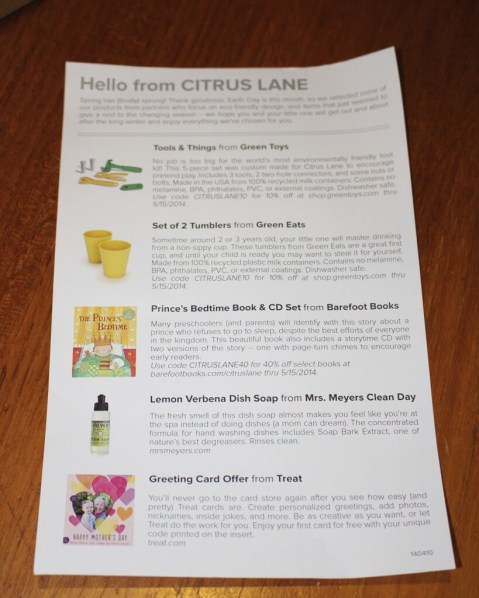 I think I said something cranky last month about the super-silly letters at the top of the  Citrus Lane information card.  Well obviously what I say goes (haha) because those are gone. Nobody cut those out and used them. I'm glad to see less paper  being used with all the great information still on the sheet!
The Subscription
:
Citrus Lane
The Description
: A box of 4-5 great items per month for your child aged 0-5 years old.
The Price
: $29 per month, down to $19 per month on a long subscription
The Coupon
:To save $20 on your first Citrus Lane box, just use coupon code 
MOMSPLRG20
 when you check out.!
April 2014 Citrus Lane Reviews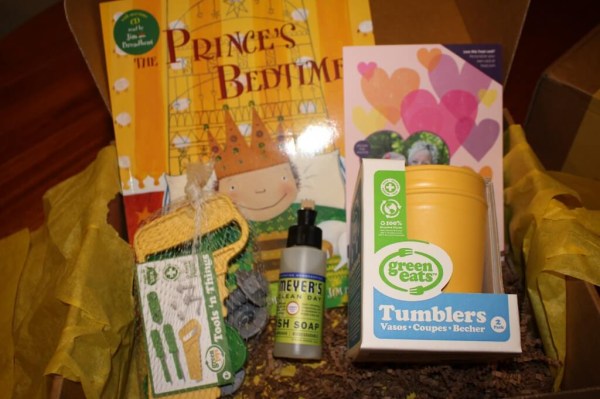 This was a cute box – April Citrus Lane  for a 3 year old boy. Honestly Citrus Lane hasn't been consistent on whether the 3 year old and 5 year old boxes are the same or different. It's been back and forth!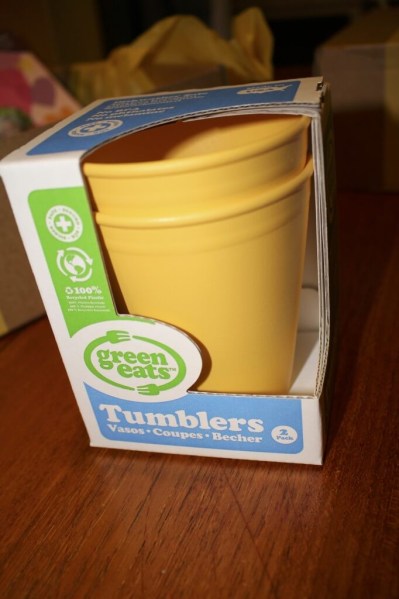 Green Eats Tumblers ($6) Eco-friendly drinking cups. Nice that two came in a box! Made from 100% recycled plastic milk containers and has no melamine, bpa, phthalates, pvc, or external coatings. Perfect choice for Earth Day!
The Prince's Bedtime – Barefoot Books ($9) This was in both boxes, which I love because it's nice for girls and boys to both get books that have protagonists of each gender. I feel like most of the kids books we have are female focused so I was pleased with this. I also always love Barefoot.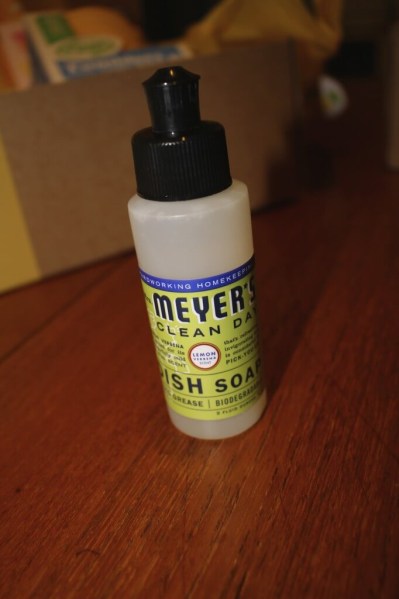 Mrs. Meyer's Clean Day Dish Soap in Lemon Verbena ($1) I just got a ton of this (see this post) and it's marvelous! I'm directing you to ePantry (save $10 with my referral link) if you want more. Fantastic household supplies sub. I love Honest, but their dish soap has been terrible for me. This is my new fave and it smells wonderful too. I know some people get cranky at getting dish soap but finding one that works and is eco-friendly and that you LIKE isn't easy. Lots of options on ePantry, new convert, go see. Was in both boxes.

Green Toys Tools n Things (~$8?) This is a partial set but still enough for fun. Sometimes I get a little annoyed by Citrus Lane's half sets of things, and then I remember how many toys I have. This went in my guy's Easter basket. He loved it!
Oh and there's a trial offer for one free card from Treat Greeting cards. Since I have 2, I'll send one to each grandma on mom's day. I can't recall, it was around $2.50.
Grand total – Around $26.50. On the lower end but it made a great Easter basket!
April Citrus Lane  for a 5 year old girl. all duplicates of things we own, mostly because of the box we own, but also right down to the purple jump rope.
Green Toys Purple Jump Rope ($8.39) I can see why this wasn't in a 3 year old's box – they are way too young! Obviously I like this item because I have actually purchased it before 🙂
The value 5 year old girl's Citrus Lane was also about $26.50. Not the best but not the worst in terms of value, but I thought everything was eco-friendly and fun and made for great spring presents! I think the book was my very favorite part of all!
Visit Citrus Lane to find out more about the box! To save $20 on Citrus Lane, just use coupon code MOMSPLRG20 when you check out. Don't forget to add to your subscription with the giant sale going on!
Check out all my Citrus Lane Reviews! Don't forget to take a look at other Baby Subscription Boxes & Subscription Boxes for Kids.