MyBakersBox is a subscription box for bakers, or wannabes, or bakers that need ideas (like me!). I was totally excited to review this box, because as I say, I'm not a pinterest mom. I'm honestly no good at picking out pinteresty party things to put together. I felt like a great mom when we made these cupcakes!
The Subscription
:
MyBakersBox
The Description
: A monthly subscription box where you will receive a special box full of unique baking supplies, recipes, ideas and so much more
The Price
: $25 per month, down to $19/month on a 6 month subscription!
April My Bakers Box Review
Seriously, this box made me so happy when I opened it. I think it's darling. Look at the bunnies and the sheep and the chicks! And everything is a super fun color! I never save the packaging, ever, and I saved the tissue paper and squigglies.
This was everything in the box! I was really truly squeeful at everything in here!

Rabbit & Carrot Cupcake Wrappers ($6.95) I never used these before!
Rabbits & Carrots Sugar Dec-ons ($5.95) Um, nope, never used these before either!
Lamb & Chick rings ($4.95) Super easy to stick into cupcakes. I had no idea.
Easter Egg Cookie Cutter ($1.95) We have yet to make cookies but we will! I need to look up a good hard icing recipe!
Bright Sequin Sprinkles ($3.50) & Green Jimmies ($2.50) Perfect colors for this box and actually tasty.
There were also 12 cupcake liners to go with the wrappers. The cupcakes baked very nicely in them (sometimes I use different wrappers in the same batch and can see the difference!).  The retail value was about $26, a hair over the price of the box, which does include shipping. You can get a better deal with a longer subscription!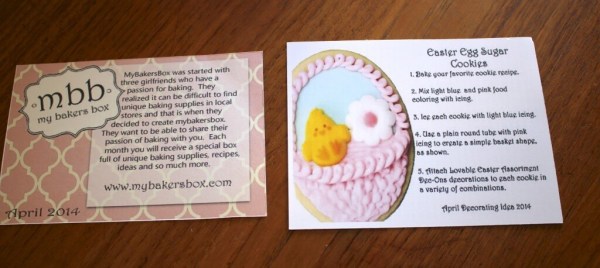 After checking everything out we were ready to start. I saved the cookies for later because I wasn't ready to go there. It looks complicated but I don't think it really is. Frosting is easier to make shapes with than you think! We made cupcakes for our review!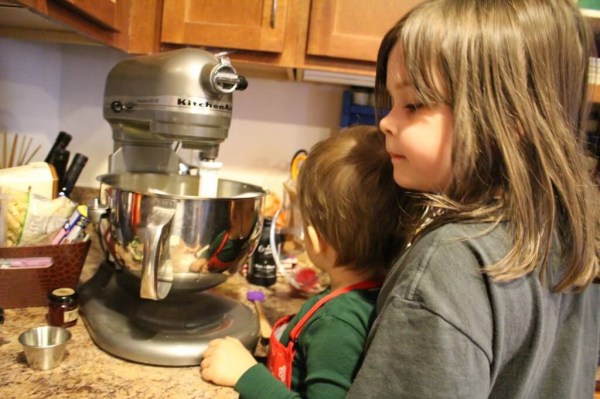 Mix Mix Mix (I made cupcakes & frosting)
….
And then we decorated… I cannot take photos while decorating, I cannot. This is what we turned out! I'm so proud!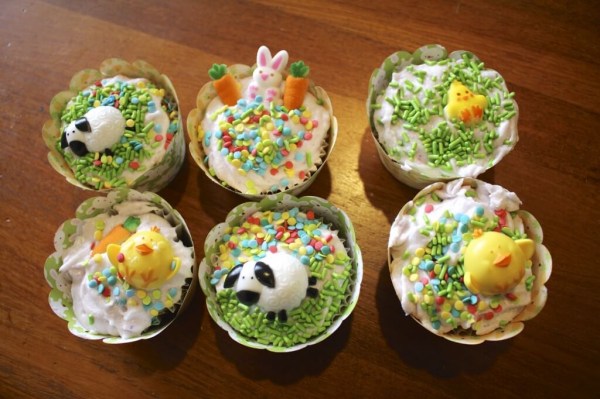 I made the ones in the middle, my son did the ones on the left, and my daughter did the ones on the right! Can I tell you how proud I am of of my lamb on green grass with confetti sky? BECAUSE I AM! I have never baked my kids something so cute in my life!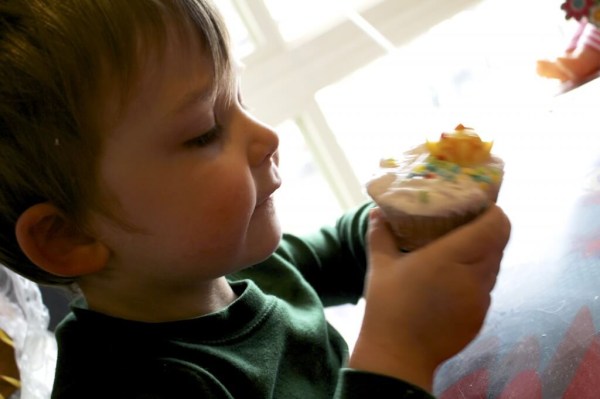 He only eats the tops. There's just something about a decorated cupcake.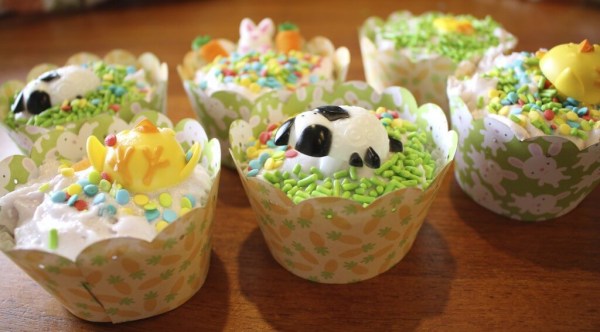 Oh yeah look at those cupcake wrappers! #bestmomevar!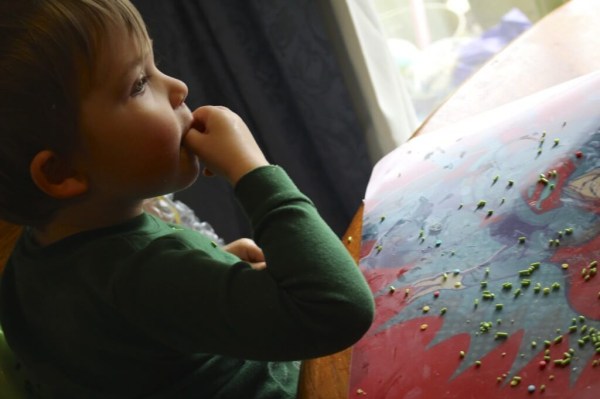 And seriously, the actual sprinkles were delicious. How do I know? This kid snaked half a can of jimmies while I wasn't looking. Tonight he actually crawled up on the counter and stole some of the sugar dec-ons for making cookies! He heartily approves.
I ended up freezing all but two of the cupcakes! I just put them on a tray and stick them in the freezer until they are frozen, then I remove them, stick in bags, and I can take them out and thaw on the counter. Yes you can freeze cupcakes, even frosted and decorated ones! That way I have all my Easter cupcakes ready to go for Easter morning, I have NO work for breakfast that day, and we can grab one if we need a quick & fun dessert in the meantime. This is what I would do with this box every month, instead of eating all of them in a 24 hour period!
I think MyBakersBox is a wonderful way to make baking something a little more special! Boxes ship out on the first of the month, so if you'd like to get this very box, be sure to go subscribe! You can order this box up until the 10th to get it in time for Easter!