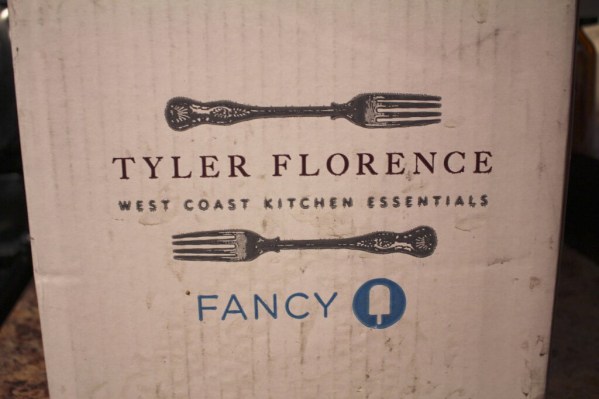 Tyler Florence Fancy Box for February is here! Only a few short weeks after the last one. I'd be totally okay with a biweekly dose of this subscription! It's my favorite Fancy box and they have multiple kinds but right now this one is tops for me (Hint – just go to fancy and search "Fancy Box"). They were reasonably close to actually delivering this in February and did actually ship in February! When this box arrived my daughter got super duper excited and said this is the box my juicer came in! And she was right! She's the official citrus juicer when we cook and she really enjoys that task!
The Subscription
:
Fancy Box – Tyler Florence
The Description
: The Tyler Florence Fancy Box is a collection off the best home goods hand-picked by this celebrity chef! Packed with gadgets and kitchen accessories.
The Price
: $39 + $7.95 shipping
The Coupon
: Save 10% off! Use code
FOLLOWUP10
.
February 2014 Tyler Florence Fancy Box Review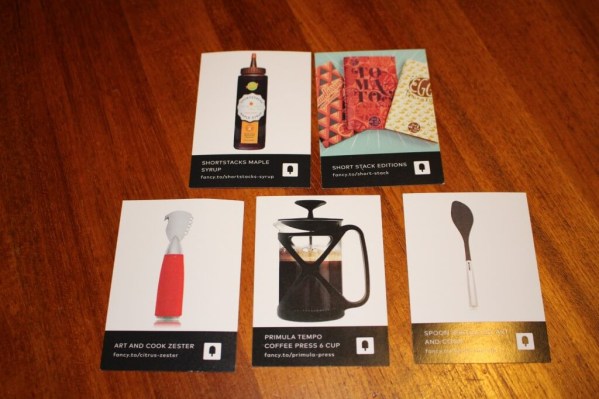 Only 5 items for February's Tyler Florence Fancy Box. So spoiled. I wanted 6.  But once again the cards have Tyler's notes on them! Love that. This box feels so actually curated.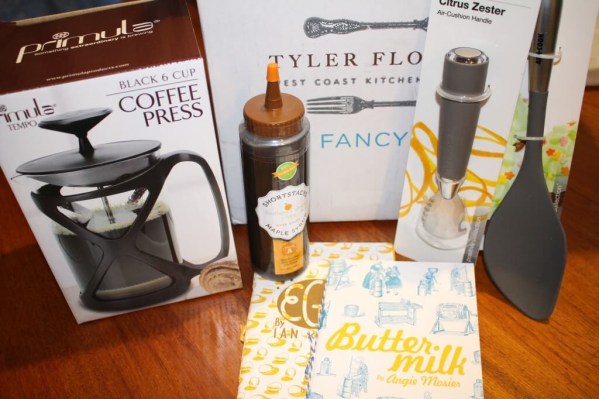 Not sure if this box has a theme or not! What do you think?
I forgot an individual picture of ShortStacks Dark Amber Grade A Maple Syrup ($13) This inspired dinner for tonight – it's Shrove Tuesday and it's time for PANCAKES! Or maybe waffles! It's organic and made in the US.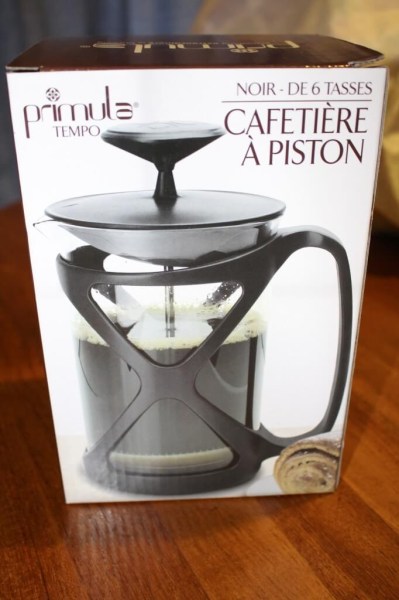 Primula Tempo Coffee Press 6 Cup ($15-20 depending on color, store – Try Fancy or Amazon) Meh. I don't drink coffee. I actively despise it. My husband will be happy to have a spare!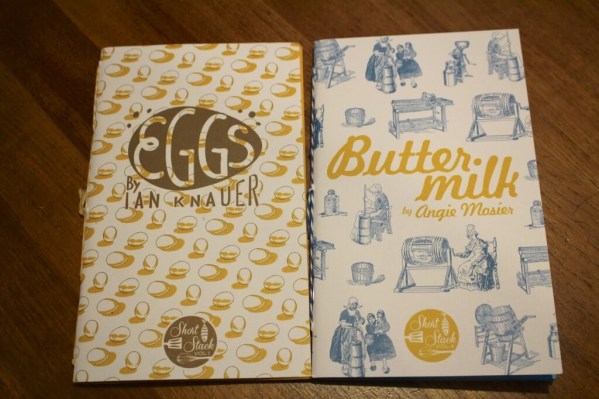 Short Stack Editions ($24) These are little handsewn cookbooks around single ingredients. Tyler recommends the strawberry salsa, but I didn't get that one. My daughter did wake me up at 2:30am the other day to ask about buttermilk. We'll be using that one for sure! They have cute illustrations and are sewn by participants of YAI, a network of agencies that helps people with intellectual and developmental disabilities find work opportunities and receive jot training. I can get behind that!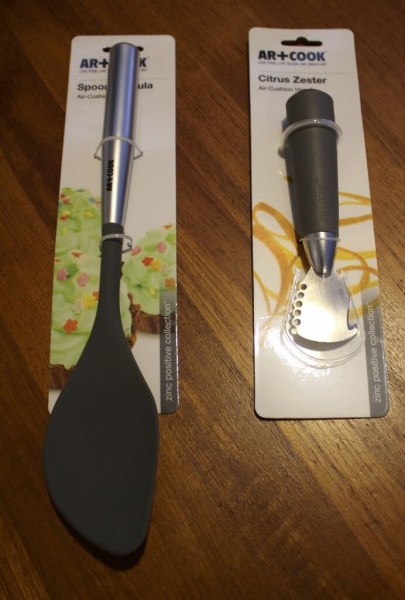 Art and Cook Spoon Spatula ($13) and Zester ($15) I was excited to see this zester (we zest a lot) and this seems less fiddly to wash and less dangerous than using my microplane (which I have planed off some skin with recently). Looking forward to trying this one out! And I love a great spoonula! I really do! These are high quality cooking tools and will find a home in my kitchen!
The total value of the February Tyler Florence Fancy Box was $83. I don't discern much of a theme except loosely pancake/breakfast inspired (Tyler mentions pancakes on the spoonula card and breakfast on the zester). So I think we'll go with that. No need for a theme though to enjoy the items. Except that pesky French press.
If you want to get Tyler Florence Fancy Box you can visit Fancy and subscribe for next month. Use code FOLLOWUP10 to get 10% off. Wishing they had some new Fancy Box coupons! Maybe for Easter?
Check out all my Fancy Box Reviews! Don't forget to take a look at other Food & Cooking Subscription Boxes & Lifestyle & Combo Subscription Boxes.