For March Wantable Intimates
welcomes newcomers Kensie and Yummie. Stylish Kensie has some flirty panties for your collection in gorgeous colors for spring. On the more practical side of things is Yummie by Heather Thompson featuring her line of Yummie Tummie shapewear in fun colors and prints, because who said shapewear has to be boring? Wantable favorites Kiby's, Betsey Johnson, and Fleur't are here for March too with gorgeous camisoles, loungewear, and panties for those who love to relax in style. Stylish new designs are in from Happy Socks as well to keep your tootsies looking adorable.
The Subscription
:
Wantable
The Description
: Wantable offers both a beauty and a jewelry subscription box. Makeup boxes have 5 full-size premium makeup products selected by a makeup artist or stylist and application tips. Jewelry boxes contain 4-5 jewelry boutique items and expert accessorizing tips. New – the Intimates Box!
The Price
: $40 per month
The Coupon
: Save 10% and get your box for $36 when you sign up for a subscription!
March 2014 Wantable Intimates Box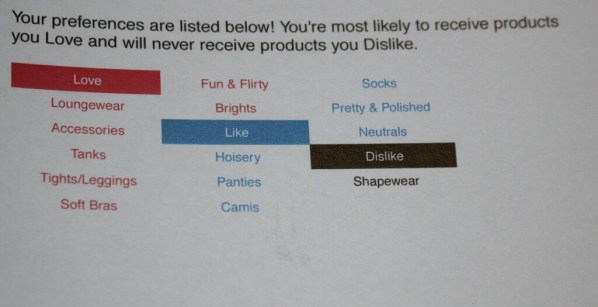 These were my preferences for my Wantable Intimates this box! I changed the preferences and I wasn't really wowed with the results, but it still turned out okay! I have no idea why I said I wanted soft bras. I said I liked low socks only because I was hoping for actually low socks from Happy Feets, one of the featured brands. I only wear no-show socks. I should not have put that.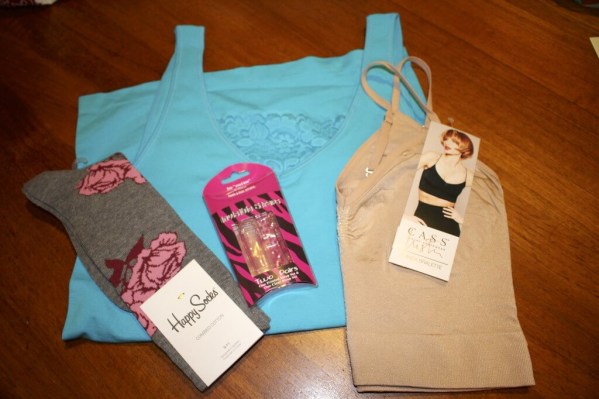 Those Happy Socks ($12) go most of the way up my legs. I cannot imagine why one would wear them during spring (tall & ugly!).  These are not "low socks."  I wasn't wowed by the plasticy invisible straps by Icy Hot ($7.99). I will never wear them. Ever. I don't need plastic digging in on me. Or heart-decorated plastic. I am 35 years old. And a pretty boring 35 at that.
I love love love the Ahh Kisses seamless tank by Rhonda Shear ($29.90). Rhonda Shear was my favorite brand from last month, too! I could not get a good photo of this item.  It's a great teal (the color is off in that photo!) and really impressively high-quality microfiber. Definitely my favorite item and I will wear it!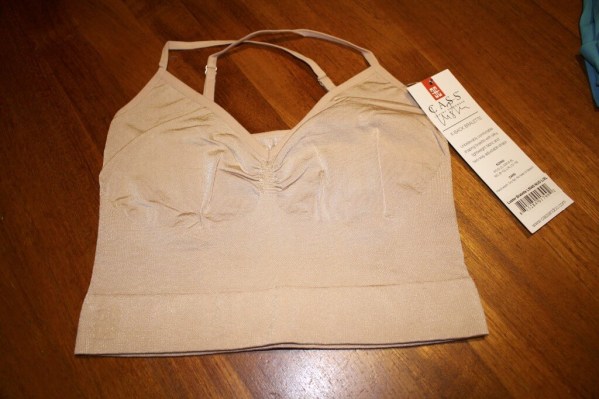 The Cass Luster Bralette ($38) was really my own fault, and I actually think it's a great style (I love how it is a long-line soft bra) and I'm happy with it, but I think it represented a really large part of the value of the box!
Despite me not liking a couple of the individual items, I think it's a great mix and a really excellent value – almost $90. It's certainly time to revisit my profile in a serious way though.
Visit Wantable to find out more about all three of their subscriptions or to subscribe! You can save 10% and get your box for $36 when you sign up for a subscription.