Can I just say that I am still loving my new hair color by Madison Reed? I am! It really works with my skin tone and it's the color that I love – I'm so glad I sent in my photo so Madison Reed could help me select just the right color! But today is not about hair color! It's about protecting the color that you have! Obviously we all want to make it last as long as possible. I actually was admiring my hair color  last night, how multi-dimensional it is, and how it hasn't faded at all!
The Subscription
:
Madison Reed
The Description
: Hair Color subscription! Long-lasting hair color packed with rich nutrients like keratin, argan oil and ginseng root extract. Your hair will feel stronger, shinier and better than before you colored. Formula is free of ammonia, resorcinol, and parabens, taking the harsh out of hair color. And it smells nice too! Set your subscription to exactly how often you need it! Color-protecting shampoo + conditioner also available.
The Price
: $29.95 per delivery + $5 shipping
Madison Reed Shampoo + Conditioner Review
I used up all the Madison Reed shampoo + conditioner in my original box (a few days supply comes with each hair coloring kit) and started using the color protecting shampoo that was in the shower at my mother-in-law's house. And OMG my head got all these crazy sore bumps on it! I may or may not have a sensitive head, but the difference was immediate. I purchased a full-size set from Madison Reed (also available on subscription). It costs $27.95 for the set plus $5 shipping (you can sync up your subscriptions together and save on the shipping cost). It came in just a few days!
I love the packaging on this box! It's gorgeous and it tells you all about each of the ingredients used in the Madison Reed Shampoo & Conditioner to help make your hair healthy. I'm not sure what it is about it but it's gentle on my scalp and doesn't cause terrible bumps on my head like other color-protecting shampoos. It's sulfate, paraben, and gluten free.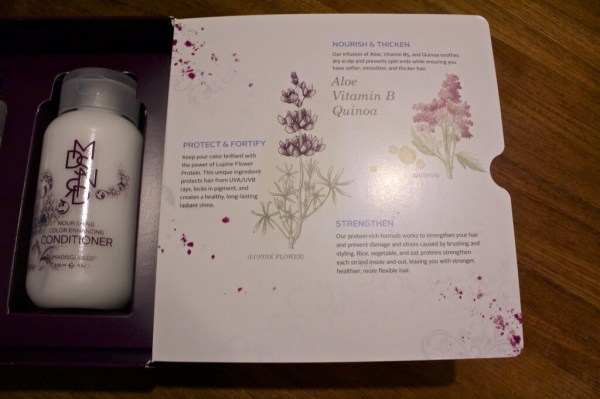 I suspect that the Aloe, Vitamin B5, and Quinoa might help soothe my head – it soothes dry scalp and prevents split ends! Lupine Flower Protein is a UV protectant and the protein-rich formula strengthens your hair. Have I mentioned that this combo works great on my typically unruly fine anti-conditioner hair? It has just the right combo to enhance my hair without weighing it down. Any subscription that makes my hair look good is automatically my favorite subscription. Because I have the worst hair! I feel like a totally different person when my hair looks good – confident and happy.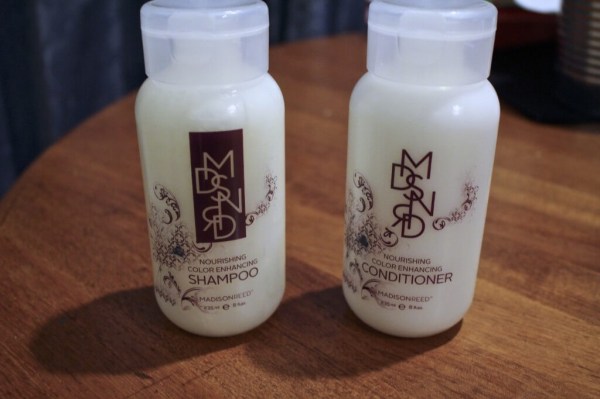 Can I be lame and point out that the Madison Reed bottles are really pretty? And that the difference between the shampoo & conditioner bottle means that even I can tell the difference in the shower? I'm as blind as a bat and that visual cue really helps.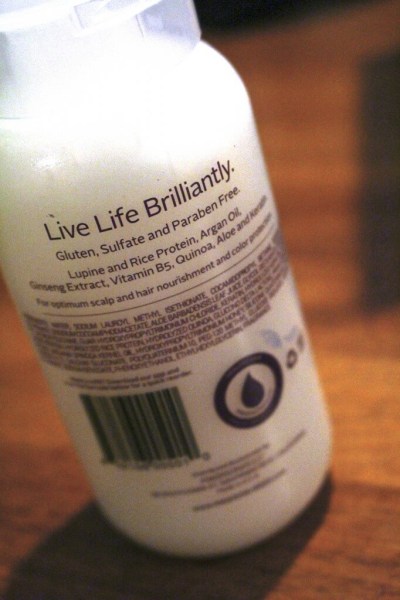 All Madison Reed hair care products have Keratin, Ginseng Root Extract, and Argan Oil to keep your hair shiny and soft. But let's get down to it – the smell! I may have mentioned it in my hair color review but I liked the smell of everything! I wasn't sure what it was, but it's a sage, cucumber, and orange blossom scent, and the essential oils used help protect your color, and control dandruff and scalp oil! Once again I received a code for a free Julep nail polish after my order shipped, which is fun! You can do you hair and color your nails and pretend you are having a spa day for really a fraction of the cost.  You can pick up a set of Madison Reed's color protecting and SLS and paraben free shampoo & conditioner here! Save a couple dollars by putting it on a subscription (hint, I set mine to 12 weeks, I'm not sure how fast I actually use it up, and then I'll change my frequency once I know how often I need it!).
Read all my Madison Reed Reviews! I'll be testing out the next color soon (they suggested two different colors) and will be following all their advice on changing my color and refreshing it, because I've never done it before! It should be exciting! You can ask Madison Reed anything about coloring your hair and they will help you with special instructions for your situation (going lighter, darker, want a certain tone, &c.). I think that is a super valuable feature of this subscription.