Darby Girl is a new crafts subscription box for girls and tweens (but I'm betting older teens would love it too!). It's a bimonthly affordable subscription packed with tons of cute stuff! The craft for the first Darby Girl craft club box was "Let's Get Framed!"
The Subscription
:
Darby Girl
The Description
: From fashion accessories to room décor and more, every project is carefully curated just for Girls Life readers and inspired by favorite new trends. Each Craft Club box contains everything you need to make something amazing.
The Price
: $19 every other month.
The Coupon
: Lock in the promotional price of $16/month by ordering now.
December 2013 Darby Girl Review: Memo Boards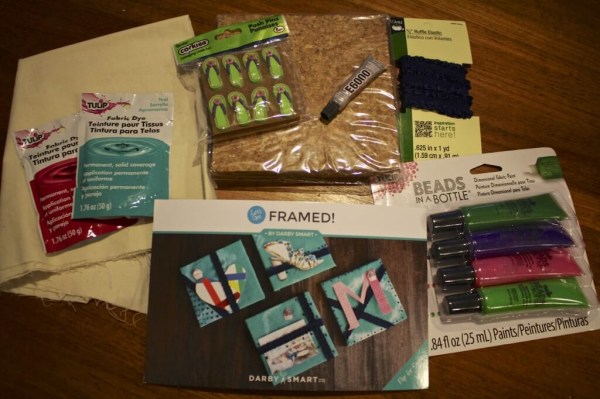 I couldn't believe how much stuff came in the Darby Girl box! There were Beads in a Bottle, cork boards, dye, fabric, flip-flop push pins, glue, and trim.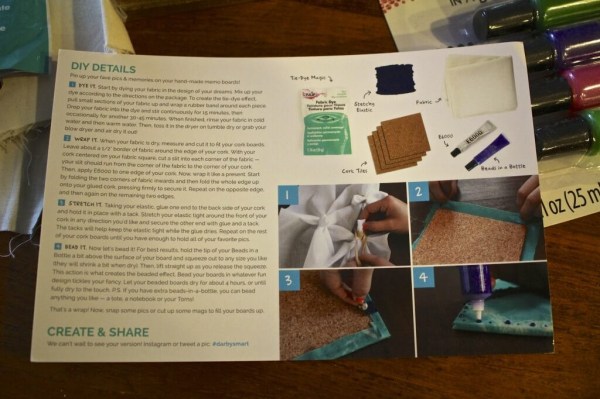 The Darby Girl instructions were pretty easy to follow. Obviously my 5 year old needed assistance with most of this project!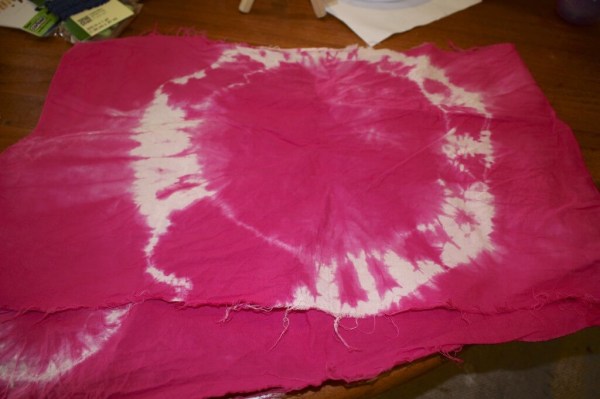 She chose pink for the dye, and she was thrilled at the final result!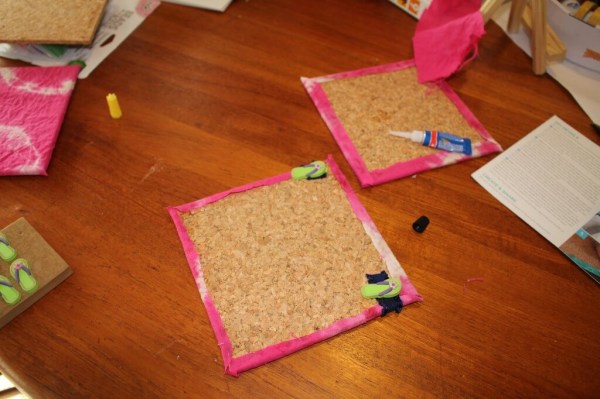 I really liked how there were so many steps to this project – you could have done this in a couple bursts over several weekends. We cut up the fabric to the right size and glued it on. I did run out of glue and I don't believe a child would be more efficient than me in their glue usage. Although I probably used too much!
The Beads in a Bottle are around $8 by themselves, so I was impressed with the amount of materials besides the glue! I was (obviously) responsible for the beads on the board in the upper left hand corner.  I left her to her own devices on the rest. She is very excited to hang them up (I will use 3M squares) and can't wait to use the flip-flop "poke pins."  She thinks she is super grown up to be able to have some! I absolutely love that she added an eyeball to one of the boards. There was plenty of fabric to cover it – I just thought it would be fun to have a plain board.
Visit Darby Girl to subscribe for your tween girl. You can also see all of my Darby Smart (for grownups) Reviews and check out more subscription boxes for Tweens & Teens and more Craft & DIY boxes in the directory.