I was so excited about the purple polish in the Julep Naughty & Nice Mystery Box that I couldn't help but snag it. I also picked up the Mystery Box add-on. I used the 40% off code in my December Julep Maven box to save a bundle on this mystery box. Unlike previous Mystery Boxes, the Naughty & Nice Mystery Box had no variations – each box was the same! Unfortunately this box is no longer available – it's sold out!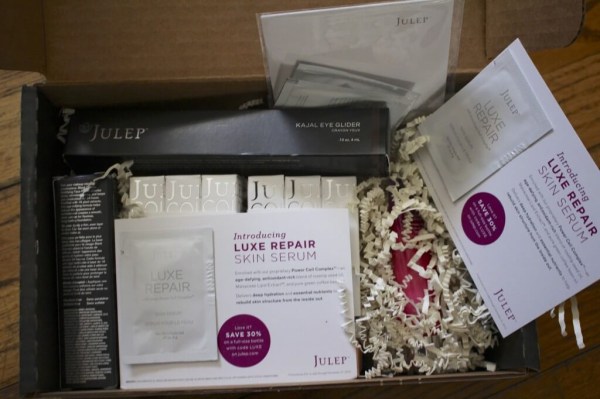 If you aren't a member yet, you can use code FREEBOX to go ahead and grab your free starter box! It's $3.99 for shipping and you can cancel – or skip your box – at any time. Plus you get free shipping at Julep!
The Subscription: 
Julep
The Description: Nail polish box and a beauty box. Get either 3 polishes, 2 polishes and a beauty product, or 2 beauty products per month.
The Price: $20 per month
Julep Naughty & Nice Mystery Box Review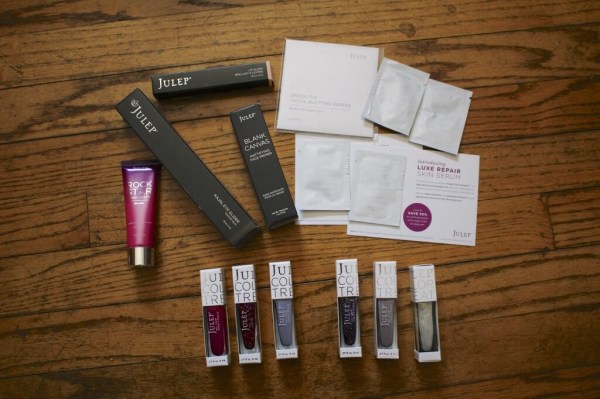 Beauty Products Included:
I've basically tried all these products before but I was happy to have them!
Plus,

Polishes Included:
Brenda – blizzard white microglitter
Lois – dusty rose frost. Ummm I think I mixed these up – I think this pink one was in the add-on!
Aviva – purple with full coverage silver holographic glitter
Nellie  – pink fuchsia crème
America – silver stars with red & royal blue glitter
Joanna – lilac frost
Faye – liquid bronze shimmer
Jane –  rose gold multi-dimensional glitter
Alaina – driftwood taupe crème (mixed up! this one was in the box, not an add-on! It was dark, there was a power outage, yes I was still taking photos! I couldn't help myself, opening this box made me HAPPY!)
I have no idea if I have duplicates from my other boxes but I'm totally happy with what I got! We've had some mega fun time doing nails at a very low price – and I'm doing more nails today! This box had around a $150 value too. However, many are on deep deep discount at the Julep Warehouse sale! Check below for details!
You can check out the rest of my Julep Reviews or sign up to get your free intro box. Definitely a fave!
Julep Warehouse Sale
Get up to 75% off in Julep's Warehouse Sale! Highlights: select nail colors for $2.99-$4.99 and nail color trios for $9.99. There are a TON of items available NOW and you really should shop early for the best selection!  Obviously I already used my 40% off code so I can't test it with this sale. If you still have yours, let me know if it works!