Boxtera is a box that's been around for a while but has recently rebooted and now offers 5 full-size packages of Boxtera snacks every month. Every bag is totally full and for $19.95 per month including shipping, I felt that it was an amazing value! Every Boxtera is selected with the five tastes – savory, sour, bitter, sweet, and salty – in mind. If you want to subscribe, do it today – Christmas Day – and use code SNACKTOSHARE to save $5!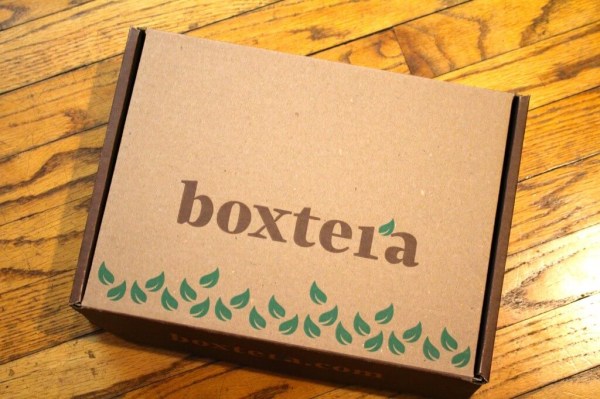 The Subscription
:
Boxtera
The Description
: Get delicious, natural, healthy snacks delivered to your office, dorm, or home door. Each Boxtera discovery box includes approximately 20-22 servings of snacks.
The Price
: $19.95 per month
The Coupon
: Use code SNACKTOSHARE to save $5 off your first box. Ends 12/25.
December Boxtera Review
I was excited by the first look at thew new Boxtera – Hibiscus Flowerettes! And a recipe from Hello Fresh to use them in (but hey, don't be afraid of them – they work just great as a snack!).
The information card gives the names of all the Boxtera snacks and the taste (like salty, sweet, etc) it represents.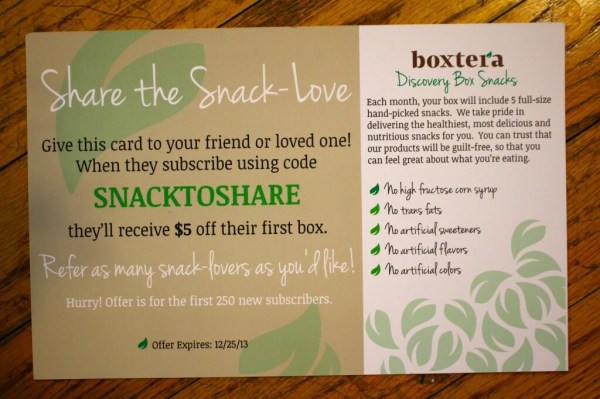 The back of the card gives a little more information about what's not in the box – like high fructose corn syrup or transfats!
I set these standing up so you can see how full they are. I was very impressed with the quantity of snacks included in the box.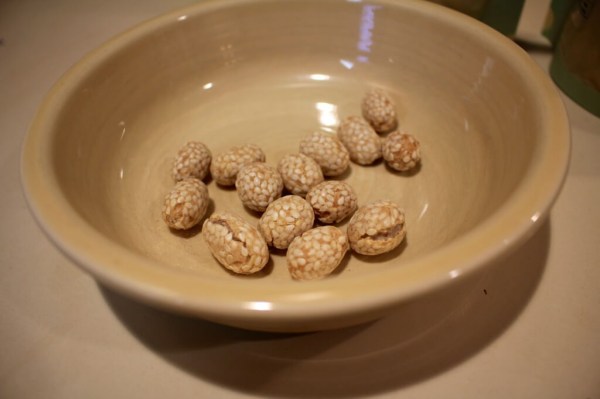 Sesame Kabukim Bites – Bitter. I'm not sure why these are "bitter." They are a light peanut & sesame flavor and I find that savory. It didn't really matter to me, they are good. You wouldn't want something actually bitter as a snack probably, so this is more a representation of that while still being good.
Boxtera Pub Mix – Salty. I liked that this was a "salty" snack food but not overly salty. I'm the kind of person who will empty out the bag and eat all the pieces I like the best (the pumpernickel coins are great!!!) and then put everything back.  This was really good, but I think the ingredients were incorrect (it didn't list the corn nuts).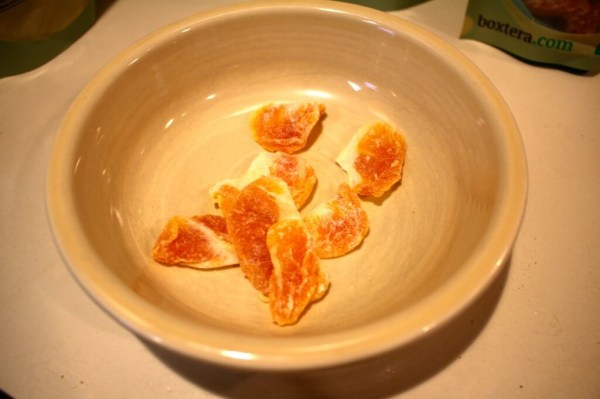 Tangerine Slices – Sour. I'm totally addicted to these. Seriously, they're soooo good. How have I never had dried oranges/tangerines?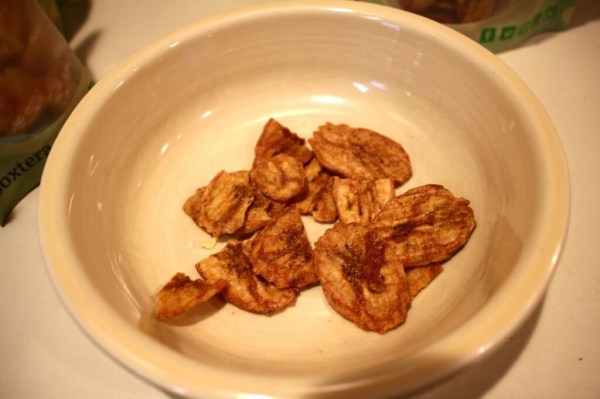 BBQ Banana Chips – Savory. These are really deeply umami. The BBQ plus the banana. That really hits my snack spot.
Hibiscus Flowerettes – Sweet. These really are quite sweet and delicious!  I wish they had a touch less sugar for my tastes but they are quite delicious and I think everyone should try them. My kids really enjoyed them too!
This was a great box! If you'd like to subscribe or get more information about Boxtera, visit them here! I think this is a great value for $20 per month. Boxtera also offers larger box sizes for families or offices wanting to provide good healthy snacks!