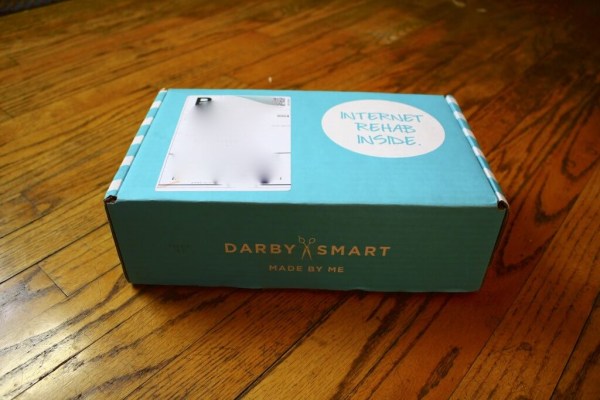 Darby Smart is both a subscription box and a craft kit store (plus now they have a fun tween subscription box just for girls!).  I was recently offered a $25 gift card but I messed up my shopping cart so they just took the extra $4 off (This is a $29 kit), so let's just say they sent me this for my review! It came super fast and I couldn't believe I got it before Christmas. My Internet has been totally out and I only had intermittent 3G service on my phone, so I took some time out of my day to get my craft on!
Darby Smart Review – Soy Candle Kit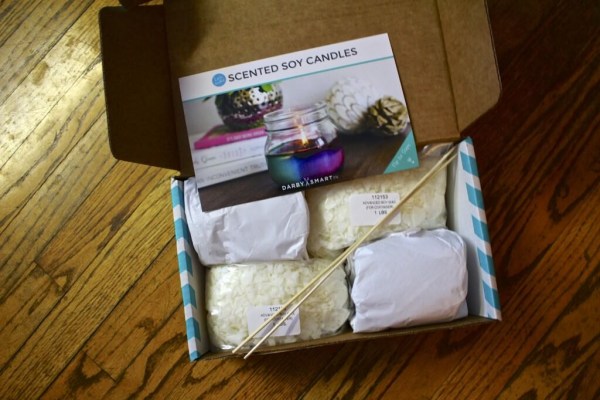 I picked this kit because I've never made a jar candle before and I wouldn't even know where to get started with that! The kit came with 2 mason jars, soy wax shavings, 3 color chips, 2 scents, and 2 wicks. It probably would have been nice of me to gift this kit, but I felt like making it – and I can always gift my final products!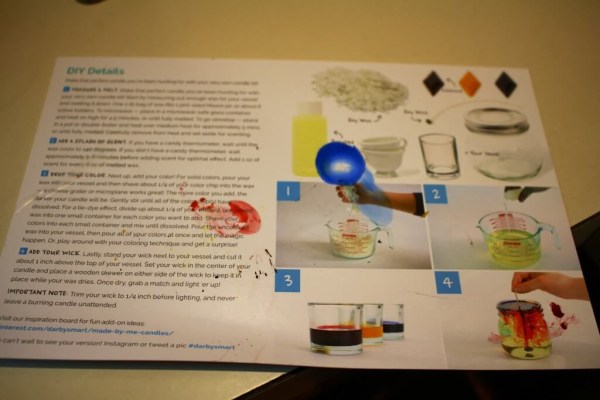 I unpacked everything and semi-read the instructions. Just like everyone else I kinda look at the pictures and check in on the written instructions and basically follow along, but sometimes I don't pay the most attention!
I stuffed my wax into an empty jar of peaches (it was clean & dry!) and nuked it.  I did follow the instructions where it said to put my colors into different little dishes, but since I didn't wait long enough for the wax to cool, they sort of mixed all together. I didn't even melt my colors completely (and the bottom of the candle is super cool!) because I am lazy.  It still turned out totally gorgeous!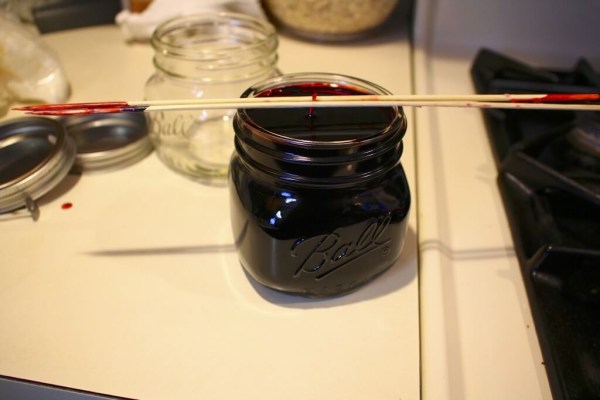 The next candle I just threw the color chips in as soon as I melted everything.  I experimented with making plops of color and was basically just being silly. I used way too much color to actually make the tie dye look. The next time I do this I will just a little tiny bit of color or add it later in the process to get more of the nice effect I got on my final product.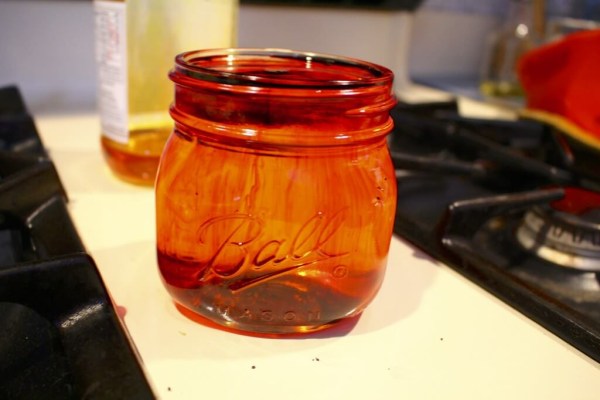 This was a really fun kit and to my surprise, everything cleaned up really easily (thank goodness because I was not in my own kitchen! I had visions of my mother in law returning and being horrified at wax everywhere and it just wiped right off!).  Plus, now I know how to make a candle!  I think they are gorgeous and they smell great! You can either subscribe to Darby Smart or pick out something in the shop to have a nice fun crafting time! Darby Smart has new kits all the time so there's always something seasonal, fun, and fresh!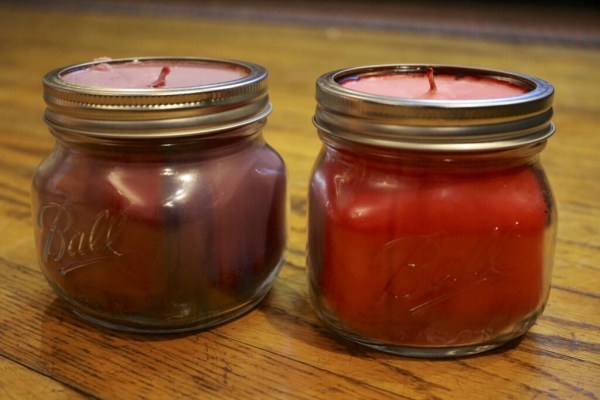 See more Darby Smart Reviews and Crafts, DIY, & Hobby Subscription Box Reviews!