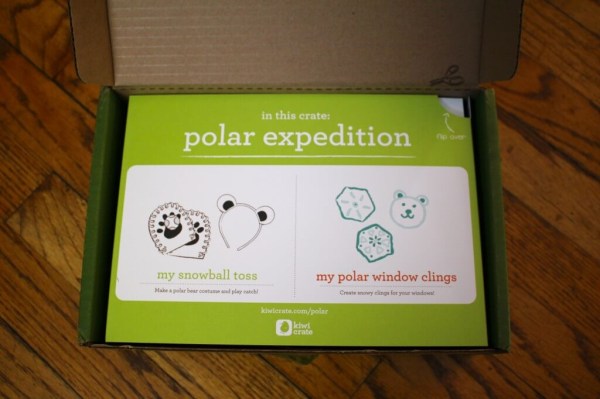 Kiwi Crate is one of my kids' favorite activities ever. My son insisted on doing this box instead of the next holiday box (see our first Kiwi Crate Holiday box here), because how could I refuse that cutie anything? Kiwi Crate is a kids' activity and craft box design to inspire exploration and creativity in children ages 3 to 7. The perfect ages for lots of crafty fun!
The Subscription
: 
Kiwi Crate

The Description
: Arts, crafts, and science activities subscription for kids ages 3-7.. Each box is organized around a theme!If you are a busy mom that needs to spend your extra time with your kids instead of hunting down a craft, a subscription craft and activity box is the way to go.
The Price: $20/month
The Coupon: Save $5 on every holiday box with code HOLLY5. Exp Unknown. Save 10% off everything? using code HOLIDAYFUN. Exp 12/31.
December Kiwi Crate Review: Polar Expedition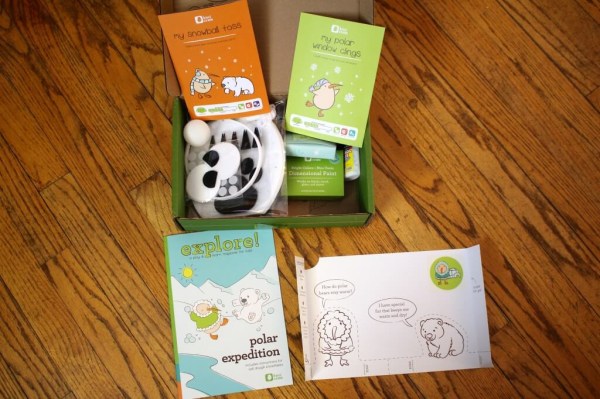 December's Kiwi Crate theme is Polar Expedition and it contained the Explore! Magazine and two activities: "my snowball toss" and "my polar window clings."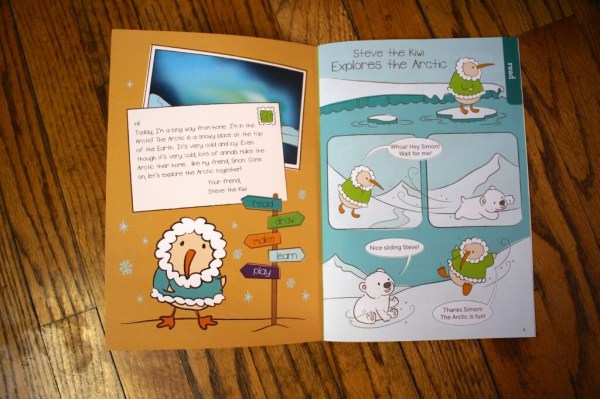 This month's Explore magazine had quite a few crafts that we'll be doing next week, including salt dough pendants and borax crystals. It did not contain a cut-out activity in the back (see last month's Kiwi Crate for an example).
While I was setting up projects I got the kids coloring the cutout on the back of the information card for the December Kiwi Crate plus the holiday bo we did earlier this week. We cut out the stickers to take home with us to put on our chart!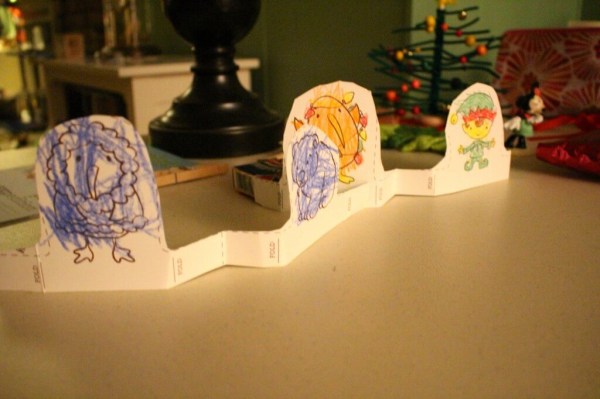 They did a great job! My son refuses to color except with blue crayon.
My Polar Window Clings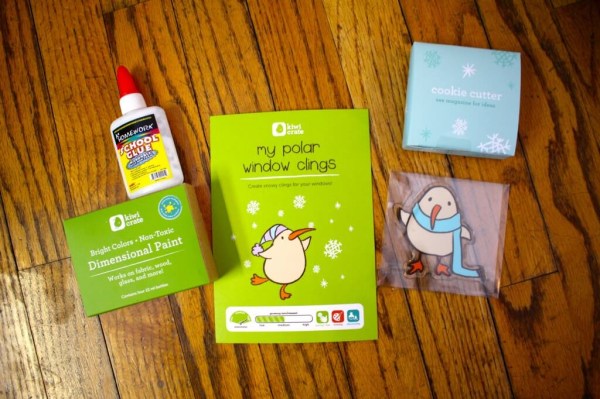 This looked like a fun project and I was excited to do it. There are outlines placed inside plastic that you outline with the 3D paint and fill in with white glue, plus an adorable bonus Kiwi window cling! And a bonus cookie cutter!
We had serious trouble with the paint. I emailed Kiwi Crate about it (they'd already sent out an advisory that it was no good). Their email said "Freezing cold temperatures apparently change the properties of the paint – as you've unfortunately discovered." And yes, it was sent to Vermont and sat out on the porch. They also said "We've selected a new paint which we are sending to you. If you want to do this project before the replacement paint arrives, you could buy paint locally…we recommend Tulip or Scribbles brand of puffy paint."  But no, my kids demanded we do this NOW. I'd guessed that the cold weather (and house) was causing issues and we warmed it up. It was still terrible, but we got through it. There was just enough glue to finish all 5 window clings. 

They turned out really cute. I will never do a project like this again. My hand and arm still hurt from squeezing out the paint, which oozed out in what looked like little blue mouse turds. I suspect that Kiwi Crate won't be sending out that paint again. I did this entire craft myself except my daughter was able to do the lines on the inside of the round snowflake once we warmed the paint/house (the paint had been inside for two days BTW!).
My Snowball Toss
Yay, no paint! The kids were super excited to get this one going and it's still in heavy rotation around here!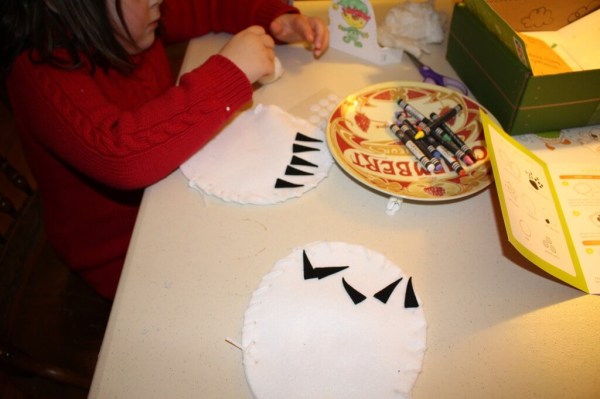 You can probably tell which child was responsible for which paw.
He was really too excited about this one, which is pretty self explanatory: lace the felt paws together, stick on the paws & claws, stick velcro dots on a ping pong ball, and play catch!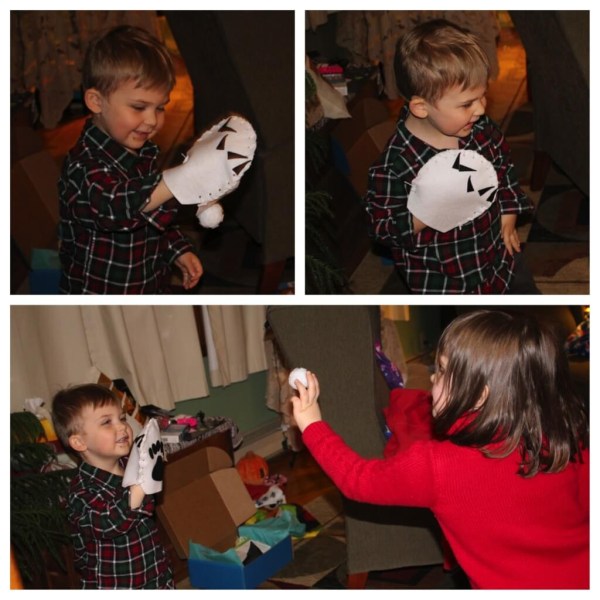 This craft was definitely a hit! Cookies were indeed made with the cookie cutter, too!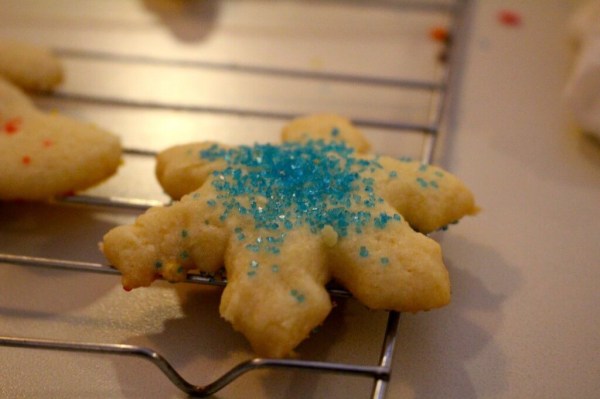 Even though we did have some trouble with the paint, it was  a fun box and my kids enjoyed both crafts – especially when they discovered that white paint dries clear! If you want to subscribe to Kiwi Crate, using my referral link will get you $10 off.
Don't forget to check out all my Kiwi Crate Reviews and take a look at the list of Subscription Boxes for Kids!