Bestowed Box is a healthy food/healthy lifestyle subscription box with 5 or more great items selected by celebrity nutritionist Heather Bauer each month. You can get your first Bestowed box for $10 using coupon HELLOYUM40 or give a gift of Bestowed box for 3 or more months (and you can select when you'd like it to start, too!).
The Subscription
:
Bestowed
The Description
: Get 5+ NEW healthy and delicious foods delivered to your door every month – each one hand picked by celebrity nutritionist and author Heather Bauer.
The Price
: $19/month
The Coupon
: Get your first box for $10 using coupon 
HELLOYUM40
December 2013 Bestowed Box Review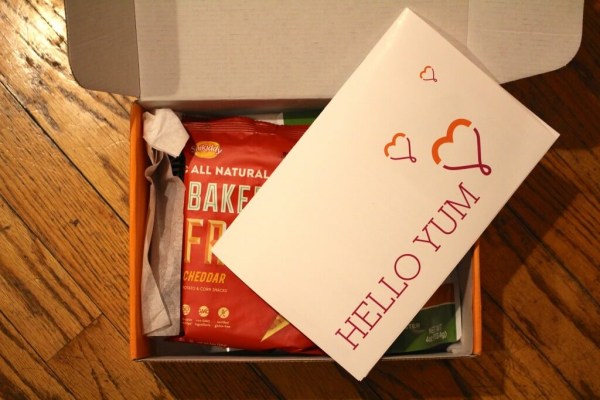 The Bestowed box information card always has good tips on how to work the new foods into your diet and the back has lifestyle tips and suggestions.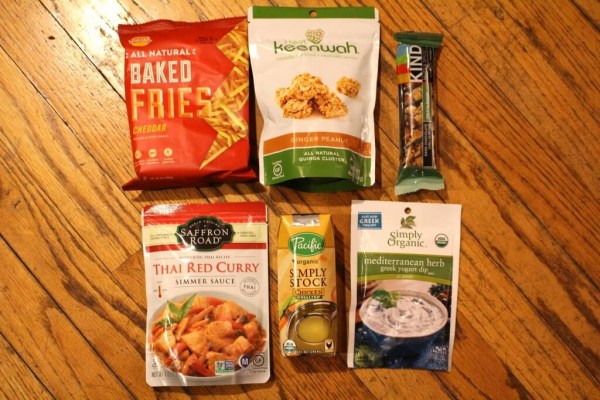 I was totally happy with everything I saw in the December Bestowed!
I Heart Keenwah Ginger Peanut Clusters ($6) These were good and gingery! A nice alternative to chowing on candied ginger and super high in protein & fiber.
KIND Snacks Dark Chocolate Chili Almond Bars ($1.50) I love this bar, it's mega delicious, and it has great antioxidants from the chili and chocolate and really sticks with you. When I get these in a box I save them for a meal replacement. I think they are very filling.
Snikiddy Baked Cheddar Cheese Fries ($2.50) These are basically healthy potato sticks, but with cheese on them. YES.
Saffron Road Food Thai Red Curry Simmer Sauce ($4) My husband and I were both excited about this one. We'll be making this soon! We love Thai and it's one cuisine neither of us can do well.
Pacific Organic Simply Stock ($1.50) This was perfectly timed for the holidays. We're actually cooking two different food boxes this week but I think we'll throw some mashed potatoes into the mix, and we will add this to amp them up and keep them healthy without too much butter.
Simply Organic Mediterranean Herb Green Yogurt Dip ($1) I am so excited about this healthy dip mix. And we're so making it! My family's tradition is snacky stuff on Christmas Eve and I'm adding this to the mix for sure!
The value of my December Bestowed Box was $16.50, plus I got some coupons for Saffron Road. This is totally in line with my value expectations for Bestowed Box. While it's not higher than the cost of the box, that doesn't include shipping, and I like the curation of this box and the health-oriented selection. I thought this was a nice box to get right before Christmas!
Check out all my Bestowed Box Reviews! You can also check out more Food Subscription Boxes or see more special diet/health-conscious boxes too! If you want to subscribe to Bestowed Box, don't forget to use coupon code HELLOYUM40 to get your first box for $10!