Carefree Crafts is a monthly kids' craft subscription and is designed for kids about age 3 to 7. Monthly subscriptions are $18, though you can save a few dollars every month with a longer subscription! Right now you can save 10% on your subscription (any length) with code MERRY! We last tried out this subscription in August and due to a billing mixup I got this package for free. Sort of for review and sort of just plain good customer service.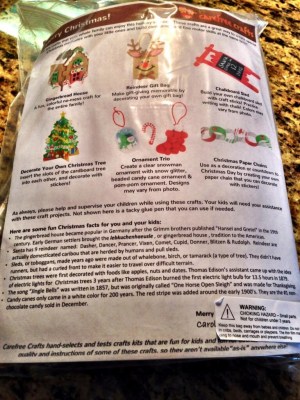 The December Carefree Crafts package had a lot of crafts in it! It always arrives in a bubble mailer and everything is contained in one big envelope. Every craft comes with all the extras you need to complete it, so it's perfect for travel, plus hints and tips on the best way to do it. Carefree Crafts picks out craft kits from places like Oriental Trading and Creatology and "enhances" them.  And it is really worth it. I could not deal with these crafts if it weren't for the instructions and extra supplies.We think that this subscription is really fun and do totally enjoy it. I was really have some Christmas-themed crafts to keep my little ones engaged while we hang out at the grandparents' house!
The Subscription: 
Carefree Crafts
The Description: Monthly kids craft subscription club aimed at kids 3-7. Each month you'll get a curated package of fun crafts that you and your kids can assemble. Each month is centered on a holiday or seasonal theme, and once completed, the crafts become toys or decorations for your kids.
The Price: $18 per month, down to $15 per month on an annual subscription
December 2013 Carefree Crafts – Merry Christmas!
There were 6 Christmas themed crafts in December's Carefree Crafts, and we took several days to complete all the projects. The kids were super excited to decorate Grandma's house for Christmas with items that they made! Grandmas just eat this stuff up. Heck I don't even know what the glue pen was for, but we got it. It wasn't necessary but it sure was nice that it was in there. I had lots of extra glue dots so I probably just used those instead of glue. My motto – why glue when there are glue dots?
Gingerbread House – we glue-dotted our way to a whole gingerbread house. No mess! The kids are still playing with this. It was pretty simple to put together but required a lot of glue dots! I referred frequently to the diagram that showed where each dot needed to be placed.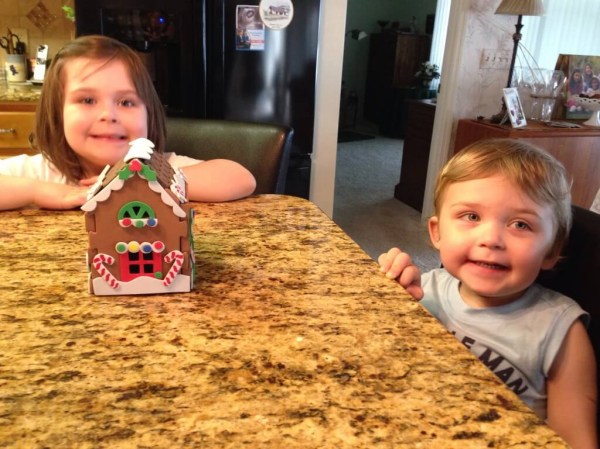 Chalkboard Sled – This required sticking the red craft sticks onto a piece of cardboard and attaching the chalk and tying on the string. The kids are still having fun with this one and it was super easy to do.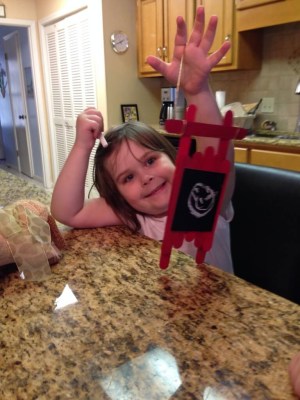 Ornament Trio – We had fun assembling these easy ornaments and they are soooo cute. My big girl did the candy cane all by herself (mom did the ends) and I helped my little guy with the other ornaments. We love the snow glitter! Seriously, it's the cutest.

Tada! Also did you notice the clothing my children are wearing? It was hot here last week!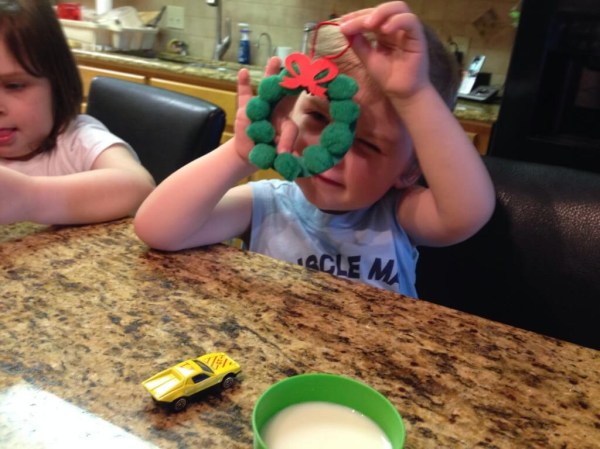 That car is making it into every photo!
Christmas Paper Chain – We started out using a towel as suggested, and quickly switched to just licking all the paper (its gummed like an envelope). My daughter was able to do this totally by herself, and she really digs patterns. (red peppermint, red strip, green peppermint, green strip).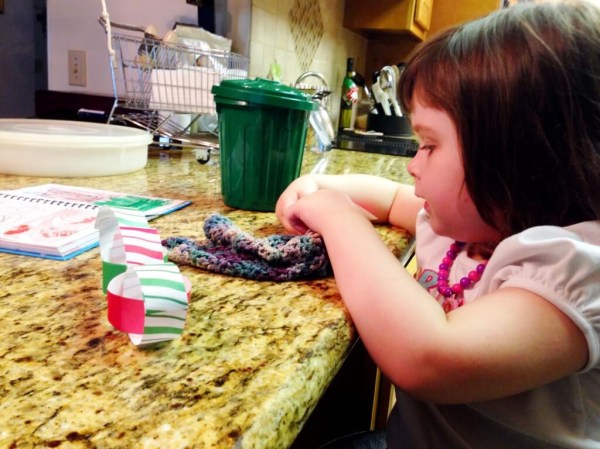 It made a humongous chain!  It goes all the way around the tree. At my house I would have put this somewhere else, but grandma is particular about having things everywhere. There were stickers included and we stuck them on the chain after we finished. I used the old sticker on the hand trick – makes sticker work so much easier if you just put them on the back of their little hands so they can lift them up and apply themselves!
Reindeer Gift Bag – I did have to help a lot with the glue dots on these crafts, but the kids enjoyed putting everything together nonetheless. Smaller kids like mine need more assistance and bigger kids could probably complete everything by themselves. E stuck everything on this one and I think he did a really wonderful job. Ok, I hold the item and he presses my finger down. He's funny – he doesn't like sticky things on his fingers.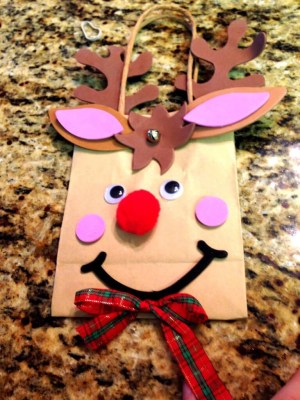 Decorate Your Own Christmas Tree – I am not really sure where this craft went off to, though we did complete it and had a lot of fun with it! Our cousin helped the kids with their stickers and this is a great box for a babysitter or older child to be able to do some activities with smaller children – super easy to manage, everything is right there, and everyone loves a little fun easy crafting!


We love Carefree Crafts! It's easy and fun and absolutely keeps my kids engaged. They love craft projects (especially my daughter)! I think we spent several hours total working on the crafts in this box so I think it's pretty high value. With five or six different crafts you can bring out one constantly whenever you need the kids to just sit and chill with a craft.
Visit Carefree Crafts to check them out or subscribe!  You can  see all my Carefree Crafts Reviews and also take a look at other Subscription Boxes for Kids.