Spicy Subscriptions sent me this subscription box for my review.
It's Spicy Subscriptions time! This is an "intimate" review, skip it if you're so inclined! I think Spicy dropped me a line the other week that they were sending me this, I couldn't remember. I was puzzled by the package I received but the label said "SS Inc" and I recalled that's how Spicy Subscriptions ships. It comes in a priority mail tyvek envelope and the box is inside. I didn't get an information card, but I got an extra item riding along in the outer envelope. I am pretty sure now when you subscribe for the first time you choose between the Spice Box & the Toy of the Month. More power to you if you require a new power tool monthly! I'm sure a subscription allows plenty of variety!
If you haven't seen one of these reviews before, there really is a subscription for everything.
The Subscription
:
Spicy Subscriptions
The Description
: Get monthly romantic surprises to your door. The Spice Box contains a collection of romantic gifts and an assortment of Intimate Items, Massage Oils, Sexy Lingerie, and Fragrances.
The Price
: $25 or $35/month
The Coupon
: Save 5% on your first Spicy Subscriptions box! Use code
mommysplurge
.
Spicy Subscriptions
There were 3 full-size items, a deluxe samples, and 2 samples in the October Spicy Subscriptions Deluxe box.
NAUGHTY SECRETS — Pheromone Body Fragrance Slick Chic Pearberry ($9) This is a paraben and sulfate free body fragrance and I was surprised to find that it was sort of moisturizing. It was an unusual texture for a body fragrance (in a good way). "Bait & captivate when on the prowl or anytime," it's d'anjou pear & berries and there is a lot of it. This is a huge bottle.
Triple Action Vibrating Ring ($~15) This has ummm 2 bullet/nubbly parts and two ring parts. I could describe the usage to you, but fortunately the back of the package provided this helpful graphic! I couldn't find this exact item online, and linked instead to a wide variety of similar items.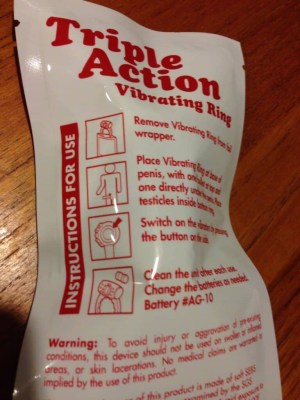 These instructions made me giggle.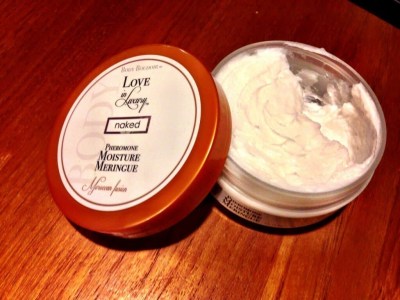 Love in Luxury Pheromone Moisture Meringue ($11) "A medley of exotic mangosteen, acai berry & sweet musk, tickled with crisp coconut & red currant and enhanced by a whisper of white lily Infused with a Pheromone Sex Attractant." This was really quite strongly scented, but smells great, and is paraben and sulfate free and made in the US. I love the exotic fragrance, which is totally sexy-time friendly. Whether you believe pheromones work or not, perhaps knowing they're in there will give you the attitude you're looking for 🙂
Volt Sample ($22.99 (5 ml)) Oh actually it's called "JO 9 Volt." We can all figure out what that stands for! It's supposed to provide a tingling sensation and what I found super unique about this item is that the sensation is produced by a turmeric, basil, and holy basil extract combo. I was surprised that it was natural.
Frolic Sample ($9 (full size)) Specifically designed for use with toys. Grapefruit Seed Extract provides anti-bacterial, anti-fungal, and anti-viral properties and is thick and concentrated to get it to stay where you want it but still water soluble for easy cleaning.
This item appeared in the last box I received and I am not sure if it was part of the box or just an extra! You can read all about it in my last Spicy review!
If you… hate shopping for adult products (geez, it's kind of weird just finding the links for some of these things, and I'm at home!) or don't know what to choose or how to get started OR your husband is getting cranky with your addiction to subscription boxes, I would strongly suggest a subscription! I've certainly have husbands of friends ask them, why don't we get these boxes? And you & your husband will enjoy it! Or perhaps you've been "too busy" and have been allowing the intimate part of your marriage or relationship slip by, there's no time like the present to get it going! I calculated this box to be right around the cost of the box, but it includes free shipping and the excellent service of not having to pore over pages and pages of vibrating rings. Which I did this morning in an attempt to find the right one.