I think Sample Society is a great box! 3 of the products in the October Sample Society box are by themselves basically the price of the box so it's silly not to pick this one up if you like luxury beauty products. October's theme is New Fall Favorites and I think it's perfect.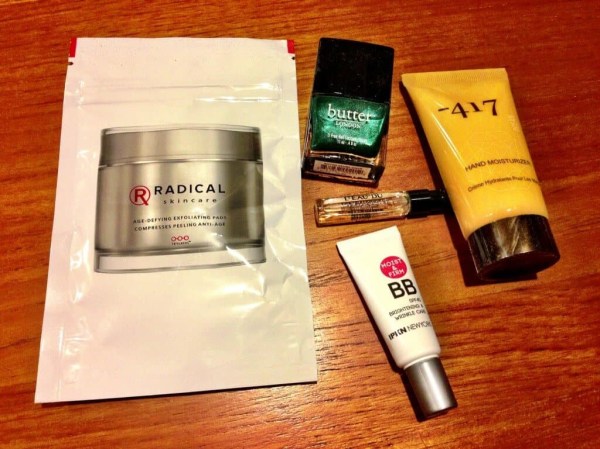 The Subscription
:
Sample Society
The Description
: Get five deluxe-sized luxury brand samples and $15 monthly gift code to redeem on a $50 purchase at BeautyBar — when any product from the brands you sampled is included in your order. Plus an Allure mini-mag.
The Price
: $15/month
October 2013 Sample Society New Fall Favorites
The box is really nice and reusable!
The items come nestled in a bed of silver squigglies.
Radical Skin Care Age Defying Exfoliating Pads ($14) This product has fantastic reviews, including blackhead removal. Trying it!
Butter London Polish in British Racing Green ($15) Perfect color for fall, mirroring the emerald trend. Plus, it'll be great for holiday manicures!
Diptyque 34 Eau de Toilette ($4) I wasn't a huge fan of this, but it's unisex, so it'll go to the hubby. Too woodsy for my personal tastes (but not terrible masculine).
IPKN BB Cream ($15) "moist + firm" made me giggle.
417 Hand Moisturizer ($7) This smells great and I will use every drop. I absolutely loved this hand cream.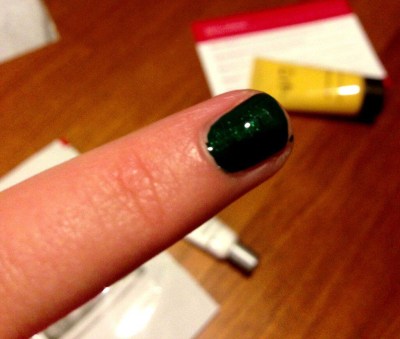 Oh no, this is a terrible swatch. The color is like the one in the main photo. But it went on glossy and thick.
Info Card I need a new lighting setup. I really do. Info cards are terrible to photograph. Sample Society has all the information on each product and your coupon on the back for $15 off a $50 purchase that includes one of the sampled items!
Allure Mini Mag Here are the contents of the magazine. Click for bigger. I really liked this! I thought it was a nice sample face, answered a burning question, one fashion trend, and one beauty know how in a 2 minute read or 60 second skim. No ads! Sweet!