Twinkle Clothing Co is a brand new kids' clothes subscription box! The owner of Twinkle Clothing contacted me and asked if I'd be interested in reviewing it. OF COURSE! I was sent one outfit for each of my kids – a 4 year old girl and a 2 year old boy. I was super happy with this new box. Each box costs $29.99 per month plus $5 shipping. That's $8.75 per piece of clothing, which I thought was very reasonable.
Currently you can get free shipping on your first Twinkle Clothing Co box by liking their Facebook page and using promo code FREESHIP29. All the details are on the website. When you sign up you fill out a mini profile indicating gender, size, color palette, and season. Takes care of that winter clothes in April problem I had with another box!
July Twinkle Clothing Co.
When you open your Twinkle Clothing box, four items are packed inside.
I got this adorable Jeep-styled outfit for my son. It's the perfect color for him. And he loves outfits with cars on them.
I gotta be honest, when I saw these shorts, I was a little unsure of how they would fit.  I did mention that my daughter is round, like I do on all clothing stuff for her. She's just sorta… round. No better words.  But these shorts have a little stretch. It says so on the tag, but I didn't see it. They fit perfectly!
And the cutest design on the butt. When A saw them she was so excited, "because pink's my favorite color!" She started that yesterday. Le Sigh. In my photos those look like black triangles but they are actually gold pyramid studs. The shorts are the brand "Miss Jeans" and have a tag on them for $29.99. They are sold online for about $25. I forgot to check the tag on the shirt and I don't know where I put it. I found a Zoah Design top online for $10.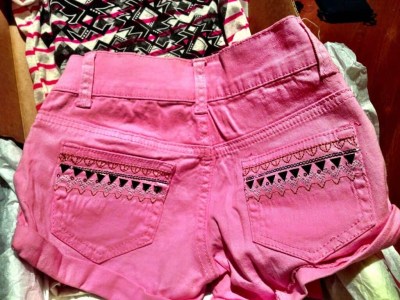 I really liked the fresh styling of this outfit and the embroidery, and A did too! She said this outfit was ROCKIN! She was so excited to wear it and matched at least one accessory perfectly 🙂 She absolutely loved the clothing.
Unfortunately I didn't have my phone out this morning when I got the kids dressed, but let me tell you, E loves this outfit.  E is 2.5 years old and this is a 24 months size and there is still plenty of room to grow. I loved the little printed trucks on the shorts. I thought it was cute without being stuffy. I can also break these pieces apart and pair different items with them. This Little Me short set had a tag for $22.
The value of my clothing box was approximately $57.  With the cost of the box at $35, it was absolutely worth it, considering I received 4 pieces of clothing that my kids loved and I wanted them to wear.  If you want to find out more about Twinkle Clothing Co or subscribe to this great little clothing box, go here! Don't forget to take advantage of the free shipping offer on your first box.