It's my weekly roundup!
First, I have a ton of giveaways still ongoing. You can catch up on all the giveaway, freebie, and birthday action at the Double Birthday Party Favor Bash. Coupons & giveaways from large & small box companies.
Second, if you're going to get it, pick up the HauteLook Summer Beauty Bag before it disappears. I have a post detailing the contents!
Hits
The two lovely ladies who visited the blog as writers for this crazy birthday week. Thank you! Read Birthday Travel Adventures & Tips for a Greener Birthday Party!
All the coding for the new parts of my website is totally done. I'm just polishing off putting the last handful of boxes on my list into the subscription box directory. It takes time, and there are adjustments to boxes to be done every day – adding more, changing coupons, all that jazz.  Of course there's the new subscription box coupons page and the subscription box reviews page!
Alena tipped me off to Ruum kids' clothes. I hadn't heard of them before, but I picked up 3 t-shirts, socks, a belt (not pictured, was being used to corral tinker toys), a swimsuit, and a pair of shorts for about 30 bucks. HIT! My daughter is crazy about her baby aviators.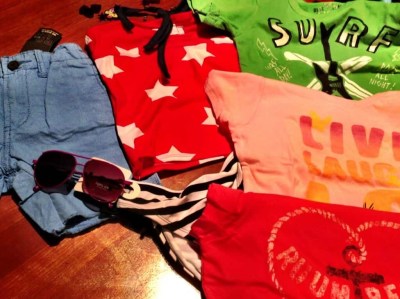 Misses
July Seasonsbox. This made me sad. It wasn't the biggest miss in the world, I think I just expected a lot more from them.
My RSS isn't updating properly and posts aren't going out on time. I'll fix it, I just need to figure out what is causing it!