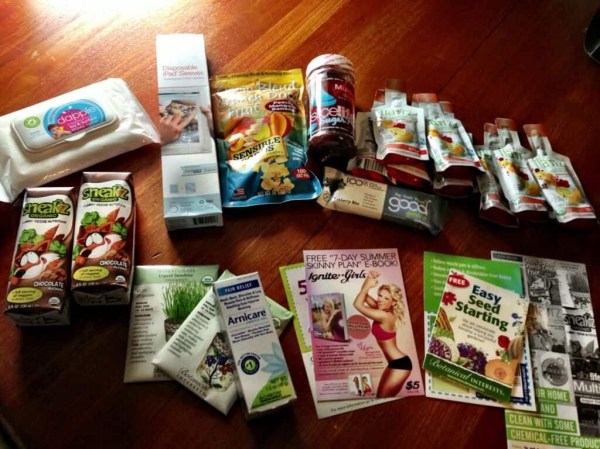 KLUTCHclub Mom is one of my favorite boxes because so much stuff comes in it and it is a great mix, but even I was surprised this with the July box. It was really jam packed with great new finds! The regular price is $18/month including shipping but you can save with a discount and my exclusive coupon! Use coupon ZZSPLURGE to save 25% on a 3-month Mom Box subscription!  Hooray! Thanks KLUTCHclub!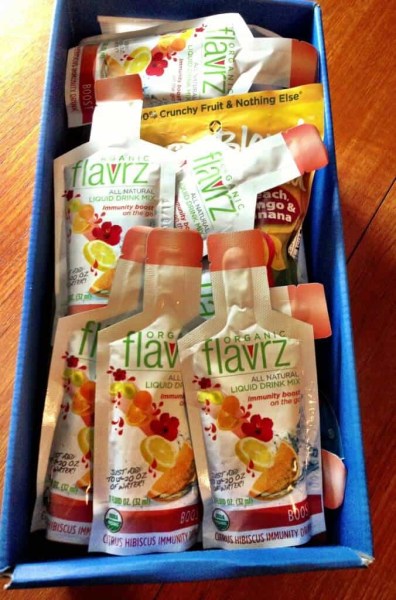 KLUTCHclub is a health and fitness lifestyle subscription. There are boxes for women, men, and moms. I get the Mom box. It works so great for us and we really use everything that comes in the box. I was so impressed with the July KLUTCHclub Mom box too! And of course, it comes in the awesome blue box that I totally save and reuse every month. I have shelves full of them!
As you can see, it was ridiculously full.
July KLUTCHclub Mom Contents
Holy Flavrz! We got eight pouches of this great drink mix. I love using this as a takealong on outings. It's a concentrated liquid drink mix and you can use a little or a lot. I fill up the kids' Contigo bottles with water and do half and half in each. I am fairly certain this Citrus Hibiscus is a new flavor and am truly bummed that my husband has the SodaStream with him. I would have loved to put this in some carbonated water. Super summery! $10.
Sneakz drinks. My kids love Sneakz and I love that these have hidden veggies in them. They cannot tell the difference and just think it's some awesome chocolate milk with an animal on the carton. Sneaky! It's an entire serving of veggies and organic/no-GMO. I was so happy to get 2 boxes of Sneakz! $4.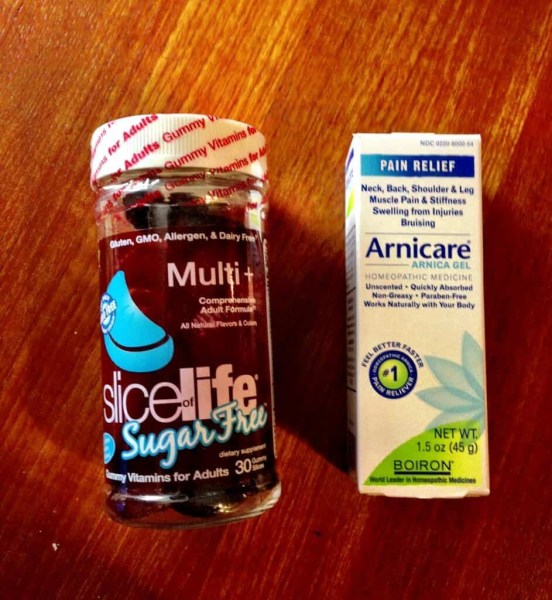 Slice of Life Sugar Free Multivitamin for Adults. I was excited to see this huge full size jar of vitamins in this month's KLUTCHclub Mom  box! Especially because they are sugar free. I am totally using them! I tried one and I could tell it was made with chicory, but it was a fun way to take a vitamin without sugar. $18.
Boiron Arnicare Gel. I have used this and we have some in our medicine cabinet! The Arnicare is also a full size product and is a natural (homeopathic) sore body gel. It's great for sore muscles or lumps and bumps so it's good for the whole family. $7.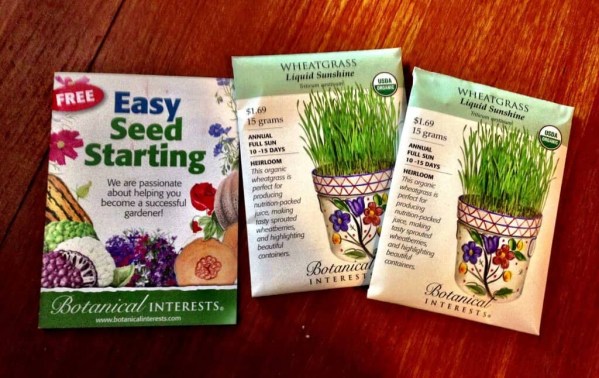 Botanical Interests Wheatgrass Seeds. I was thrilled to see these come in the box as my kids were begging me to plant seeds. I can't say I will juice the results (and pssst don't juice wheatgrass in a regular juicer, visit the link for details!) but the seed-planting activity was fun. Fun but Messy.  If you have dogs and/or cats they love to eat wheatgrass. These seeds are organic and the great thing about them is they grow pretty quickly so the kids can see them sprout without too much waiting. $3.75.
Sensible Food Oasis Blend Crunch Dried Fruit. Freeze dried fruit snacks are always a hit with the kids and they love trying new flavor combos. These went into the snack drawer! $1.75.
Good Greens Blueberry Greek Yogurt Bar. Good Greens is a favorite with the kids and we will all enjoy trying this new flavor. My son tried to eat it for dinner but I told him we'd have to save it for later. I have to hide everything otherwise they glom onto all of it immediately. This one has probiotics in it and is gluten-free, raw, vegan, and low GI. And had a 50% off coupon! Try Good Greens with promo code KLUTCH2013. $1.50 (going on half-off prices).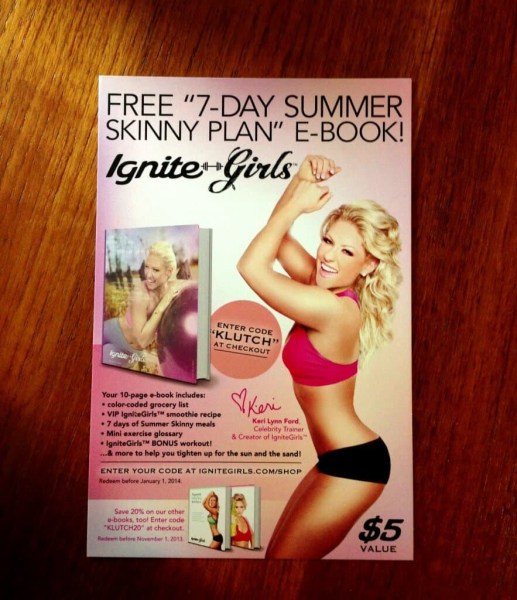 There was also an offer for a free ebook from Ignite Girls and a coupon for 20% off their other books. Thought this was a nice way to test it out before buying! I love their Muscles & Mascara tank tops. We'll call it a freebie.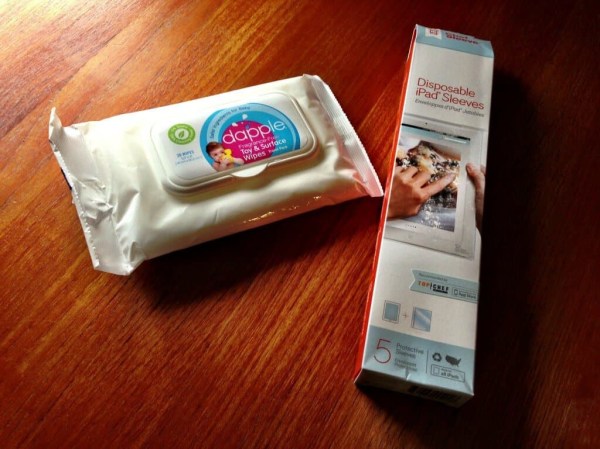 Dapple Toy & Surface wipes. I put them right in the stroller for our mall outings. I love being able to clean off tables and other icky things that potentially icky people have touched. We all got norovirus from the mall playground at Christmas last year and gave it to my entire family. I'm extremely cautious about wiping down surfaces to avoid germs. These are all natural wipes, too. $3.
Chef Sleeve iPad disposable sleeves. These are awesome! I rarely print out a recipe and as the kids have been "helping" more in the kitchen, this will protect the iPad from their goo. I love getting a "home" item in the KLUTCHclub Mom boxes – whether it's cleaning or some new tool. $4.
I was wowed by the July KLUTCHclub Box for Moms, weren't you?  It definitely works for our family and our box was worth $! If you want to sign up or learn more, visit KLUTCHclub and get your box! Don't forget to use the coupon!