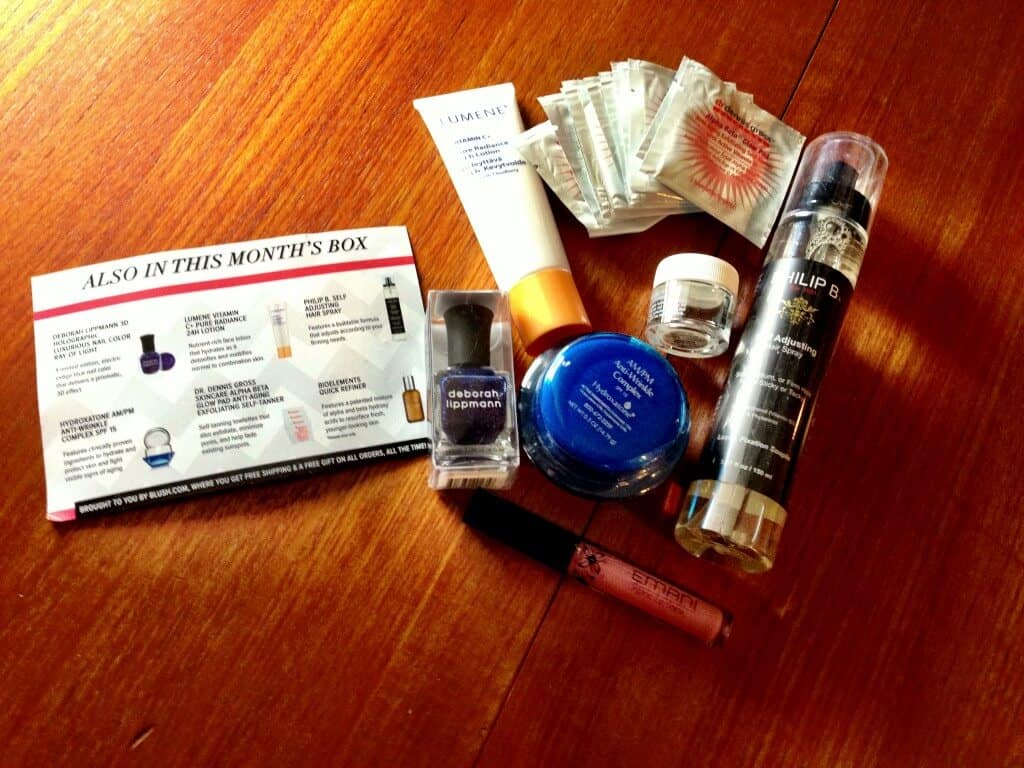 The Blush Beauty Mystery Box is a few months old, but this is my first one!  The July Blush Beauty Box is curated by makeup artist Elle Leary.  Blush Beauty Mystery Box is $24.95/month on subscription, $34.95 for a one-time box (why would you?) and includes free shipping. It has mostly full-size products in it!
The Blush Beauty Mystery Box arrives in an ugly cardboard box but all the goods are inside a drawstring bag.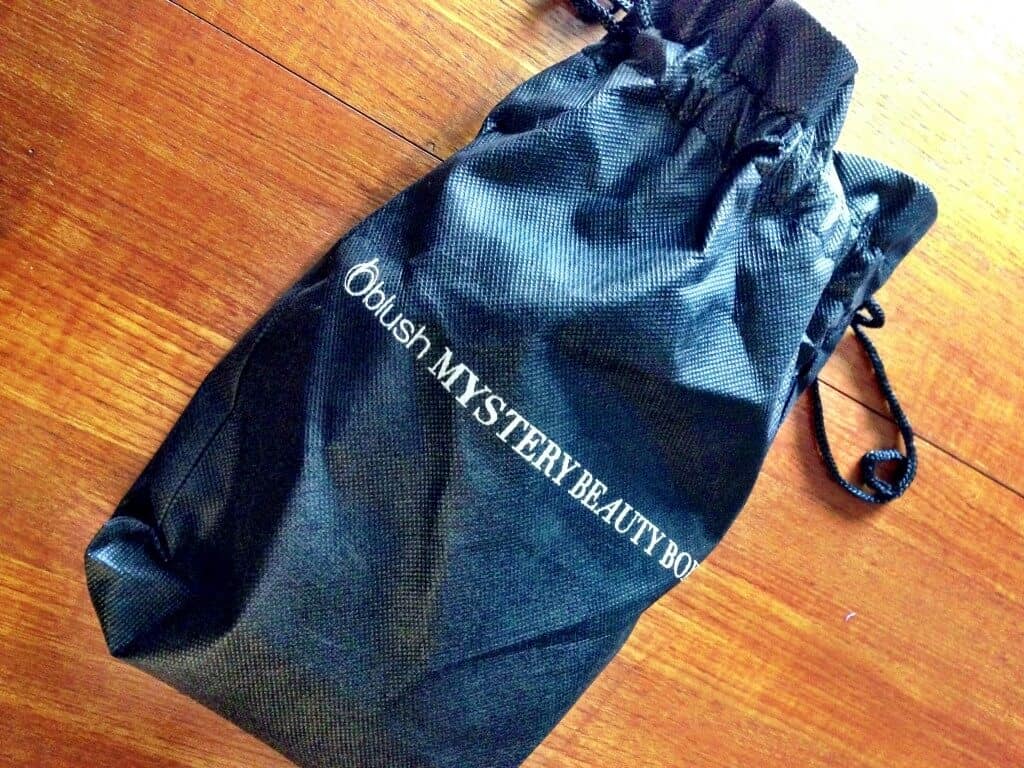 July Blush Beauty Mystery Box
Philip B Self-Adjusting Hair Spray. (full-size) $22. I am a bit skeptical of the layering on of hairspray but I like Philip B, so we'll give it a shot.
Lumene Vitamin C+ Pure Radiance 24 h Lotion. (full-size) $20. I'm not sure about this one, I think I might use it on the kids? Is that weird? I think of Lumene as a CVS brand!
Emani Organic Lip Shine – in Blush. (full-size) $16. This is a pretty, almost mauvey pink. I can't see how anyone would dislike this color! I really need to pare down my lipgloss collection and get rid of the old stuff. I think this will find a home with me – I can see why a makeup artist would select it, because it probably looks good on everyone.
Bioelements Quick Refiner ~$4. Sample size, too bad. I'll give this one a shot though.
Deborah Lippman Nail Polish – Ray of Light. (full-size) $19. I would never pay $19 for a nail polish but I love love this color. I am going to use the crap out of this bottle. It's perfect.
dr dennis gross Alpha Beta Glow Pads Anti-Aging Exfoliating Self-Tanner . (full-size) $18. I was very happy to see a facial sunless tanner, in towelette form no less!
Hydroxatone AM/PM Wrinkle Complex. (full-size) $50. I'm kind of obsessed with my Ceramidin cream and liquid right now so I'm not so sure I'll use this. I don't want anything getting in the way of my ceramides! Then again, it has hyaluronic acid in it and I'm also completely obsessed with evening out my skin tone. I try not to rant about it but I have hormone-related melasma on my upper lip and I hate it!! I need to sell a subscription box with only skin tone evening creams and potions. At least *I* would buy it!
So what do I think about the July Blush Beauty Mystery Box? I probably wouldn't pay those prices for any of the products, but at $24.95 it was a total steal. Email me at [email protected] and I'll send you a link for a $10 off $30 coupon. (You can use it to sign up for a non-subscription box at the same price as a subscription, or to add on something, but everything is super $$$ at Blush so…. Trust me – I looked!)
Free sample –  Dremu Airbrush Eye Refining Treatment. This has emu oil in it, and I have always wanted to try something with emu oil, but it's expensive! I have been using it around my eyes and they feel great!
I also got this amazingly cool lip brush but my picture was terrible. If I can get everything up I'll take a video. It was super snazzy.
If you want to sign up (the July box is still available!), do so at Blush Beauty!
No photo can do this color justice. It's absolutely beautiful. You'll have to take my word for it.