July Kiwi Crate was our very first Kiwi Crate and it was a wild success!  Kiwi Crate is a kids' arts & crafts subscription box with science and imaginative play thrown in. It runs $19.95 per month but there are discounts for longer-term subscriptions.If you use my link for Kiwi Crate you'll get $10 off your first box (and I'll get $10 off my next – thank you!). I totally recommend this box! It's for kids ages 3-7.
Kiwi Crate comes in this nice green box, just like it was shipped to Australia. I had to do a lot of explaining about kiwi birds and kiwi fruits.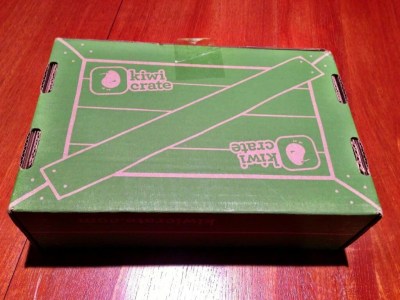 You get a sticker progress chart and a pair of kids' scissors in your first box. E is itching to use scissors but he proved yesterday he's not ready (he tried to cut off A's arm with them).
July Kiwi Crate: Wonders of Water
The theme for the July Kiwi Crate is Wonders of Water. This went along perfectly with our current preschool unit so I was totally psyched about it.We had a few days before we got to this box, but I

The reverse side is a color cut/fold activity plus a sticker.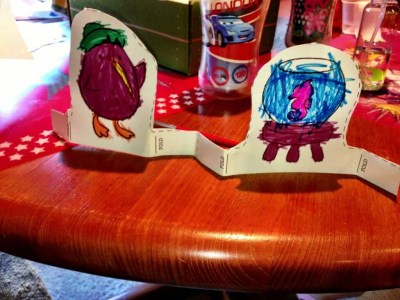 Craft: Watercolor Animals
This was such a great craft. In between opening the box & taking initial photos and when we did it my daughter woke up one morning and did a watercolor turtle. The box included this special paper (not sure what kind it is) and washable markers. She just looked at the book and dug right in. We ended up doing all the animals and had a great time. The results were beautiful and fun!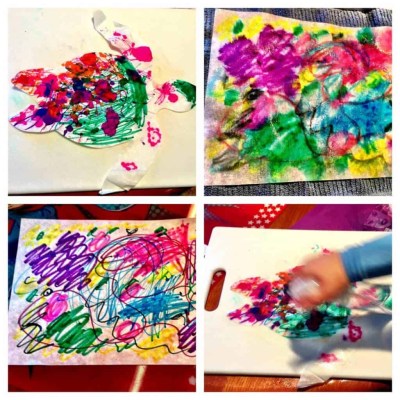 There was also a science activity included, though I had a bit of a hard time explaining what exactly was happening in appropriate language, A understood that yellow and blue make green. We spent about an hour on this activity. The kids were really into it.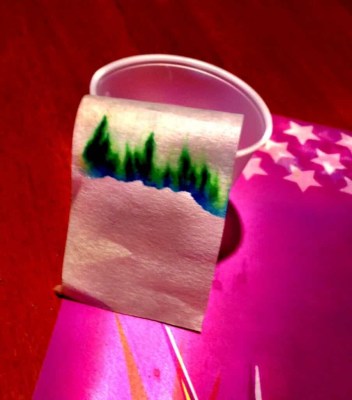 Activity: My Floating Sailboat
E's eyes lit up when he saw this one! He knew from the green foam we'd be making a boat. This one was really awesome. We used the dimensional paint and decorated the sails. The booklet had instructions on demonstrating how a boat moves (by blowing into the sails) and this boat has a rudder to demonstrate steering. We spent about an hour on decorating and playing with the boat and we'll attach the decorated sails today. I'm certain that we'll get another hour out of it at least.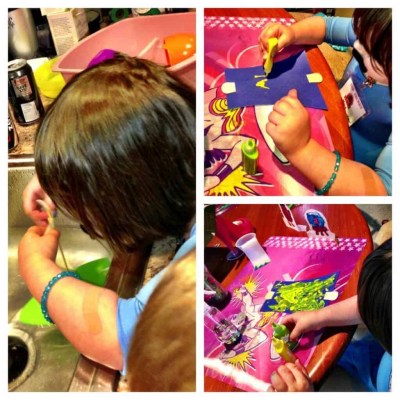 Bonus Activities
How many drops: My kids were super interested in the drops of water on a penny activity. Kiwi Crate had all the fun facts about surface tension in language that was easy for kids to understand. I appreciated that. This kept my kids busy for half an hour (!!! I know!).
Clay Boat: Alas, making a boat out of clay was pretty much a fail for us.  The clay was hard for me to manipulate and impossible for the kids. I rolled it out on the included mess mat (we just used our placemats but I liked that Kiwi Craft included a placemat) and it got a crack and never really floated. Nevertheless my son played with the boat for about 20 minutes. My daughter was totally uninterested. We discussed buoyancy using the Kiwi Crate prompts. I hope they don't include this modeling clay again.
Despite the clay boat fail (was it me? Did you have a hard time too?) this was a fantastic box!!  It was really well put together and there was science interwoven into the entire box. As a parent that wants to keep my kids busy and learn something, I totally appreciate that and also had a great time helping with this one. We're definitely getting another Kiwi Crate!  You can find out more about Kiwi Crate or sign up using my link for $10 off your first box. Totally worth it!
I should also add that there were more than enough supplies for two kids to complete the activities in Kiwi Crate. Other months may be different but I'll take my chances with a single box. I like making them share anyways.