I was super excited to get my July Whimseybox! It's a new to me subscription and although I didn't have time to complete the craft, I wanted to do a quick review because there's an awesome coupon available only through 7/31! Get your first box half off with code SUMMERLOVIN! Awesome! I think this is a great value box and half-off is a great way to try any box!  Whimseybox comes in one of those explod-a-boxes just like Birchbox and inside you find the pretty Whimseybox! I thought the sayings were cute.  Whimseybox is $15/month and has one craft and I guess a bonus item! Plus an "art card" – the reverse is the instructions, and mine was bent, but that's alright. Plus, there's a reusable ribbon!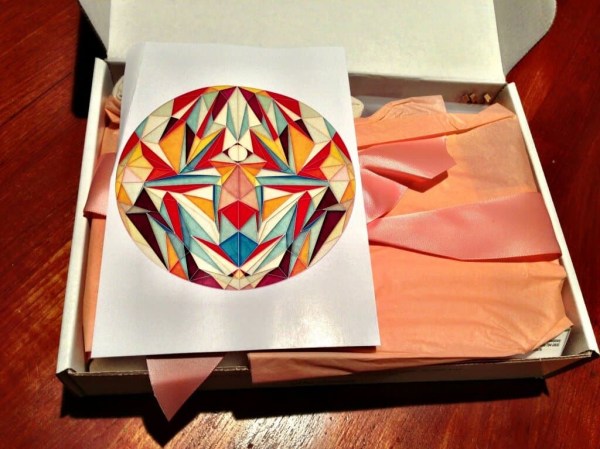 July Whimseybox – DIY Dyed Tote Bag
The Whimseybox craft for July is a dyed totebag! It came with all the supplies and detailed directions, including directions on how to get this specific pattern. Supplies included in the July Whimseybox: Canvas tote, two dye bottles, rubberbands, gloves, and two boxes of Rit Dye.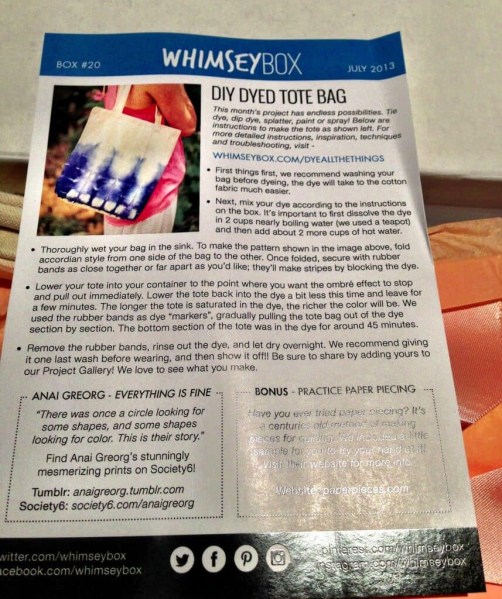 I particularly liked that Whimseybox had everything I needed, down to rubberbands and gloves. Plus, I thought the 70-ish colors were seasonally appropriate and trend-worthy.Did I just write that? Whatever, they were cool colors. Boxes of Rit dye are about 2 bucks each, a canvas bag is about $7 after coupon at Michael's/etc, and all the bits and bobs pretty much get you to around $15. Except you don't have to plan any of it! I can't wait to do this craft, but you'd better believe my kids will be stripped to their drawers to do it.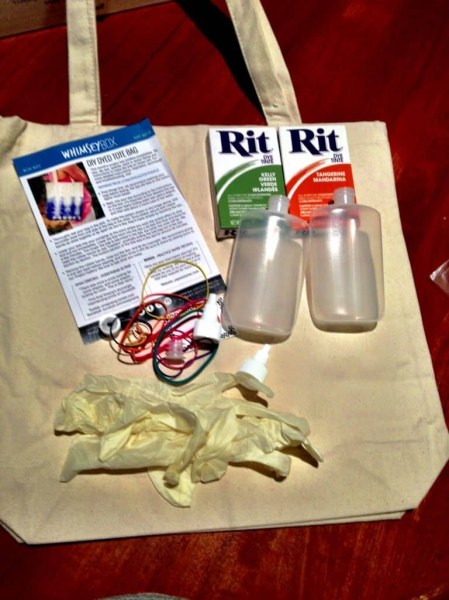 I was a little meh about the included bonus item. It seems particularly fiddly to me (paper piecing for quilt making) and I don't have a needle and thread. I'll pass it to bestie. She quilts. Even if I had a needle and thread I'm not sure how much I'd want to do this. Maybe we'll cut up the hexagons and glue them to a piece of cardstock instead. Seems like a good project. When you have kids you're pretty willing to do anything with glue and extra supplies.
If you want to check out Whimseybox or sign up (half off until 7/31!  Use coupon SUMMERLOVIN) go ahead and do it. That's my referral link and if you sign up, I'll get a free box. (Thank yooooo)