Seasonsbox is a monthly eco-friendly gift subscription. Seasonsbox contains 4 items and runs $35/month (discounts with longer subscriptions – one off boxes are $40). Seasonsbox was recently sold and has changed locations, packaging, and more. While the June SeasonsBox was one of my favorite boxes ever and made my June Subscription Box faves list, the July SeasonsBox falls far from that mark. I hate writing that. I do. But you can't love every box.
I got very excited when I saw this box in my mail. I wasn't sure what box it was from the pretty decorations on it.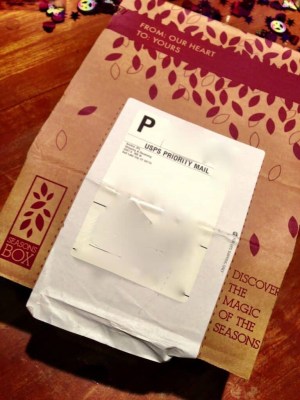 The July Seasonsbox theme was Get In Touch With Nature.  The items inside are "must-haves for the perfect summer date with nature."
 If you've read my previous Seasonsbox reviews, you'll know that the look of the box is dramatically different. The items used to be nestled sweetly in crinkle squigglies and the inner box was a totally giftable package within its self.  I absolutely understand the eco-friendly changes the new owners made…
But this was a terrible presentation.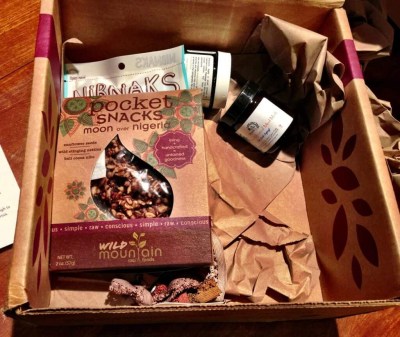 I did prefer the new information card, which was printed on slightly different paper and not so shiny.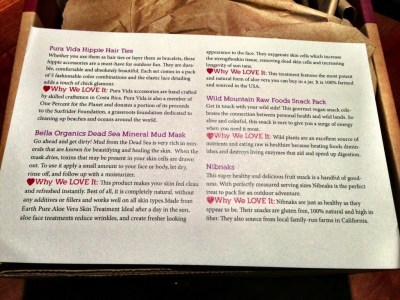 July Seasonsbox: Get In Touch With Nature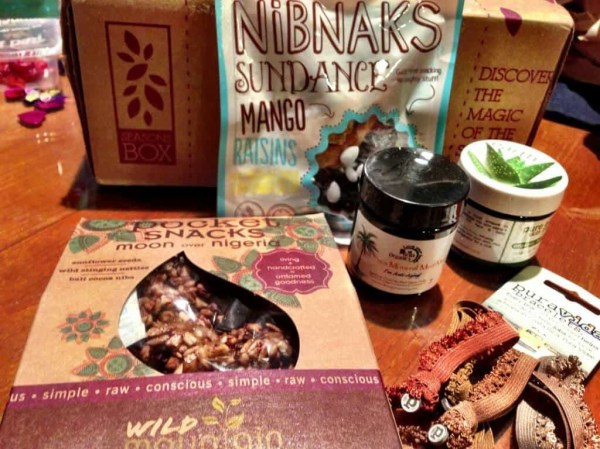 Pura Vida Hippie Hair Ties. $7. I threw these in my daughter's drawer. I keep my hair short and can't use them, and I won't wear them as a bracelet (I find that odd). I did like the patterns on the ties. I don't know how many of these people need. I thought they were pretty colors and would go nicely with the July Julep California Coast collection.
Bella Organics Dead Sea Mineral Mud Mask. $10. If you order directly from this Etsy seller, you can select your own essential oils to be added to the Mask. I got geranium. Dead sea mud is supposed to have therapeutic properties.
Try not to get too freaked out by this photo. As far as I could tell it did the normal mask thing. My face feels nice. There is barely any gone and this mask is totally worth $10 even though the jar is on the small side. Happy to get this in the box.
Made from Earth Pure Aloe Vera Skin Treatment. $15. I'd tell you about this, but I cannot open the jar. Also half the information was missing from the card.
Wild Mountain Raw Foods Snack Pack. This was a cute little snack made of cocoa coated raw/sprouted sunflower seeds.  I got the "Moon over Nigeria" snack pack. $3.50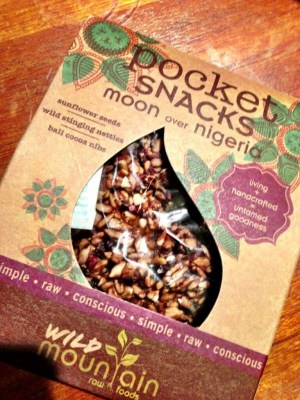 This was tasty, but there wasn't much of it. I'd be happy with this item in a Healthy Surprise box or something similar.
Bonus: Nibnaks in Sundance (Mango, Raisins, Chocolate Coated Sunflower Seeds). $2. The website said this was a bonus, the card didn't.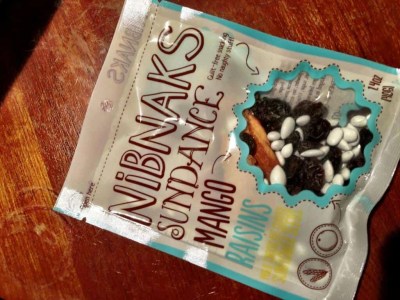 Nibnaks are supposedly 100% natural, but mine have partially hydrogenated palm kernel oil in them. BOO.  It's unusual, but the white coating can be made without it (Graze.com, for example, doesn't use hydrogenated oils, and they have white coating on some of their items).  For that reason, I was disappointed in this item, although it was nice to get a bonus.
The total value of this box is $37.50  – barely over the cost of the box. I was disappointed in July's SeasonsBox. Individually each item is fine, but the presentation and the lack of oomph just didn't excite me.  I think perhaps because all the items were so tiny and half the box (the food) was gone in minutes. Seasonsbox is supposed to give me 4 full size seasonal items for the month and I felt that was lacking this month.
I feel happier about this box after writing it up but I think my initial reaction – where's my stuff?? – is pretty much the right one. I also think for the cost of the box, Seasonsbox needs to get that information card right.  Perhaps these products were just not my thing, which is OK too. It happens in subscription box land!  If you want to know more about Seasonsbox or sign up, do it here!