Hamptons Lane is a new coffee subscription service! While many of the other coffee services are sort of super serious, Hamptons Lane struck me as very fun.  When you start Hamptons Lane you take  taste profile and discover what kind of coffee drinker you are.The profiles are: Chocolatier, Explorer, Entertainer, Café Dweller, Morning Warrior, Scientist, and Fruit Lover.  This is a great feature for someone who knows they like coffee but isn't sure where to start. Coffee can be pretty overwhelming.
There are a ton of options at Hamptons Lane to help you pick the best coffee for you. When you check out, you can choose exactly how often you'd like your coffee shipped, so if you want it a bit more or less frequently, you can adjust that and keep your caffeine fix arriving on the proper schedule.
Curated Coffee Boxes
You can pick a curated coffee tasting box, like the East Coast Roast box, which has the Dark Hamptons Lane Sumatra and HL Gatsby Blend and the Medium Monsoon Malabar and  Brazil Daterra Cerrado Gold. You can get the boxes in the whole bean variety, or you can have the beans ground in French press, drip, or espresso grinds. The curated roaster boxes run $27-$35 per box and you get 4 6-oz bags fresh roasted to order. You can also pick the exact coffees you want in your box.
Shop by Roaster
However, if you already know what you like, you can shop from 40 different craft roasts, too. Shop by Roaster, roast level, region, and tasting note. This way you can buy full bags just by themselves if you don't want to sample coffees with smaller bags.
Create a Blend
I thought this was a fun and unique way to shop for coffee. You can make a custom coffee blend (they have suggestions too, but you can make it your own!) and have the special name printed right on the bag! This would be a fun gift!
Hamptons Lane said the coffees I picked – French Roast, Mexican, and Peruvian – create a cup that "is relatively sweet and mild, with a clean finish."
Hamptons Lane Gatsby Blend Review
Hamptons Lane sent me a sample for my husband to review. They were so thoughtful to have read my reviews to know that it's my husband – not me – that's the coffee drinker. So any opinions on the coffee are his!
Although I didn't get a full box, I wanted to show the sweet little envelope this bag came in to demonstrate the aesthetic.  I loved the look and feel of this package!
The Gatsby Blend was selected for my husband because he loves a dark, dark roast.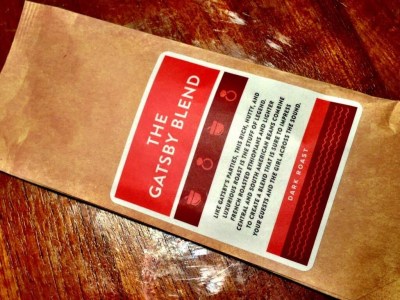 Coffee Beans are so pretty. You can tell that this is a blend because some are light and some are dark.  I should mention that the smell emanating from the package of beans was negligible.  Hamptons Lane uses a one-way valve on their bags (releases Carbon Dioxide, keeps Oxygen out). I was impressed with how little smell there was, because it meant the beans were being kept very fresh. The smell of them burst into existence as soon as I opened the bag.
The Hamptons Lane Gatsby Blend contains French roasted Ethiopians and lighter Central and South American beans. Husband said it was deep and dark and just how he likes his coffee. He loves his coffee dark roasted but doesn't want it to taste just like "roast." He says coffee drinkers understand that and that this particular blend was excellent and had enough roast blended with the characteristics of the lighter beans in the blend.
To start your coffee profile and sign up, visit Hamptons Lane. Prices are going to vary depending on your selections. You can expect about $30 for a curated or custom box, plus $4.95 shipping (free shipping with >$49 order!). Right now you can save 20% off your order with coupon code HLSAMPLE20!