I just got the very first A Kitchen Box (also known as AK|B) subscription box and OMG it is so amazing it is really one of the best boxes I've ever seen! Brooke & Ang – curators of A Kitchen Box – tweeted me and were all, we heard it's your birthday and sent me this box! I was having a really terrible day and now I have this huge stupid smile on my face because they thought of me and this box is totally amazing! And they sent it so fast I didn't even have time to get this box in the directory!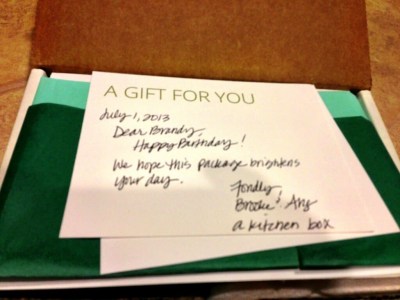 I'm telling you, A Kitchen Box is the box for home cooks and food lovers who want to be inspired in their eats. I am so sad that I want to cry now because they are totally sold out of the summer quarterly subscription and have to wait until October to get another box. Which means you need to sign up for this box totally right now if you don't want to miss out on fall because you will be totally in love with this box. You can still pick up this awesome July box for $29.95. Which you should, it's amazing.
For $89/quarter you get all the goodies in your monthly box plus every week A Kitchen Box will send you an receive an email with ideas, artisan spotlights, product introductions, and more recipes!   They'll also have a shop where you can buy AKB merchandise, kitchen items, and previously released boxes. A Kitchen Box donates $1 from the sale of every box to an Oregon based non-profit, Orphanages of Kenya.
Thank you ladies for my birthday gift!  NOW TO THE BOX! I was just so thrilled it was all about cheese. My heart quickened. Love cheese!
What's inside the (inaugural) July A Kitchen Box?

see, taste, learn, and try. Each box includes something to see, taste, learn, and try. It is hands down the box for foodies and gourmets who want to add a little something extra or get goodies to go along with their food explorations and inspirations.
First,  the "Unpacking Your Box" Guide. This box is small but so overwhelming. You need this! It tells you what's in the box and the inside has gobs of information about each item. It's also huge and very easy to read. I totally appreciated this!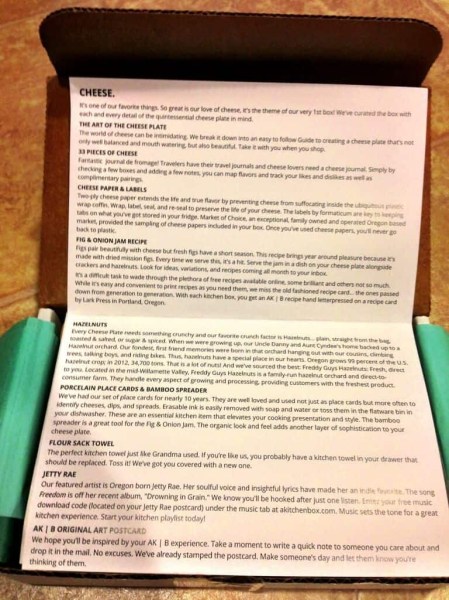 I should note that all the smaller flat items came in that darling chevron bag.
An AK | B original recipe – Seriously, a letter-pressed recipe card? How darling is this? Fig & Onion Jam. I love figs. Love them. How perfect for cheese!
Original AK | B art on a postcard – Seriously y'all, there's a stamp on this. That was just so thoughtful.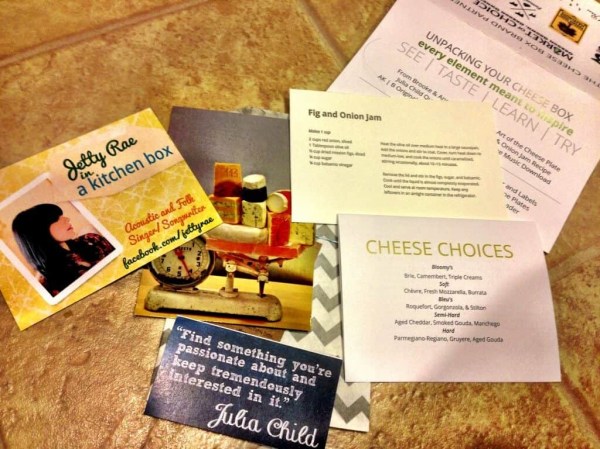 Free Music Download, hand picked by Brooke and Ang – Oregon artist Jetty Rae. I can't wait to download this, and I'm excited that A Kitchen Box is touting a whole sensory experience in my kitchen!
Art of the Cheese Plate booklet. This mini guide gives ideas for cheese choices – categories and names of cheeses so you can pick one for each category, and the inside gives inspiration for creating your own plate (how many, what sides to add – what textures)
An artisan food product to compliment your box theme. For July it was Freddy Guys Hazelnuts. AK|B says you need something crunchy on your cheese plate. I love how they didn't send boring old walnuts. The flavors of hazelnut will go wonderfully with the Aged Gouda in my fridge (my fave cheese!)And of course, the
And of course the useful items to add to your kitchen collection!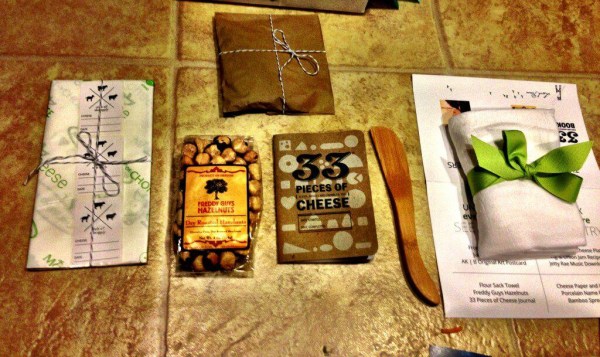 Cheese Paper & Labels. Perfect for making sure your cheese is protected with the right moisture level!
Flour Sack Towel. The perfect kitchen towel. They're totally right.
33 Pieces of Cheese Journal. I love this! I never remember the names of cheeses I like. What a great idea!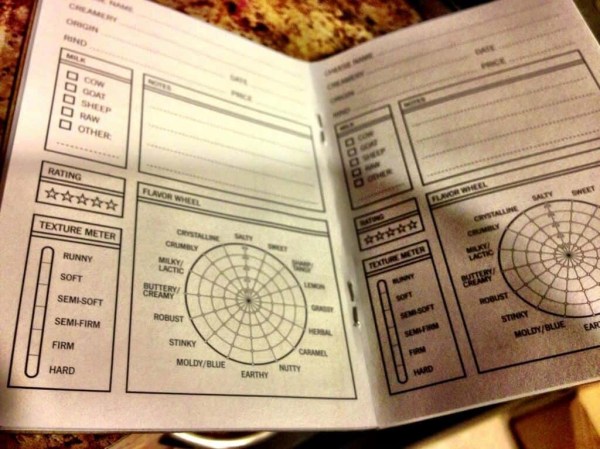 Porcelain Place Cards and Bamboo Spreader. The place cards help you label the cheeses (forgive my ugly red Expo marker, the kids mashed it up) and the spreader is for jams! Or soft cheeses!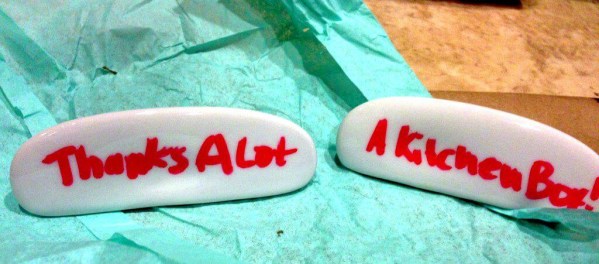 Beautiful box, lovely lovely, can't believe they packed this much in, go get yours at A Kitchen Box! I'm on total sensory overload. And going to go eat some cheese.
 Thank you Brooke & Ang for my birthday present! Now that you're done reading this review, go engage in some birthday party fun by clicking the picture. RIIIIGHT after you go buy this box.