It's always a fun time when we get our Citrus Lane box. Somehow with last month's travel April's box didn't get opened, so we had two to do. Lucky lucky kids! As usual, Vine ate our April Citrus Lane video 🙁
Before I get to the Citrus Lane review, I want to note that my daughter's sweet dreams lamb pillow, received in our March Citrus Lane box, is one of her favorite stuffies and she requires it to go to sleep. The tattoos are all gone too!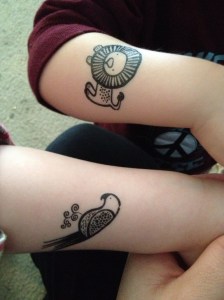 Citrus Lane is a monthly subscription box of toys, books, personal care, food, feeding accessories and other items for children aged birth to 5 years. Get $10 off your first box using my link to subscribe to Citrus Lane! Try using Citrus Lane coupon code TAKEHALF to save half off your first box.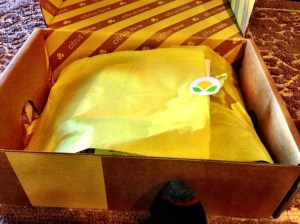 What's in the April Citrus Lane Subscription Box?
Informative information card! You can click on it to make it bigger.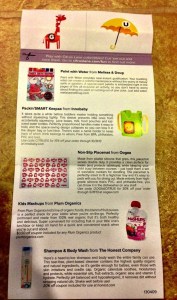 They couldn't wait to dig in.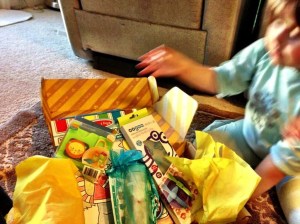 Oogaa Non-Slip Placemat. I was unsure whether I would use this item. At first I felt it was too babyish. And then I remembered that whenever we go out to eat, the kids generally split and we stick things on napkins, which are not soak proof. So I was happy with this item! I rolled it up and stuck it in one of the kids' backpacks. $7.60 on Amazon.
Whoops, I just ordered this Honest Company Shampoo & Bodywash!  I guess I should have opened the box! I don't know if it's ok that the shampoo appears to have separated. I'm checking in with the Honest Company about it. There was a 20% off coupon in the box, but I think the better deal is probably the flat rate referral link (use mine!). I find it frustrating when there's a coupon for new customers only when I'm already a customer. That's probably my only gripe with this box (and the separated shampoo). Big deal.
Plum Kids Mashables. Always a hit. ALWAYS. There's a reason why there's usually one of these in a box for a child my son's age.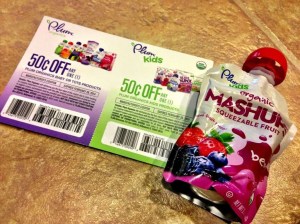 Melissa & Doug paint with water pad. This is what my daughter was stealing in the first shot. It had to be used immediately.  $5.30 on Amazon.
Innobaby Keepaa Juice Box holder. My son thought this was the best item of the box. I had to open it right away so he could play with it.  I honestly didn't know what was so fascinating. We have juice box holders. Maybe the lion? I don't know but he HAD TO HAVE IT RIGHT THEN.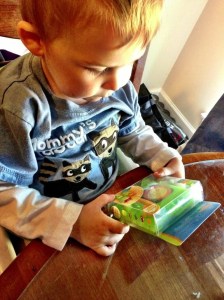 Should you splurge?
Just like last month, the kids were completely and utterly drawn to this box. They have some sort of insane geniuses or an army of children selecting items.  I wasn't personally wowed by this box, but my kids sure were. WHAT DO I KNOW ANYWAYS? That's why I get a box of fun from Citrus Lane to make their little hearts go pitter-pat and see their bright smiles light up.  The items we have received in our Citrus Lane boxes are always well used and many times things we didn't know we needed. But did.
If you would like to sign up for Citrus Lane and save $10 on your first box, you can do so using my link. Thanks!
What did you think of this month's box?