I only got one Citrus Lane this month, as I didn't want my children to get overly spoiled by all these boxes. And for sure, one was enough because they are THRILLED with these items. In fact, we are counting down to the "big surprise" (our Disney World trip with Dad – that they know nothing about) and our daughter thought that the Citrus Lane box was the big surprise!
Citrus Lane is a monthly subscription box of toys, books, personal care, food, feeding accessories and other items for children aged birth to 5 years. Get $10 off your first box using my link!
We got our March Citrus Lane Box!
The kids were so excited!!! They just ripped right into this box and won't give anything back.
What was in our March Citrus Lane Box
There were only a few items in our box, but it was still packed full. Citrus Lane has a fantastic information card, which you can see in full by clicking the picture.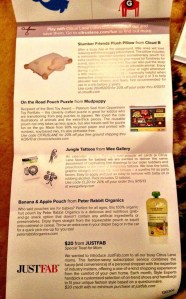 Jungle Tattoos from Wee Gallery. Awesome. Saving them for Animal Kingdom. $5.
On the Road Pouch Puzzle from Mudpuppy. About $12. Obviously from the video you can tell my kids truly loved this. E is wicked into puzzles. This was a really nice quality puzzle and you can check them out at Amazon. They have a nice selection!
Slumber Friends Plush Pillow from Cloud B. About $12. A calls this her sleepytime pillow and insisted on brushing it. She carried it around the whole night. What a hit. She also shoved a bunch of E's cars into the pillow and demanded to sleep with it. E only had eyes for the puzzle at this point. You can find this pillow on Amazon.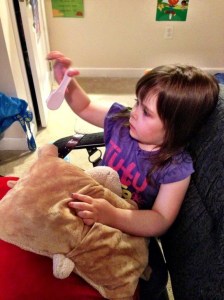 Banana & Apple Pouch from Peter Rabbit Organics. Whoops! Citrus Lane is taking care of this one you guys. took care of this and I received the replacement within a week! Awesome, easy customer service! Fortunately for me (because the kids dug right in) it didn't get on anything, but the pouch was punctured. When Little E picked it up he said EWWWWW! See the flavors on Amazon. About $1.25.
For moi, a $20 gift card to JustFab.com. This, for me, was a bit of a disappointment (Sorry Citrus Lane, I love ya, but this one, for me, could've been better – it's also no good if one is getting two boxes, and I would've been a bit unhappy if I had gotten two boxes this month.). The code isn't unique so anyone can ask a friend for it. To me this is something extra to put in the box, not the thing for mom. I've looked at JustFab and I have stupid feet and can't wear their stuff (and no, I won't be caught dead in an ankle boot or other madness). And when I was signing up to check it out I got a today only 50% off offer. Which is the same as $20 off for most of the items. This made me sad. I am also certain this code won't work if you are already a Just Fab member. I much preferred the toner in the February Citrus Lane boxes.
However, I was feeling adventurous and determined to make the best out of this code, so I was going to pick up these Wind Charm Earrings for $14.95 (free after my card). Crazy, right? I was thinking they would perk up a solid color dress for spring/summer without getting fussy with other accessories.
But the code doesn't work on earrings and I'm not going to spend $20 on a JustFab bag so… meh.
Should you splurge?
The answer is once again yes. This is a really consistent subscription with something for mom and items for children that appeal to a wide range of ages. This especially makes me happy because with two kids in an urban apartment, we don't have too much room for gobs of toys. They must do some serious testing because my children are drawn like magnets to this box. This makes me happy and I can't wait until we can open next month's box again!  If you want to sign up for Citrus Lane too, I would love it if you used my link!! Warning – this is a HOT box. April is already sold out so sign up NOW for May!!
So for the kids stuff the value is $30.50, and adding the gift card in (let's discount it and call it $10, it's my blog I can do what I want to), the value of this box is about $40. SUPER SPIFFY! I wrote that before discovering I couldn't get the earrings. Bummer. I still liked this box without the JustFab stuff. A lot of times I would just be happier without the extra thing that wants you to spend extra money. (Hey, next time send me a pair of earrings and the card!) Still, at $25 for the box month to month, or $21 for 6+ month subscriptions, this is a good value and a time saver! I still recommend it and I suspect (and hope) we won't being this kind of mom item again anytime soon.