Healthy Surprise is a discovery box and what I like to call a "supply" box – it supplies all your items of this sort for a month (or more!). There is a lot in this box!.  All the snacks in it are natural, vegan, dairy-free, gluten-free, and soy-free.
Healthy Surprise comes in three different sizes ($40, $66, and $99 monthly, shipped) so you can get what your family (or your office!) needs shipped to you every month without worrying about hunting down these snacks all by yourself.
Every month Healthy Surprise sends out all new snacks – they do not repeat any snack two months in a row (although they may send different flavors). However, they do bring back in demand snacks, which is neat. I'm pretty sure you can save 15% by using coupon code HEALTHYSURPRISE!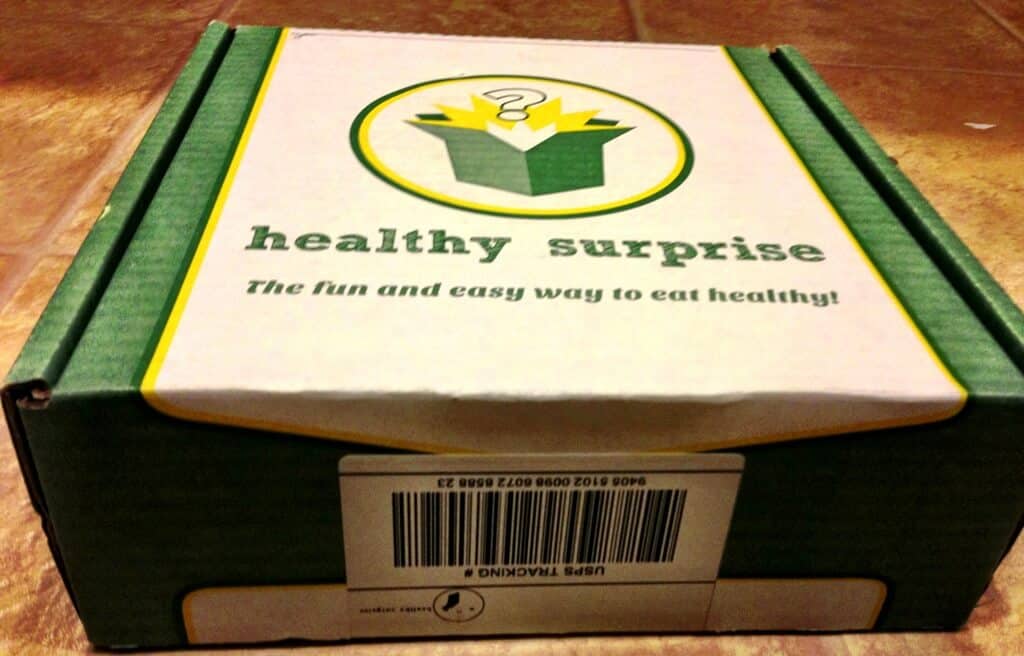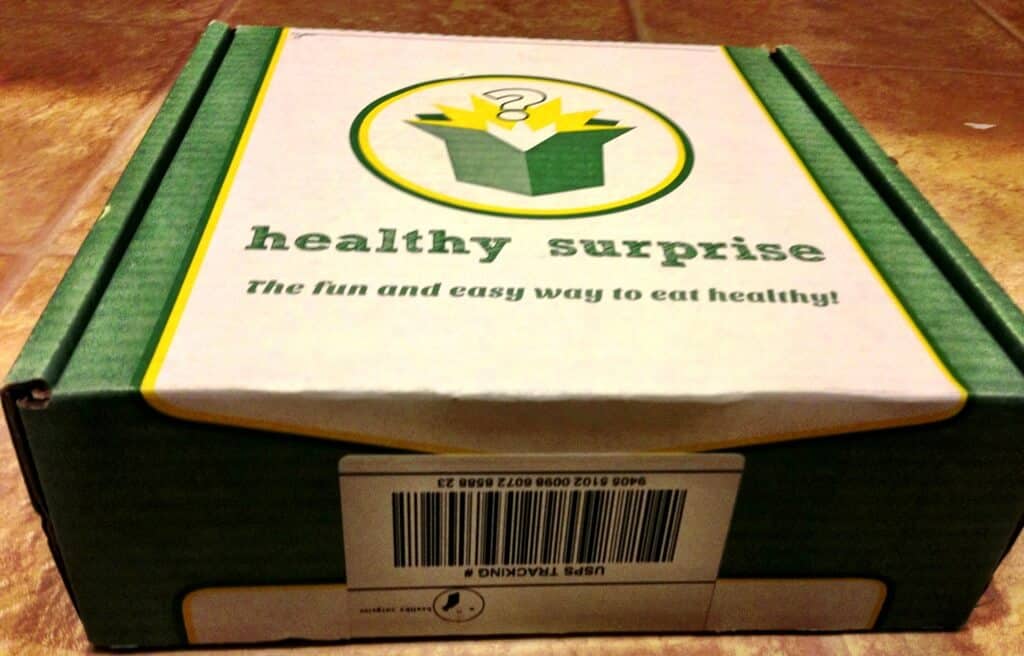 Because Bestie & I opened 15 subscription boxes last night, we already know that this box contains the hit of the week. Hands down. I had to make her take it home with her so I wouldn't eat it.
What's in the May Healthy Surprise Box?
Healthy Surprise box is beautifully packaged. They put a lot of attention on the box and it shows. I can imagine gifting this box very easily and having my recipient be wowed.
When you open the box, it's completely full. This is the smallest Healthy Surprise box. I can't imagine the larger ones. They must be like trunks. And really, this one is too. It's like a little trunk of vegan happiness ready for snacking.
First, we have our bars. Just 2 (besides the fruit bar, below). These were super large. See the full picture for comparison.
Journey Bar: Sesame Ginger & LiveSmart Raw Bar: Chocolate Suicide.  Journey bars are made with quinoa, amaranth, flaxseed, oats and buckwheat and relatively low in sugar.  It's a savory bar!  The LiveSmart bar has old packaging but the date is pretty far off. The Raw Bar is made out of hazelnuts and walnuts and coconut and dates and raisins and chocolate.
Just Pure Foods Sesame Dijon Zucchini Chips. These had a serious dijon afterkick.  The sesame also gave it a honey mustard taste. They were extremely unique.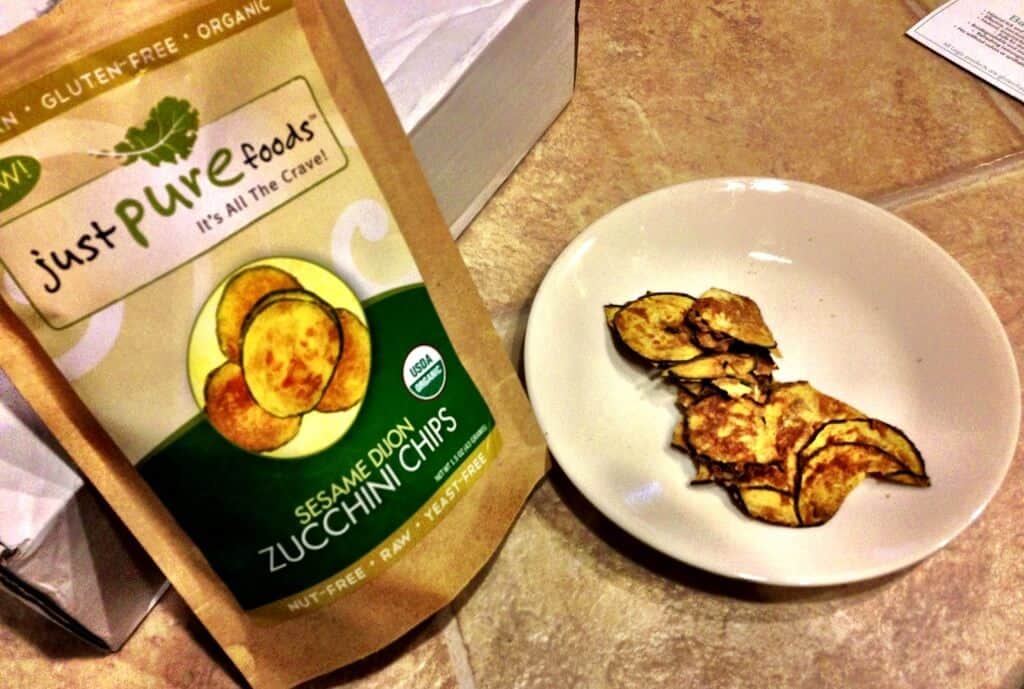 Freshly Wild Onion Joy, Original Recipe. These are dehydrated onions coated with chia and other weird and wonderful goodness. THEY ARE TOTALLY AWESOME!!! If your Whole Foods store doesn't carry them, request that they do, because they are ahmayzing. If you don't have a Whole Foods, lucky you, they ship anywhere. YOU SHOULD SERIOUSLY BUY THESE RINGS OF DELIGHT. And Freshly Wild, you should totally give me a case to give away. They. Are. Awesome. I want the whole entire world to eat Onion Joy. Who would have thunk dried out onions with some chia would be good? Bestie & I both agreed on how ridiculous this product was. Who thought this up? Geniuses.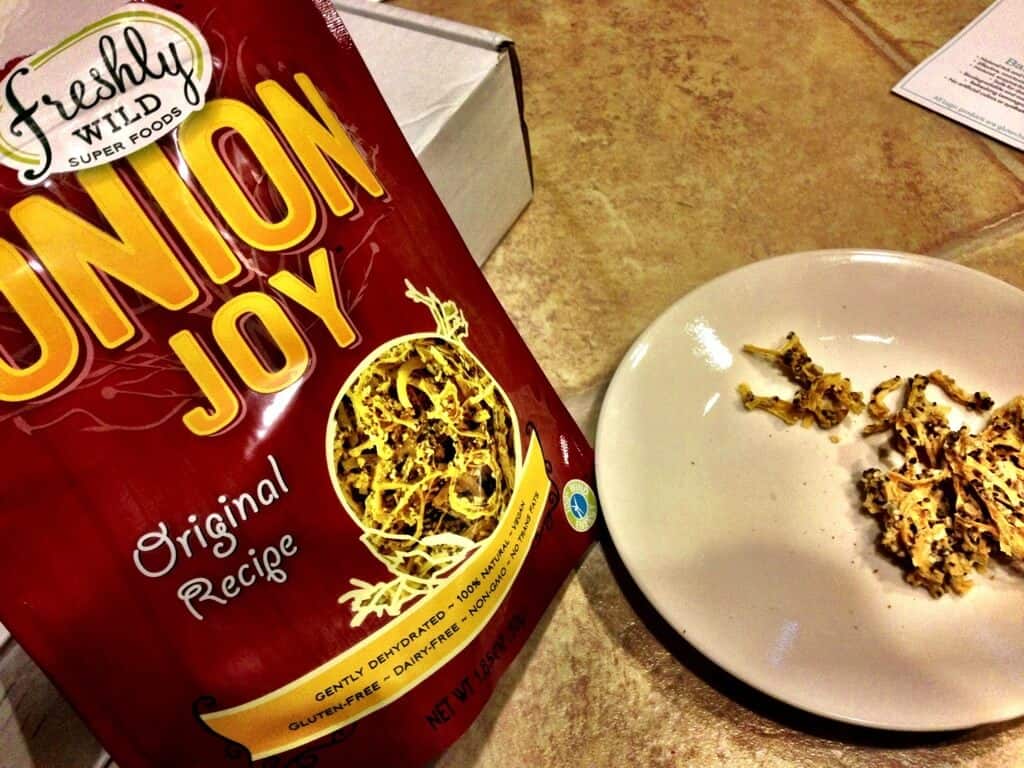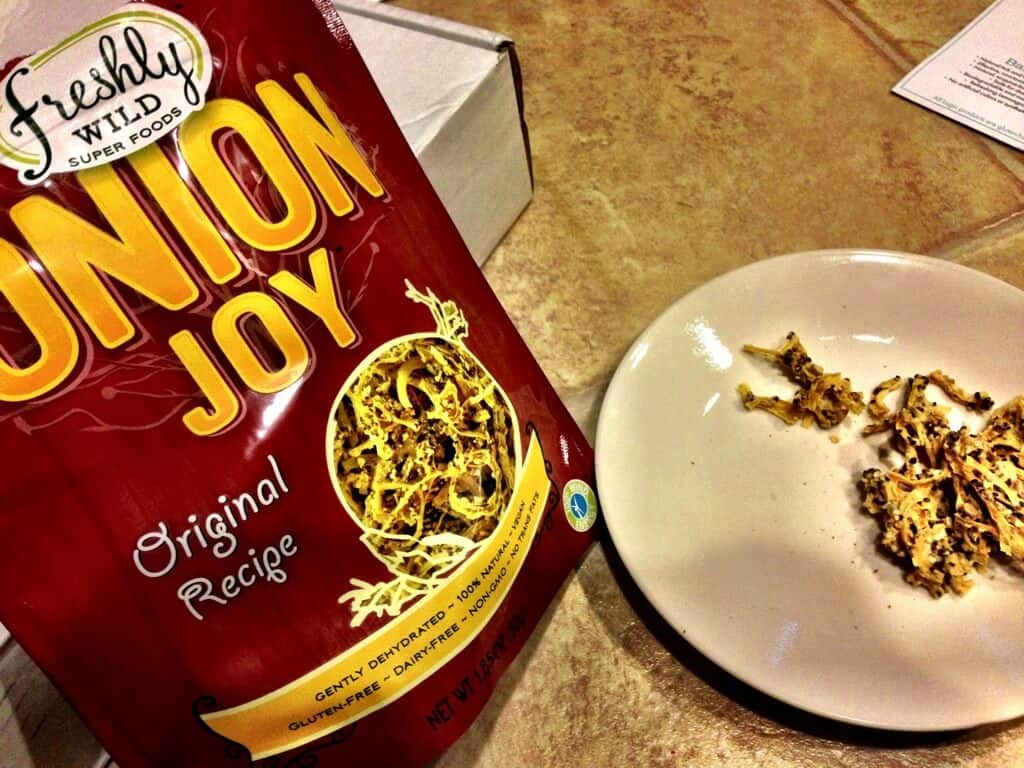 Fruit Stuff! Bare Fruit Granny Apple chips.That's it apple and cherry bar. (seriously only 1 apple & 10 cherries – That's it!). Fruit.0 Mango, Pear, Pineapple Fruit Pouch. Freeze Dried Mango Crunchies. Happy to have all of it. Wonderful healthy snacks for my kiddos, especially for all the travel we've been doing.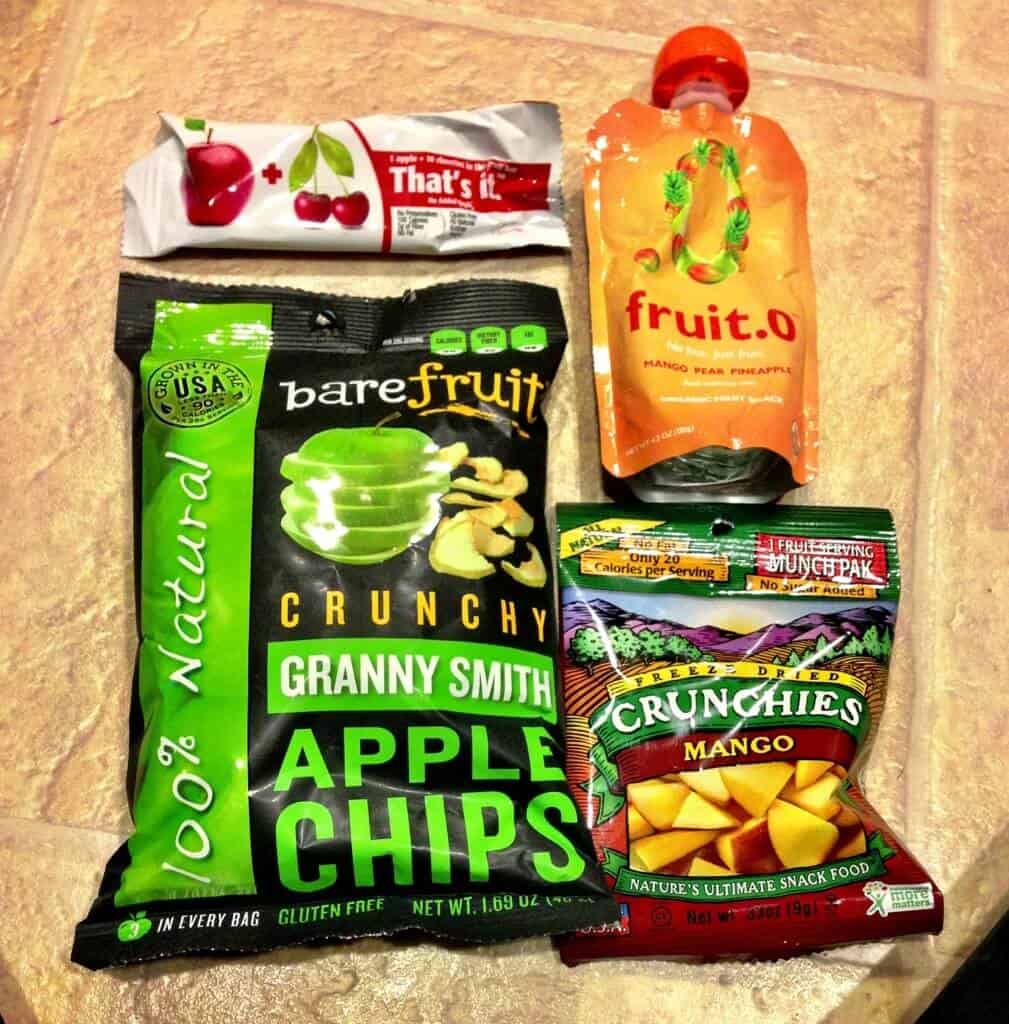 Sunbiotics Soaked & Sprouted Original Almonds. Home Free Gluten-free mini crunchy vanilla cookies. Who can say no to cookies? Not my children! Or nuts, for that matter. Speaking of which, Healthy Surprise does include nuts. That should have been obvious by now. There's a chart on the Healthy Surprise page that shows what items are always in the box, probably, sometimes, and never. Nuts, unlike the allergens, are sometimes in the box!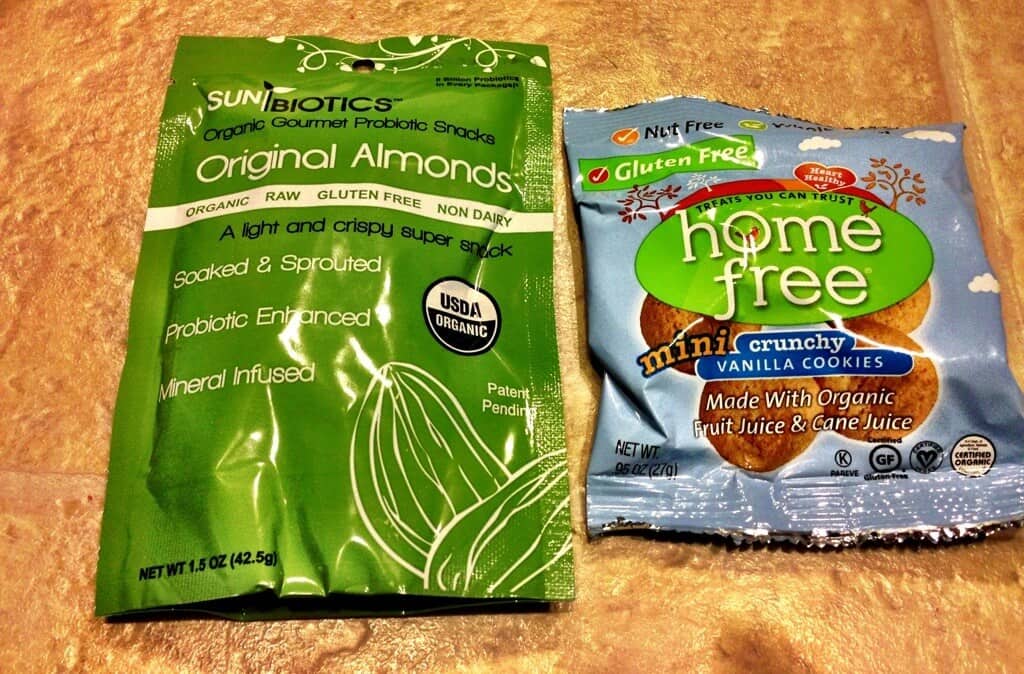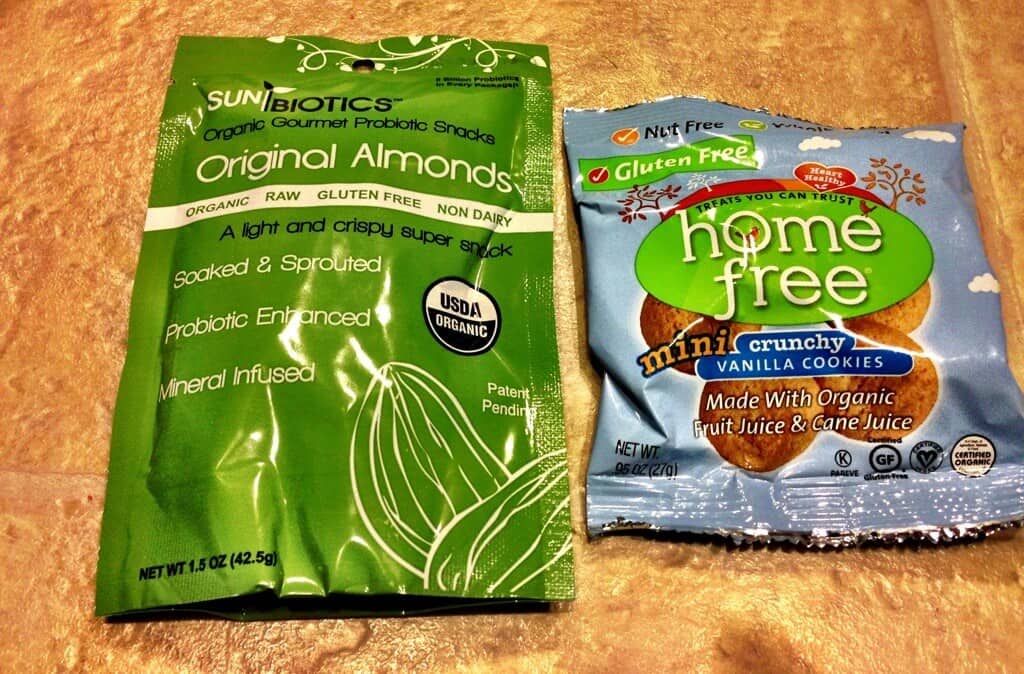 Taza Chocolate Mexicano Dark Vanilla. Taza is an artisanal chocolate producer that stone grinds its beans right in Somerville, Massachusetts using mills from Oaxaca. How do I know this? I used to live there! (In Somerville, not Oaxaca.) I plucked this one out of the box with glee for bestie, who promptly ate a significant portion (<3 u!).  I gave her the rest. She's a Taza fanatic. I miss you, Boston.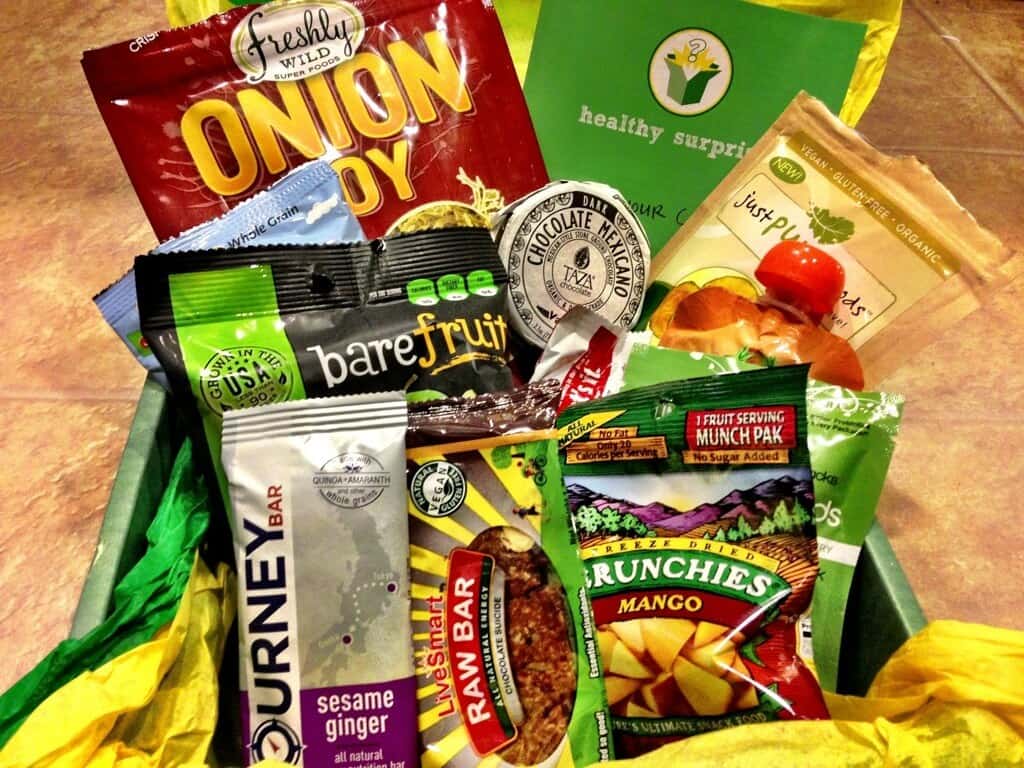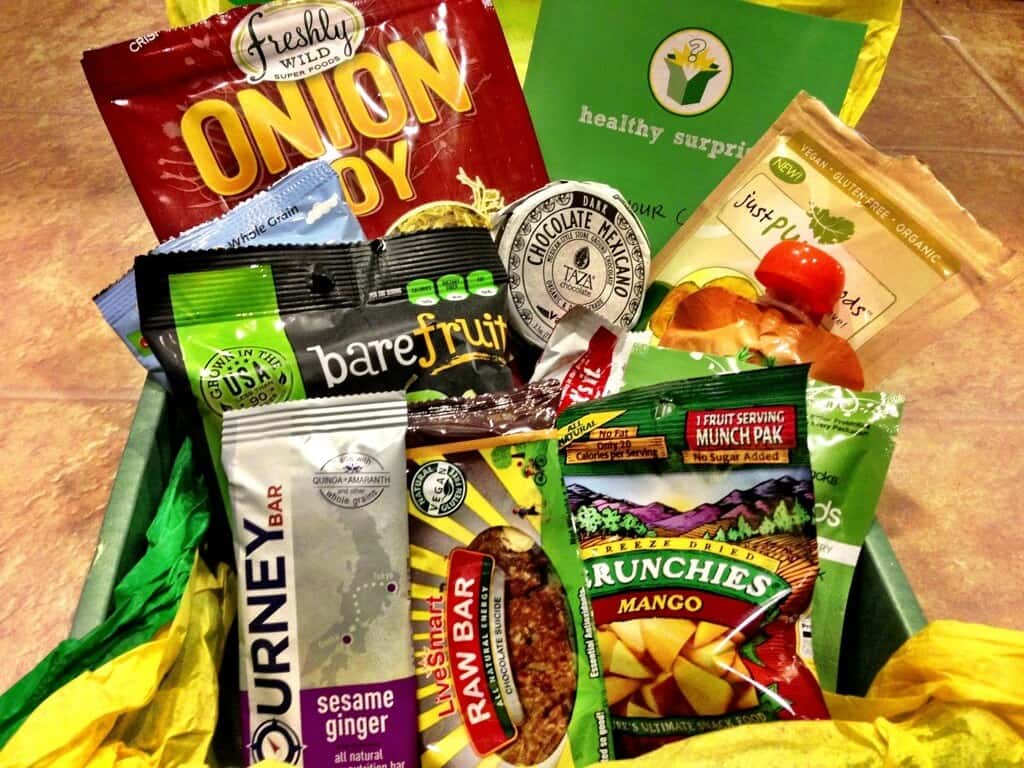 Should you splurge?
This is actually one of my very favorite boxes! The curation in this box is top notch – it provides a wide variety of very usable items. Everything is natural and super healthy and I don't have to worry about feeding it to my children. I do not buy this box every single month, but Healthy Surprise has been nothing but easy in accommodating that.  I did have one repeat this month – the apple chips. As promised they are a different flavor, and very much a favorite. I was happy to see them in this box again!
The Onion Joy we thought was very aptly named, and the Taza chocolate was the icing on the cake for this box. If we weren't out of town for next month, I would probably get it again right away, but I'll probably skip a month and get the July box.
You can sign up for Healthy Surprise and your first box will be shipped by the next business day or earlier. It really is fast, especially for a box of this size.  I really do like the Healthy Surprise company and wish more boxes would focus on sourcing actually desired items and topping it off with helpful and excellent customer service.