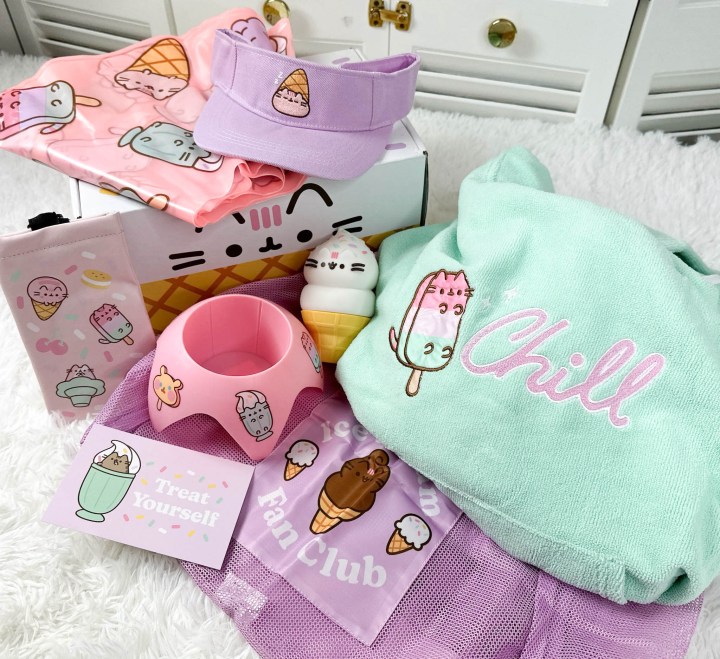 It's time to dive into the Pusheen Box Summer 2023, where our favorite cat is serving up some serious ICE CREAM vibes! From a cozy beach poncho to a fun pool float, a practical tote bag, a stylish visor, and an array of other summer essentials, this box is filled with Pusheen charm and practicality. Join us as we explore all the adorable and summery surprises that await in this Pusheen Box review!
I couldn't help but break into a grin when I unboxed this pastel pink Pusheen Phone Pouch! The pouch is an absolute delight, adorned with a charming ice cream print featuring our beloved Pusheen. Plus, it's the perfect size to keep my phone both secure and stylish. It's safe to say this pouch is set to be my new must-have accessory!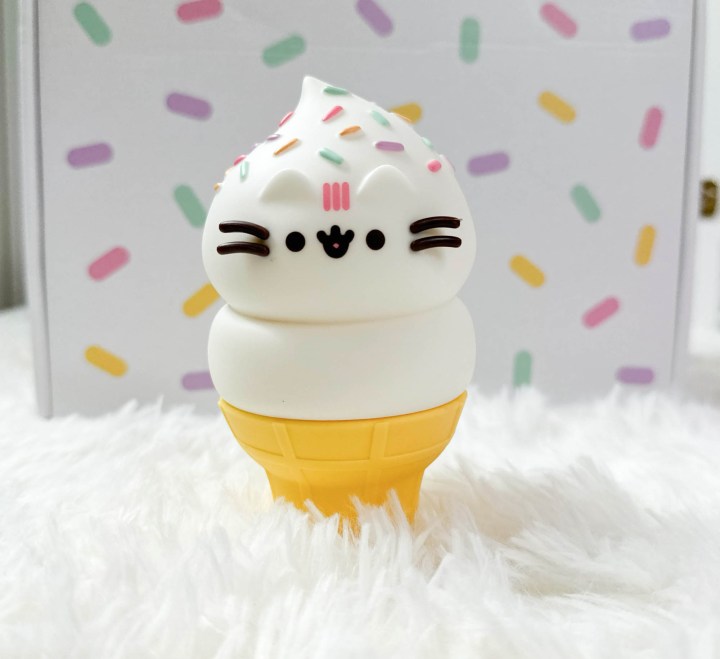 The Ice Cream Vinyl Figure is an absolute gem for any Pusheen enthusiast. The figure features our beloved Pusheen perched atop a delectable ice cream cone, complete with colorful sprinkles adorning the creamy swirl. It's the epitome of cuteness! This piece is not just a playful decoration; it's a must-have addition to any Pusheen collection. Whether you choose to display it on your shelf, desk, or anywhere you'd like to add a touch of Pusheen's whimsy, this figure is sure to bring a smile to your face every time you see it. It's the perfect way to capture the essence of Pusheen's summer-themed adventures in a single, adorable collectible.
Next up is a Sand Coaster, an adorable accessory designed to make your beach days even more enjoyable. Featuring adorable Pusheen prints, it adds a generous scoop of cuteness to your seaside setup. Not only is it visually appealing, but it also serves a practical purpose by keeping your drinks stable and sand-free!
This Visor Hat is such a charming addition to my summer accessories collection. The lavender color is soft and soothing, and the design is absolutely precious. On the front, you'll find an adorable image of Pusheen taking a cozy nap with an ice cream cone. This visor not only shields me from the sun's rays but also makes me feel like I'm sharing a lazy summer day with Pusheen herself!
This inflatable Pool Float is an absolute summer essential, and it's not just any float – it's the cutest one you'll ever see! It comes in a pink color that is both fun and inviting, and when you add the irresistibly cute Pusheen ice cream prints into the mix, you've got a pool accessory that's truly one-of-a-kind. It's incredibly easy to inflate and use, so you can be chilling in the water in no time. Imagine drifting along the water, soaking up the sun, and sharing the joy with Pusheen!
I'm absolutely smitten with the Beach Tote Bag! Just like the visor, it comes in a beautiful lavender color. What makes this tote stand out is its roominess. It's incredibly spacious, allowing me to carry all my summer essentials with ease. Whether it's towels, sunscreen, a good book, or snacks for a beach day, this bag has got me covered. It also features an "Ice Cream Fan Club" print on the front. Pusheen seems to be the ultimate ice cream aficionado, and proudly displaying my membership to this club is nothing short of delightful.
The Pusheen Towel Poncho comes in the perfect mint green shade for a refreshing summer look, while the embroidered Pusheen adds a touch of cuteness along with the word "Chill" in cursive. Its roomy design allows for a comfortable wrap after a dip in the water and also features convenient pockets. These pockets have proven to be invaluable for stashing essentials. It's incredibly convenient and lets me keep all my beach necessities within arm's reach.
My daughter adores the poncho too. It's become our go-to beach companion, and we couldn't be happier with it!
Wrapping it up, the Summer 2023 Pusheen Box has been a real treat. With a cute pastel phone pouch, adorable vinyl figure, handy sand coaster, and roomy lavender tote bag, it's been a delightful haul. Plus, that pink pool float and mint green towel poncho? They've turned our summer into a total blast! What's really great about this curation is that it appeals to everyone; my daughter's totally smitten, and I'm loving it too. Pusheen's charm shines through in every item, making this box a fantastic addition to our adventures. It's like a box of sunshine and smiles – who could ask for more?
Each seasonal box also includes a card with pictures and names of the items inside. Here's a look:
Pusheen Box is a quarterly subscription box that delivers everything Pusheen the cat! Boxes hold a variety of Pusheen items with at least $100 in value, including exclusive products and pre-release items. Some of the items that could be inside include clothing, accessories, electronics, toys, stationery, and more! The box is $43.95 per quarter plus the shipping fee. You can also get a pre-pay annual plan, which reduces the box's cost to $39.95 per quarter plus the shipping fee.
Pusheen Box made the list in our 2021 readers' choice picks of best subscription boxes for teens!