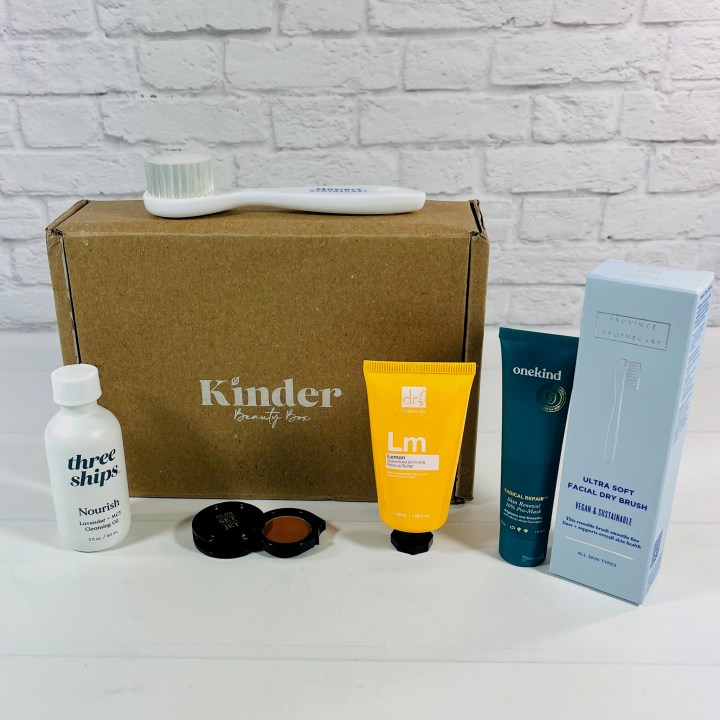 Kinder Beauty Box for September 2023 was themed Renewal and inside there were five items to help us enhance our beauty routine with products that repair, revive, and cleanse. Kinder Beauty lets you "build your box". They send three items chosen for everyone by Kinder, then you will get to customize two other items from a short list. You are also able to purchase add-ons that ship with your monthly box. Kinder Beauty kindly sent all of the item choices for review so the picture shown above is what I would have chosen for myself!
DEAL: Use coupon code HELLO5 for $5 off your first order!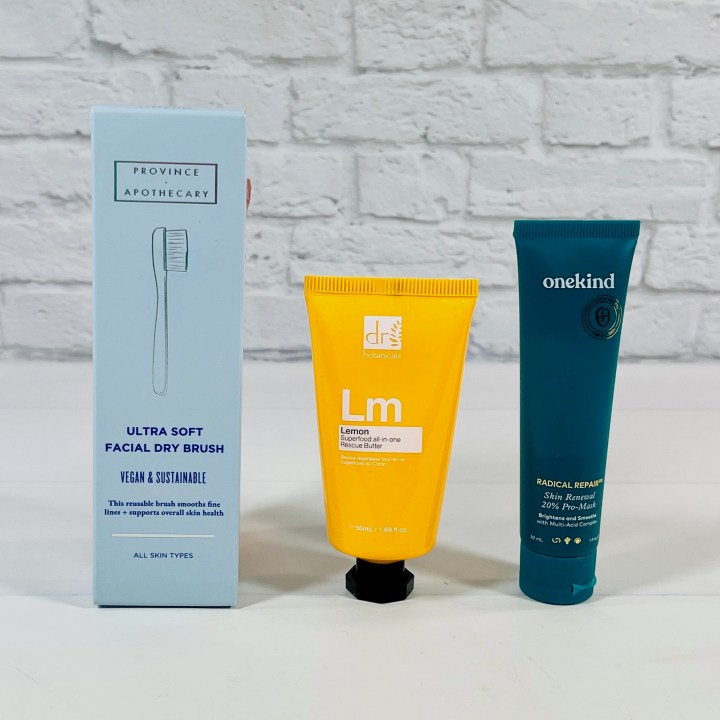 Everyone gets these three items!
Province Apothecary Ultra Soft Facial Dry Brush ($18) One thing to note is that this brush is meant to be used dry, it's not a cleansing brush. There is a tutorial you can watch online and the procedure is supposed to be performed in the morning on clean, dry skin. It may promote lymph drainage and help skin look brighter by exfoliating dead skin cells.
Dr. Botanicals Lemon Superfood All-In-One Rescue Butter ($11.18) I feel like I received this within the last few months from another box (maybe Kinder, maybe some other box) and I remember the lotion being rancid, and sadly this one is too. It felt nice on my hands and left behind a coating when I washed it off. Sadly, recent reviews on Amazon also mention an old or rancid smell so I don't think I'm alone here in thinking this is off.
Onekind Radical Repair™ Skin Renewal 20% Pro-Mask ($49) This mask was described as a "jelly" mask and it didn't dry down, it still felt wet when I rinsed it off. It's supposed to remove dead skin cells gently so skin looks brighter and feels smoother. I has a scent that isn't bad and that is provided by essential oils instead of parfum. It can be used up to two times in a week and of course, don't forget to use SPF afterwards.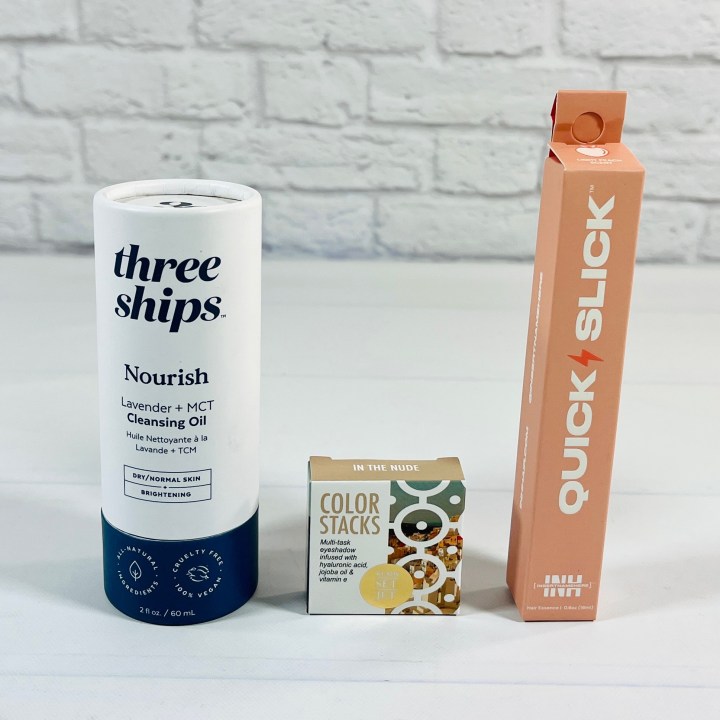 Choice 1: Here are the choices from category one:
Three Ships Nourish Lavender + MCT Cleansing Oil ($18) This cleaning oil is just fractionated coconut oil (so it will stay in a liquid state) plus geranium and lavender essential oils. I applied it to my face (I didn't use it on my eyes) and it felt wonderful, it was very silky as I massaged it around. I used a warm, wet washcloth to rinse and it looked like it did a good job of removing my makeup, but I followed it up with a second cleanse of my usual product. It smelled good too, I like the smell of natural oils as opposed to fake floral fragrances.
INH Quick Slick Flyaway Hair Essence ($18) This product looks like mascara but is used to slick down stray hairs on your scalp. It's supposed to smell like peaches but I thought it smelled like strawberry candy and dirt, it's not a great scent. Use it around the hairline but it can also be used on eyebrows and beards.
Ready Set Jet Color Stacks In The Nude ($12) This is a stackable eye shadow in a matte finish that works well as a base on the lid up to the brow. I love a base color like this and it was easy to apply. Swatched below.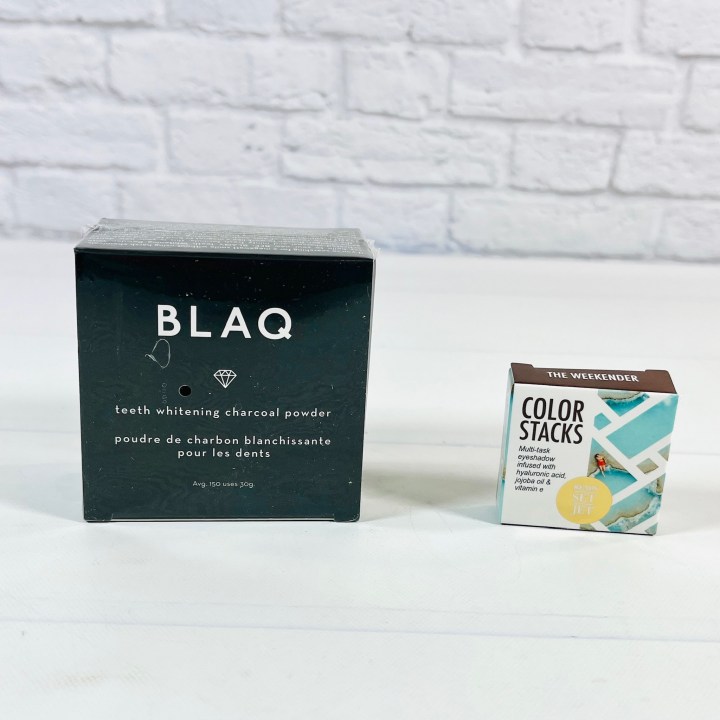 Choice 2: Here are the choices from category two:
Blaq Teeth Whitening Charcoal Powder ($14) Oh no no no, this product wasn't fun to use at all. It's supposed to clean your teeth and can be used alone or you can use your regular toothpaste before or after. You dip a wet toothbrush into the powder (which doesn't seem super hygienic), brush your teeth, then rinse. Then brush again without powder to get rid of the remaining black residue. It made a mess in my sink and when you spit it out it looks like ink. My teeth didn't feel minty clean afterwards. I prefer traditional toothpaste but if you are looking for a natural alternative then try Davids.
Ready Set Jet Color Stack The Weekender ($12) This is the same product as the shadow shown earlier, except it's a matte warm brown. I wore the two products together, the other color as a base and this in the crease and as a liner. I'm happy with the duo and the colors are perfect as we move into fall.
Swatched on top is In The Nude and below that is The Weekender.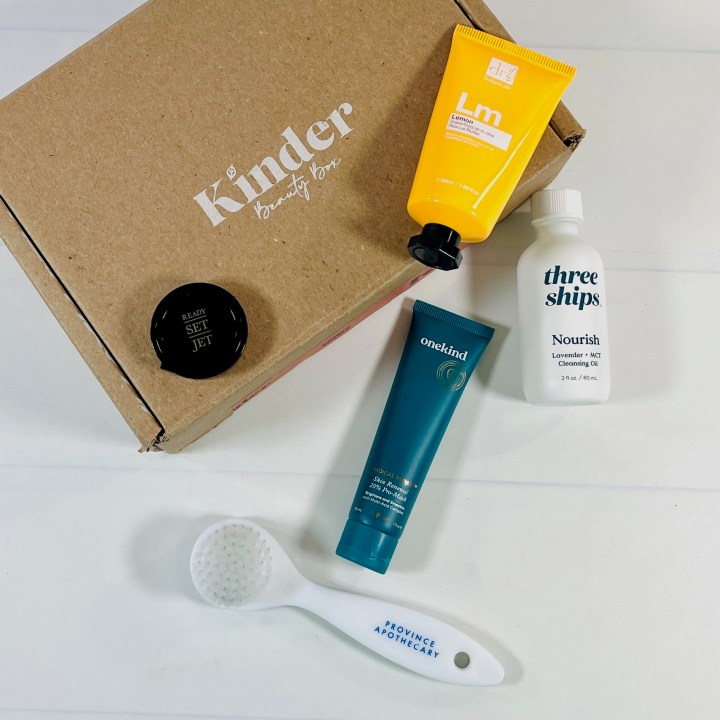 I liked the items I received in my latest Kinder Beauty Box! I especially liked the choice items, like the oil cleanser and the eye shadow. My favorite item from the base products was the facial brush, I've been using it daily! It feels good on my skin, and although I haven't detected any results, I can still enjoy the feeling of it passing over my cheeks, forehead, chin, etc. I also liked the eyeshadow, it is a warm matte neutral that I will continue to use throughout the year. Keep in mind that the box value will vary depending on your choices but my box collection shown above was worth around $141!
Below is a card that was included and below that is a box opening picture.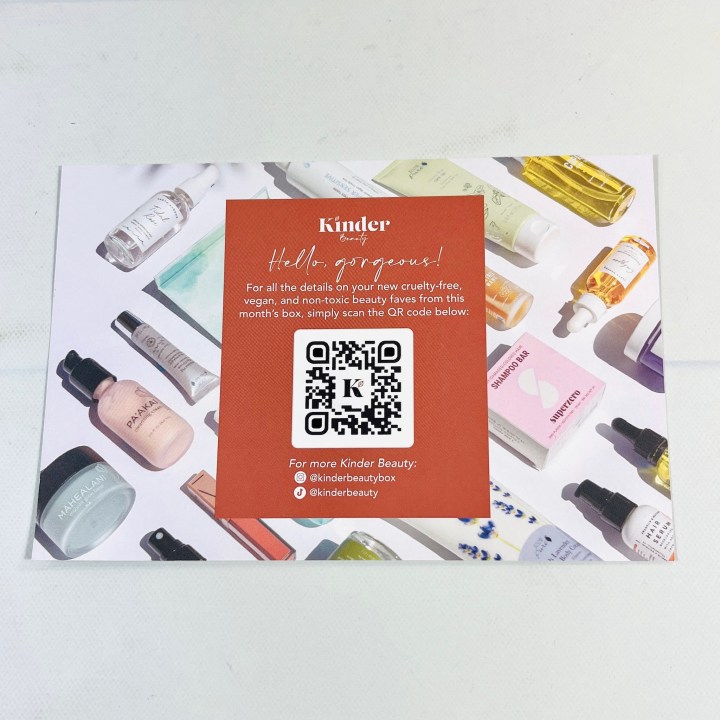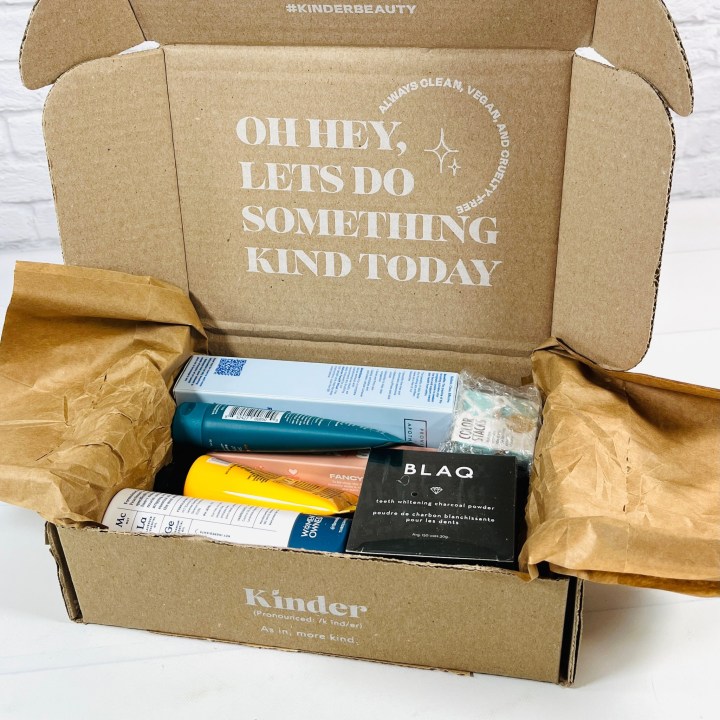 Kinder Beauty Box is a vegan and cruelty-free subscription box that sends skincare, haircare, makeup, and accessories. Each month you will receive up to $165 worth of products. The items are compassionately curated by Daniella Monet and Evanna Lynch. All Kinder Beauty Box products are guaranteed to be 100% vegan and cruelty-free. Kinder Beauty Box is $26 a month, with free shipping to the US, $5.95 elsewhere. Price drops to as low as $23 a box with a prepaid 6-month plan. A portion of all sales will go towards benefiting the founder's favorite animal rights and environmental causes.