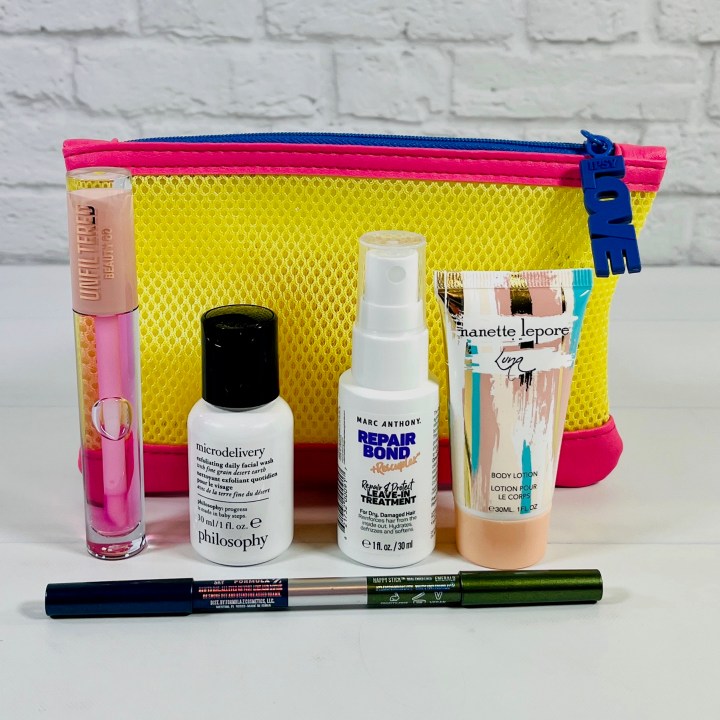 Ipsy Glam Bag for June 2023 theme was Ready, Set, Play! I received a cute bag and five beauty products including a brightly colored eye pencil (how fun is that?!) plus a leave-in conditioner for tired tresses, and more. Read on to see all of my beauty items!
Note: Ipsy sends many variations, so the bag I'm reviewing may not match everyone else's.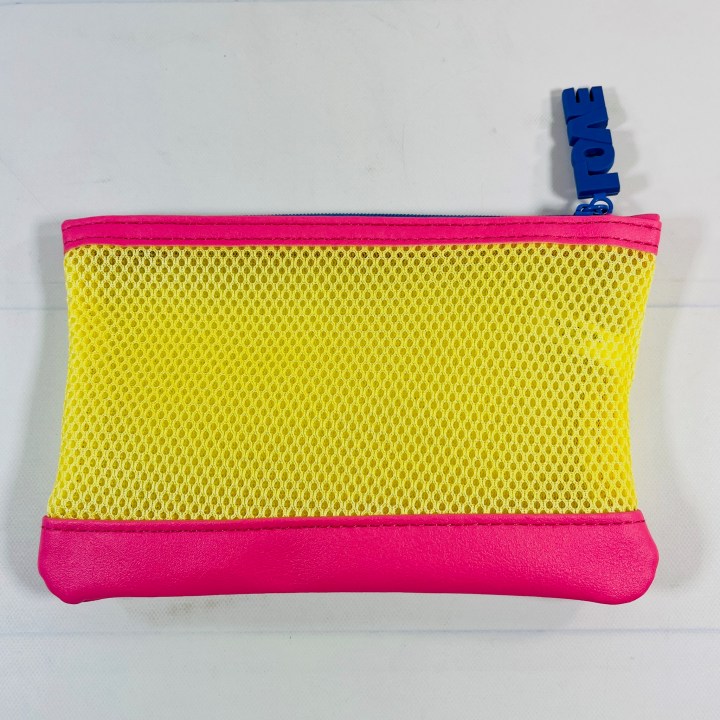 Ipsy Glam Bag The bag has a yellow net body and pink pleather along the top and bottom. The zipper and pull are purple and "LOVE" forms the pull itself.
Nanette Lepore Luna Body Lotion ($3.68) This body lotion has scent notes of lemon, rose petals, and "celestial musks". It smells like a musky floral and while I wouldn't want to put this all over my arms and legs, I think a small squirt mixed into my unscented lotion should give me just enough coverage to not feel overly fragranced. It says to apply before bed (I guess because Luna means moon?) but that much scent before bedtime is overwhelming and it really doesn't make much sense, it's not like it has CBD or lavender.
Marc Anthony Repair Bond + Rescuplex Leave-In Treatment ($1.01) I use non-scented hair products for sensitive skin but since this one is a leave-in treatment I figured I could apply it to my ends and hopefully not get it on my scalp. It's supposed to "reinforce hair from the inside out" and protect it from hot appliances. I sprayed it once into my palms and then distributed it through and I found that the amount was perfect for my fine hair and I could comb out my tangles easily. Did my hair look like the models on the brand's website? Of course not, but if you use hot tools and need a detangler then this one is inexpensive and smells nice but not overly so.
Philosophy Microdelivery Exfoliating Daily Facial Wash ($3.75) This is an exfoliating face wash with very fine bits of something scrubby wrapped in a very rich cleanser that removed everything on my face — oil, makeup, everything. I think it worked better as a cleanser than an exfoliator and it had a light citrus scent. The ingredients on the bottle are different from the ones listed on the Philosophy website, so I linked to Ulta. I wouldn't have used it based on the Philosophy listed ingredients as I avoid the preservatives that have 27 letters, so make sure to watch out if you are sensitive to those methyl ingredients.
Unfiltered Beauty Co Pout Potion Lip Oil in So Retro ($19) Oh my gosh, five of the ingredients listed on this brand's website are misspelled, which doesn't inspire confidence in the brand (although lpsy has a different list on their website). Also, I don't understand why lip glosses are now called lip oils, this is basically a coconut-flavored lip gloss. Sure, near the bottom of the list you will find shea butter and olive oil, plus some hyaluronic acid. It did nothing to actually leave my lips feeling softer and a less expensive brand can do the same.
Formula Z Cosmetics Happy Stick Dual Ended Liner ($23) This dual-ended eyeliner has bold metallic blue on one side, and metallic olive green on the other. I would have been all over this back in high school or my 20's, but I still tried it out and was surprised at how bright it ended up (I did blue on the top lash line and green along the bottom). I ended up going over it with a dark shadow because it's not really a look I want to wear at this point in my life but you never know, I might wear it at home alone and jam out to my '80's flashback faves. Someone commented on the Ipsy site that they can't extend the amount (like in a twist up liner) but it can be sharpened.
There's that bright blue on top, the grayish-green underneath. It swiped on easily.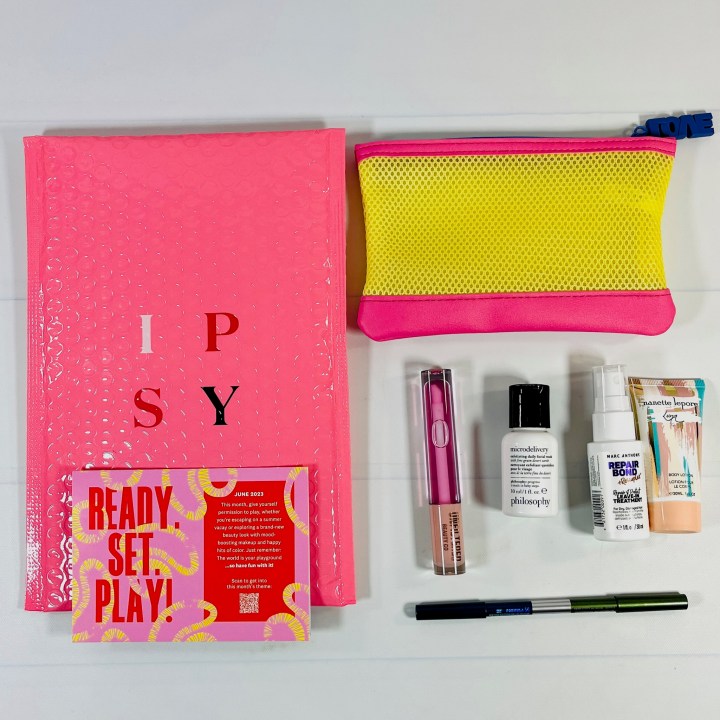 This was a good combo of products from Ipsy, I liked them and at least one of the items was a fun change from my usual product. The lotion smelled very nice, a warm musky floral I would say. The leave in conditioner helped me detangle those knots in my hair and it only took a small amount. The cleanser was exceptionally cleansing, and the lip gloss was fine. While I wouldn't choose bright blue liner at this point of my life, I did enjoy the pop of color and the grey green was fine too. The value for my bag combo was around $50.
Below is the insert that was in the box!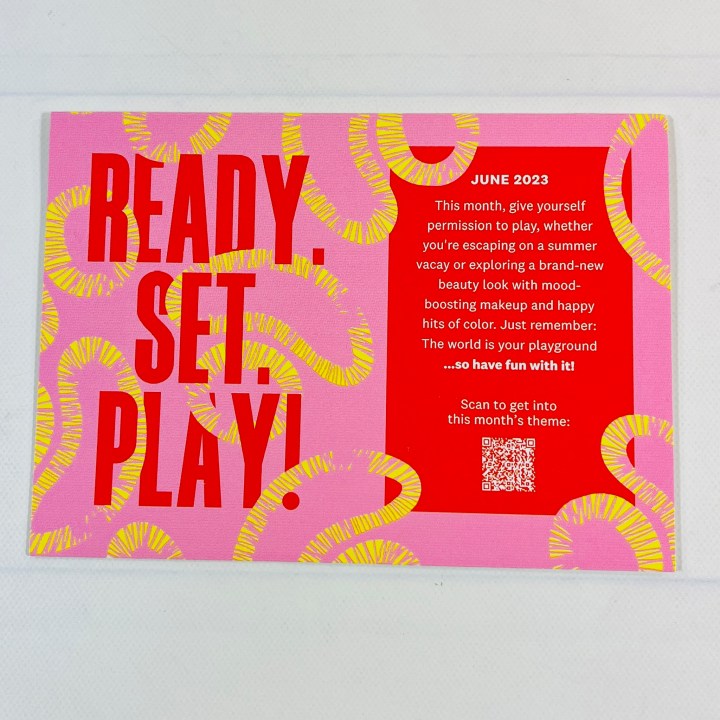 Ipsy is a monthly subscription beauty membership known as The Glam Bag and contains sample and/or full-size makeup and beauty products delivered straight to your door. Depending on your plan, once a month members receive a makeup bag filled with 5 cosmetic items such as perfumes, nail products, skincare items, and of course makeup and has a retail value of up to $70! Items in your Glam Bag are personally curated based upon your beauty preference results from your personalized beauty style quiz.