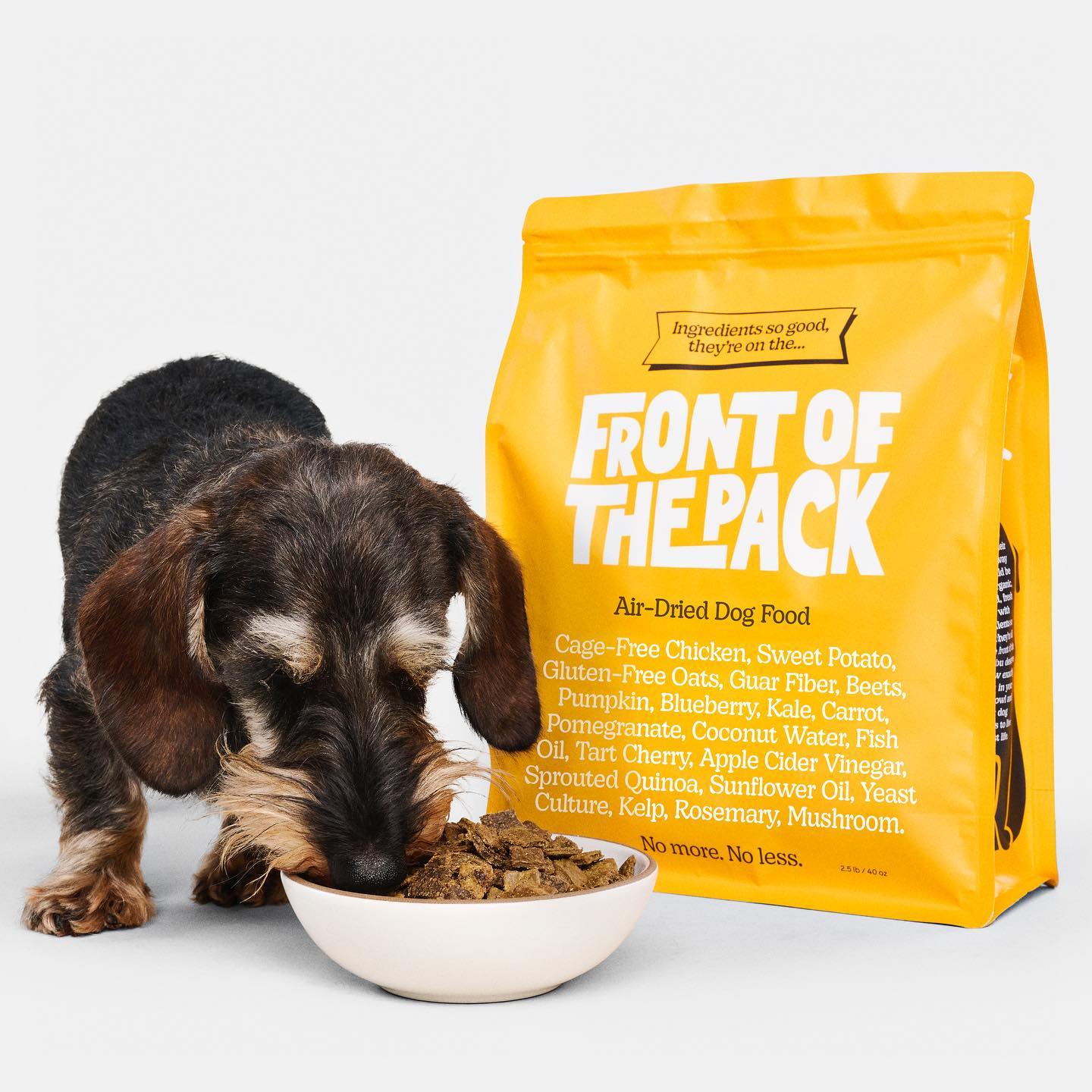 Pet parents have become more conscious of what they are feeding their dogs and how it affects their dog's well-being. Consequently, dog food and dog health supplements are currently in high demand. While plenty of products claim to be good for dogs, not all of them are science-backed and transparent with their ingredients list.
This is where Front of The Pack comes into play. FOTP offers premium quality supplements and air-dried dog food made only with the best ingredients. Their dog food is devoid of any fillers or byproducts and only contains natural and sustainable ingredients that are beneficial for canines. They also promise guaranteed traceability on all of their supplement ingredients from GMP-certified suppliers, and they even conduct rigorous third-party testing—all of these to ensure that your dog gets only the best!
DEAL: Get your first month FREE when you sign up for The One daily dog supplement subscription! Just use this link to subscribe, no coupon needed.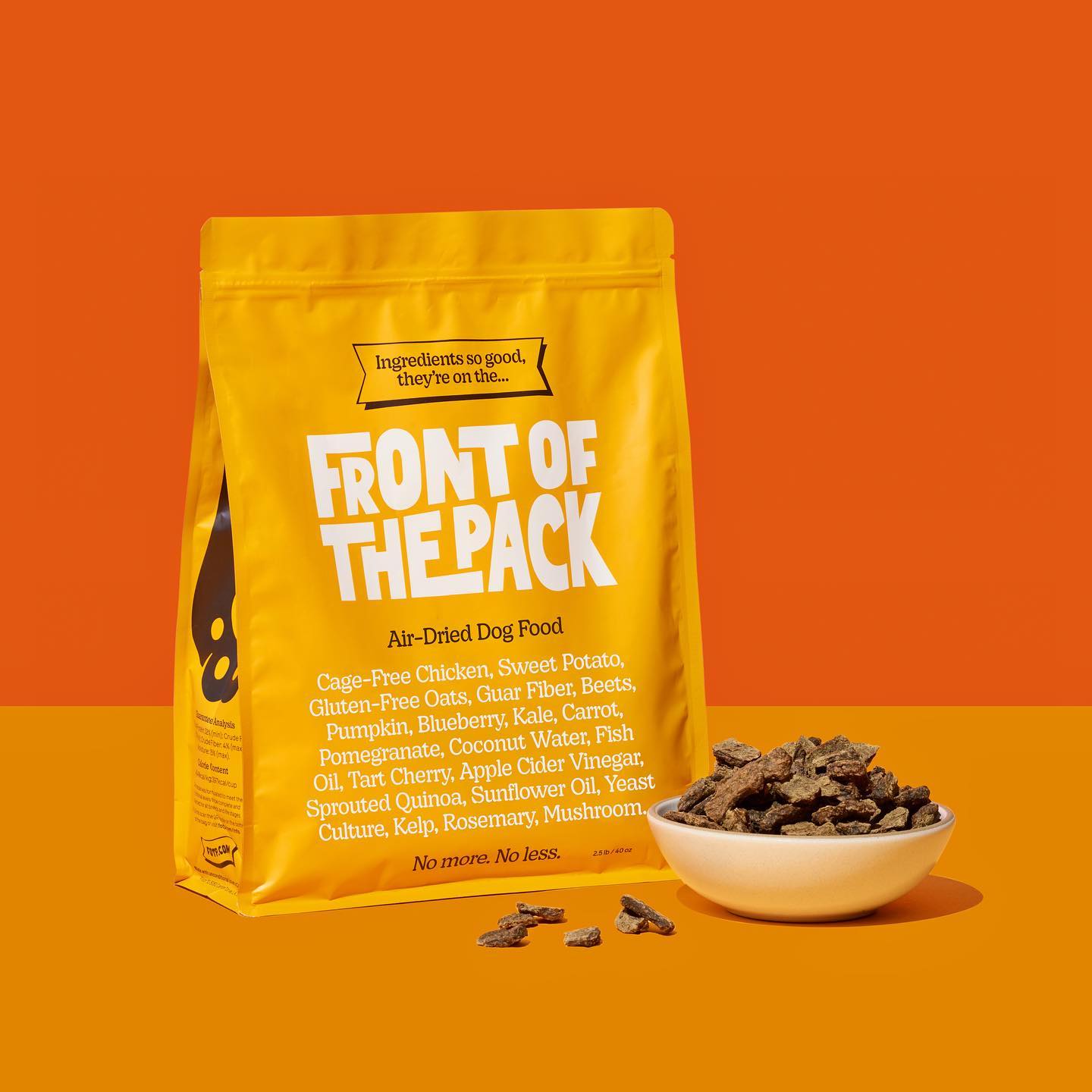 Air-dried dog food for a healthier pup
Starting at $47.99, Front of The Pack's vet-formulated air-dried food contains balanced natural ingredients that pups need for a complete diet. Just like fresh dog food, it has a multitude of benefits including a softer and shinier coat, improved immunity, increased energy, and healthier digestion. There are two recipes to choose from: Grass-Fed USDA Beef and Cage-Free Chicken.
The Grass-Fed USDA Beef recipe is a delicious and nourishing choice for your dog. Made with premium grass-fed beef, this recipe is packed with essential vitamins and minerals, providing your dog with a complete and balanced meal that will keep them happy and healthy. Similarly, the Cage-Free Chicken recipe is another exceptional option for your furry companion. This recipe is crafted with all-natural, cage-free chicken, which is a lean and healthy source of protein.
Both healthy dog food recipes are simply air-dried to lock in the nutrients and intensify the flavor, eliminating bacteria or parasites in the process as well. Pet parents can store the air-fried dog food in the cupboard and just scoop and serve straight from the bag during pup's mealtime.

Dog health supplements, reinvented
Deviating from the usual chews and capsules, Front of The Pack reinvented dog supplements by turning them into a powder form which you can easily incorporate into your dog's meals or favorite snacks. Supplements range from $35.99 to $114.72, and US shipping is free for all orders over $25. You can also select your preferred local no-kill shelter and they will donate 1% when you complete your purchase.
The powdered supplements are infused with a broth-like flavor, appealing even to picky dogs. When used on a daily basis, Front of The Pack promises health improvements within 4-6 weeks. None of the supplements contain binders, fillers, or additives. Data from studies regarding the ingredients are available on their website.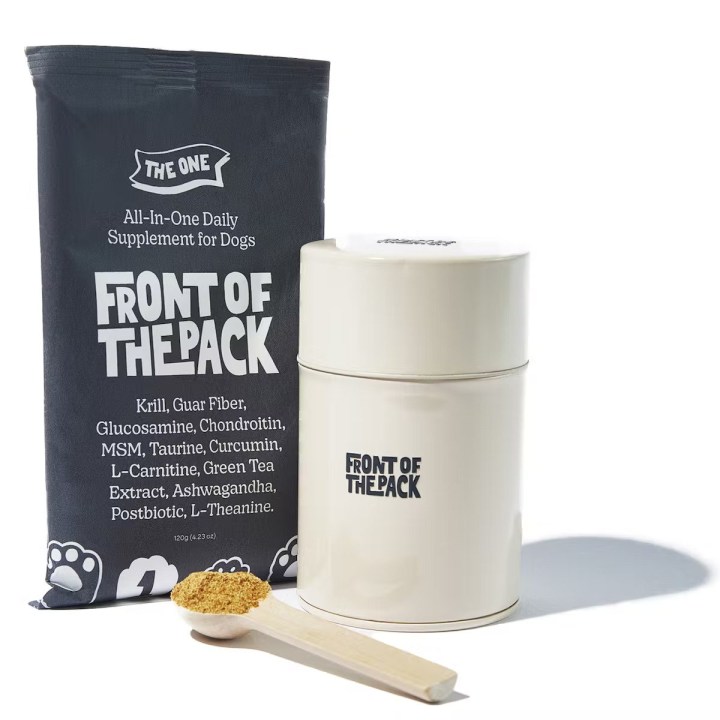 What's in a Front of The Pack shipment?
Your choice of supplements for your dog
Shipments are customizable and it all depends on your pet's needs! Upon sign up, you can choose how many pouches or boxes of supplements you want to receive. Subscribers are also in control of the frequency of shipments, with 1, 2, or 3 month intervals.
A reusable premium canister (first box only)
Made with recycled tinplate steel, this canister is the recommended container to keep your dog's new supplements fresh and secure. It's sturdy and good for the planet as well!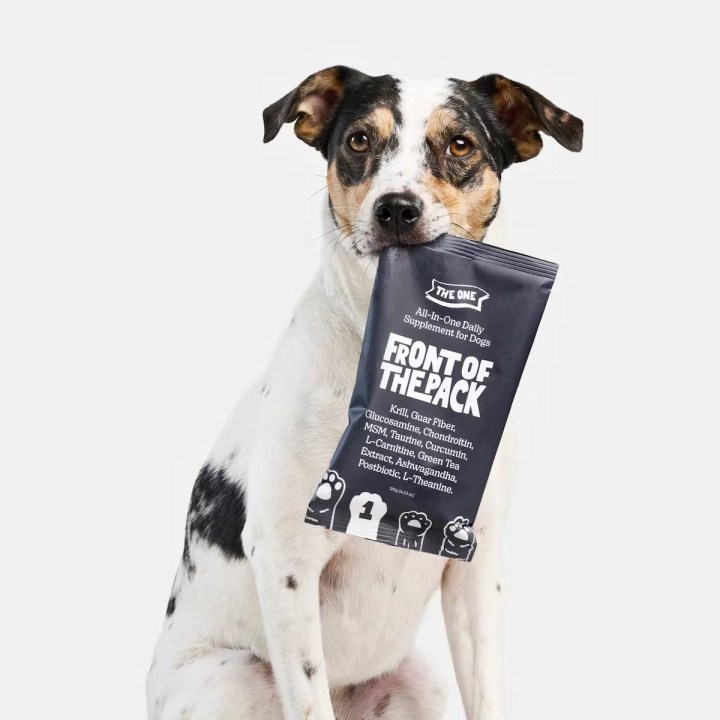 Currently, Front of The Pack offers 3 kinds of supplements that offer different health benefits. All of them are ideal for dogs 1 year old and up!
The One: Eight essential benefits in one
The One provides preventative support in one daily dose. It promises eight benefits including relieving hip and joint stiffness, alleviating stress and anxiety support, healthy digestion, soothing itchy skin and allergies, fresh breath and reduced plaque, promoting mental sharpness, supporting immune health, and maintaining healthy heart function.
Small Dog – $35.99 per month
Medium Dog – $64.78 per month
Large Dog – $91.78 per month
Harmony: Targeted calming and anxiety support
Made with adaptogens and nootropics, Harmony promotes a sense of calm without making dogs feel drowsy. It also helps moderate stress and alleviate anxiety in under 90 minutes. This calming supplement comes in stick packs that you can easily bring with you when you and your dog are on the go!
Small Dog – $35.99 per month
Medium Dog – $64.78 per month
Large Dog – $91.78 per month
Soothe: Targeted itch and gut support
Soothe contains three clinically-tested-in-dogs postbiotics, and it's the first dog supplement to do so! It promotes healthy skin, a strong gut and healthy microbiome, and healthy immune response.
1 Box – $44.99
2 Boxes – $80.98
3 Boxes – $114.72
Subscription boxes are not just for humans – there are boxes created just for our pets, too! Hello Pupscription introduces pet parents to all sorts of dog subscription boxes that cover our beloved furbaby's wants and needs, from dog snacks and treats to dog supplements and more!